Aireon LLC, FlightAware and SITAONAIR today announced a new partnership to provide SITAONAIR's airline customers with Aireon's space-based automatic dependent surveillance-broadcast (ADS-B) data. Starting in 2018, SITAONAIR airline customers with ADS-B Out equipped aircraft will have access to 100 percent global flight tracking data, in real time, through SITAONAIR's AIRCOM® FlightTracker product.
The partnership also means that airlines already using SITAONAIR's AIRCOM® FlightTracker product will automatically begin seeing the new AireonSM data appear in their systems without the need for new avionics or for aircraft modifications. Additionally, prospective customers can be up and running to receive the new data in as short as one week. The Aireon data will be delivered to SITAONAIR via FlightAware, which provides a secure streaming data feed of flight positions and flight status data via a combination of worldwide air traffic control data, ground-based ADS-B, and aircraft datalink information.
"At SITAONAIR, our focus is on products and solutions with specific value for the aviation community, particularly when it comes to aircraft tracking," says Paul Gibson, portfolio director, AIRCOM® at SITAONAIR.  "The addition of Aireon's space-based ADS-B data is a perfect evolution of this. It will allow us to help airlines achieve truly global flight tracking in a cost-effective way, by making use of the pre-existing ADS-B capability on aircraft of all shapes and sizes, without the need for additional avionics. Our partnership with Aireon and FlightAware helps further establish SITAONAIR's AIRCOM® FlightTracker as an innovative, cutting-edge and value-add solution for airlines.  It strengthens SITAONAIR's positon as a leader in safety-related IT and communications products and services for the industry."
Currently, AIRCOM® FlightTracker is an ACARS and terrestrial surveillance-based system that provides regular flight position updates and requires no modification to aircraft.  The solution works by gathering data from multiple global sources, complementing active Air Navigation Service Provider (ANSP) Future Air Navigation System activity with additional automatic dependent surveillance-contract connectivity. The addition of Aireon's space-based ADS-B data will for the first time provide 100 percent global coverage in real time, thereby resolving all data feed coverage gaps that may remain.
"This partnership brings together best-in-class companies to create a massive technological leap forward at the flick of a switch. The ability to provide 100 percent global flight tracking will address and solve a well established problem," said FlightAware Chief Executive Officer, Daniel Baker.  "This holds particularly true for narrow-body aircraft that are not equipped with SATCOM datalink for oceanic tracks, nor capable of meeting even the most basic GADSS requirements.  The ability to add Aireon's space-based ADS-B data to SITAONAIR's existing and proven tracking solution will allow aircraft operators to go from either no oceanic or remote position updates, or 15 minute updates, to minute-by-minute updates – all with no additional avionics required."
Aireon's space-based ADS-B system will offer a global solution that works for ADS-B Out equipped aircraft everywhere.  Currently, operators engage in a costly, time consuming process of indexing all their aircraft, noting what types of equipment each had installed.  With various ADS-B Out mandates passed by ANSPs and industry governing bodies around the world, operators will automatically know that their aircraft are properly equipped.
"We're proud to work with both FlightAware, our existing partner, and SITAONAIR, our new partner, in delivering this cutting-edge capability. SITAONAIR and FlightAware are industry stalwarts, and this partnership shows how industry leaders can come together to create a more cost-effective, simple to implement and more efficient flight tracking capability than ever before," said Aireon Vice President of Aviation Services, Cyriel Kronenburg. "We are particularly excited to expand coverage to the oceans and especially polar airspace, which will have complete surveillance even before the Iridium NEXT satellite constellation is fully completed."
About Aireon LLC
Aireon is deploying a global, space-based air traffic surveillance system for Automatic Dependent Surveillance-Broadcast (ADS-B) equipped aircraft over the entire globe. For the first time, Aireon will provide real-time ADS-B surveillance to oceanic, polar and remote regions, as well as augment existing ground-based systems that are limited to terrestrial airspace. Aireon will harness next generation aviation surveillance technologies and extend them globally to significantly improve efficiency, enhance safety, reduce emissions and provide cost savings benefits to all stakeholders. In partnership with leading ANSPs from around the world, NAV CANADA, the Irish Aviation Authority (IAA), ENAV and Naviair, as well as Iridium Communications, Aireon will have an operational, global, space-based air traffic surveillance system by 2018. For more information about Aireon, visit: aireon.com.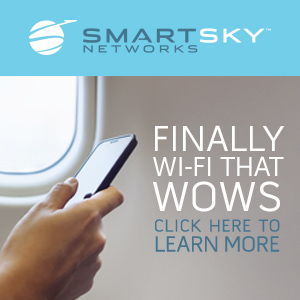 About FlightAware
FlightAware is the world's largest flight tracking data company and provides over 10,000 aircraft operators and service companies as well as over 12,000,000 passengers with global flight tracking solutions.  FlightAware leverages data from air traffic control systems in over 55 countries, from FlightAware's network of over 8,000 ADS-B ground stations in over 140 countries, and using global datalink. For more information about FlightAware, visit: flightaware.com
About SITAONAIR
SITAONAIR is the SITA Group's nose-to-tail Connected Aircraft business, providing the complete range of products and services an airline needs to realize the full potential of the connected aircraft – with products and services designed for Passengers, Cabin Crew, Cockpit Crew, Aircraft Data and Maintenance operations, Flight Operations and Air Traffic Control.   It provides cockpit communications to over 400 airline customers and on over 14,000 aircraft worldwide, and has also more than 30 aircraft operator customers who enjoy the benefit of connectivity solutions in the cabin across a wide range of aircraft types.  The SITA Group is airline-owned and airline focused.