Panasonic Avionics Corporation (Panasonic) has today announced the launch of Captify Inflight Marketing and Advertising Services (Captify). Captify, which is the aviation industry's most advanced inflight marketing platform, delivers all the key features needed by airlines, their external partners and paying advertisers. The platform comprises the software tools and support teams that power the largest inflight marketing solution in the world – reaching 1.3 billion travelers a year.
Captify enables airlines to target by seat class, route, device, language, and passenger data. With no changes to on-board media, it can increase or decrease ad loads, cap the frequency of marketing campaigns, and deliver detailed usage data in real-time. This allows airlines to optimize promotions for a wide range of optional services, partnerships, loyalty programs, and paid advertising all within a compelling passenger experience. The platform delivers video, native display, and sponsorship options for high-impact, fraud-free marketing with best-in-class targeting and results.
Using this information, Captify helps airlines and their marketing and sales partners learn more about their customers by bringing together all the passenger and behavioral data, so airlines can gain intelligence and inform business or service strategies. That means marketing and media data that are accurate, integrated, actionable and fully supported by Panasonic's expert account management and training teams in real-time.
Captify is built to fit any airline's business model, with access for internal marketers, external sales teams, and ongoing trafficking and testing support from Panasonic. The full-service platform includes ground-side tools for scheduling and analytics of marketing campaigns; air-side servers and APIs to integrate with any aircraft's inflight entertainment or connectivity systems; plus Panasonic's dedicated service teams working hand-in-hand with airlines partners, media agencies, and content providers.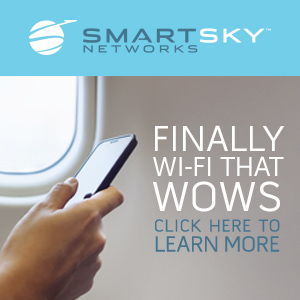 Paul Margis, CEO of Panasonic Avionics, comments: "Airlines are increasingly focusing on non-ticket revenue to deliver profitability. At Panasonic we view the modern aircraft as a 'business platform' – because our systems play an integral part in helping airlines reach their ancillary-revenue goals.
"Inflight media and marketing are rich with distinctive opportunities, and Panasonic is leading the way and is committed to supporting our airline partners as they adopt the technology."
About Panasonic Avionics Corporation
Panasonic Avionics Corporation is the world's leading supplier of inflight entertainment and communication systems. The company's best-in-class solutions, supported by professional maintenance services, fully integrate with the cabin enabling its customers to deliver the ultimate travel experiences with a rich variety of entertainment choices, resulting in improved quality communication systems and solutions, reduced time-to-market and lower overall costs.
Established in 1979, Panasonic Avionics Corporation, a U.S. corporation, is a subsidiary of Panasonic Corporation of North America, the principal North American subsidiary of Panasonic Corporation. Headquartered in Lake Forest, California with over 4,554 employees and operations in 80 global locations, it has delivered over 8,000 IFE systems and 1,300 inflight connectivity solutions to the world's leading airlines. For additional information, please visit www.panasonic.aero.
Featured image credited to istock.com/JakeOlimb