Is it any wonder why Thales is getting more deeply involved in inflight connectivity? The French multinational company, which today announced a partnership with SES to deliver high-capacity Ka-band service over the Americas, has been largely missing from the connectivity news headlines even as airlines have kitted out their planes with Thales' solutions.
The reason, at least in the United States, is that while Thales is "prime" on the contracts providing broadband connectivity to JetBlue and a portion of United Airlines' fleet, the satellite operator powering those streaming-class solutions, ViaSat, has attracted a fair amount of the glory, drawing interest from investors and tech-savvy travelers, not to mention airlines.
And though ViaSat is not lead on the JetBlue and United contracts, it has managed to secure direct deals with El Al and American Airlines, and more recently with Finnair and SAS, without requiring the aid of integrators.
The latter two European carriers have opted to split their connected fleets between longhaul global connectivity offered by Panasonic Avionics' Ku-band connectivity and short-to-mediumhaul connectivity via Eutelsat's Ka-band network with ViaSat as ISP and hardware provider. Interestingly, SAS's decision follows a multi-year trial of Panasonic Avionic's GCS Ku-band connectivity on a small fleet of ten Boeing 737 aircraft.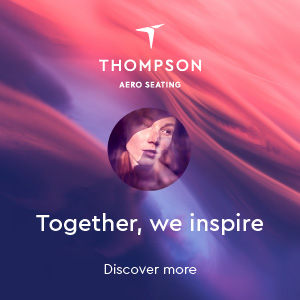 SAS intends to provide connectivity for free to its SAS Plus passengers, the fully featured economy product that is the airline's highest European service standard, and — more notably — to members of its Eurobonus frequent flyer program, airline spokesperson Fredrik Henriksson tells Runway Girl Network. Context for this decision includes the free access to Global Eagle Ku-band connectivity that is provided by principal local competitor Norwegian Air Shuttle.
"By coupling the ViaSat end-to-end service platform with Eutelsat's European satellite connectivity, SAS can offer a best-in-class onboard wifi service in Europe", Henriksson promises, noting in terms of strategy that "seamless and easy to use are keys in our development for our frequent flyers".
SAS' Airbus A319, A320, A321 and A320neo family are included in the deal, as are its Boeing 737-800 and -700 jets, but smaller 737-600 aircraft are not included, Henriksson says. SAS is to retire its 737-600s by 2019 as the Airbus A320neo aircraft join the fleet.
"The first aircraft with the high-speed wifi solution will be one of our A320neos. The rest of the fleet will have wifi installed during [C-] checks, where the new cabin will also be fitted," Henriksson confirms. "Installation will be done at [the] Airbus facility for A320neo from summer 2017 and most of the other aircraft will have installation done at C-checks." SAS' C-check partner is Lufthansa Technik.
When RGN queried the nine months between announcement and start of installations, Henriksson noted that "this is a tight schedule from signing the contract and we are optimizing the roll-out together with the investment in cabin upgrades and other aircraft checks planned." SAS' decision to wait for installation until planned C-checks is optimal from a fleet utilisation point of view, but will delay the rollout and mean product inconsistency in the meantime.
"SAS evaluated the market carefully to find the best available solution for our passengers," Henriksson said, noting that the winning factors included "ViaSat's strong SLA (service level agreement) now and for our future roadmap, strong knowledge of end-consumer/residential, as well as, like SAS, being innovative and focusing on SAS strategy – making life easier for our frequent flyers." 
In terms of connecting passenger experience, "We are currently looking at various solutions for full-trip packages across a full-trip (connecting flights etc) for passengers who are not [EuroBonus frequent flyer program] members or travelling in SAS Plus," Henriksson confirms.
SAS has not yet decided on login portal details, with Henriksson declining to elaborate beyond noting that, "Our goal is to integrate the connectivity into SAS digital touch points."
SAS also intends to reap the operational benefits of inflight connectivity. "In addition to streaming, social media and traditional workplace applications, passengers can also expect to get better assistance from the cabin crew, which have been recently equipped with iPad Minis that will be connected to the wifi system. With new high-speed wifi capabilities SAS crew will be able to access flight and passenger information – before take-off, during the flight and after the flight lands," the airline said in a statement.
Finnair, meanwhile, has chosen ViaSat to outfit its A320 fleet with connectivity for its intra-Europe destinations. Again, ViaSat is the prime contractor to Finnair "so we're handling all the things for Finnair that they want done as far as getting equipment installed and getting service set up. Our relationship with Eutelsat is that we buy bandwidth from Eutelsat. In this relationship, they'll be a subcontractor [of ViaSat]. It's an extension of our partnership we announced [in 2014] with roaming, and we sell bandwidth and services to Finnair," explains ViaSat director Don Buchman.
RGN asked Buchman whether ViaSat had any concerns about Eutelsat in the face of protracted El Al and Vueling equipage delays, and a halt to Aer Lingus' rollout by IAG (Thales is lead on the Vueling and Aer Lingus arrangements). "There's really nothing we're worried about with Eutelsat's network. It's a very strong network, it's a strong satellite, and they have a strong business model. Going forward, we really see no stumbles," said Buchman, noting that the ground infrastructure for the project is part of the ViaSat network.
In terms of the hardware, "It's the ViaSat chipset on the antenna, and all of the aircraft side of things, and it's a ViaSat radome," Buchman explained. "This will be a Ka-only solution. Of course we always make all our products offerable to airlines, but there's nothing contemplated in this agreement that would have them go to KuKa."
Radome positioning and several other technical details have not yet been confirmed, Buchman noted. "I don't know if the final engineering has been done on which flight station, but it'll be dorsal-mounted. That'll be part of working with Finnair's engineering team, to find the optimal location for their aircraft, and where they have other electronics possibly already there."
STCs are still outstanding for the Finnair fleet, Buchman said: "It'll be specifically for their aircraft, but yes, we'll be working through that."
If desired, Finnair's contracted Embraer E190 fleet (operated by Norra) can take the same radome, Buchman confirmed. "We haven't done the full engineering package for that type of radome on that aircraft type yet, but our initial assessment is that that radome works. We have to work with the Type Certificate Holder, Embraer, to do final fit checks and final understanding of that radome and if it will work on there."
Notably, Buchman continued, "JetBlue has a smaller radome. We have a different solution on their Embraers. We have a slightly smaller antenna and a radome that the LiveTV/Thales folks developed that's dual antenna — there's the TVRO antenna plus our Ka antenna. That's a different solution. You wouldn't pick that solution and port it over."
It won't be suitable for the twelve-strong turboprop fleet, however. "On the turboprops, no," Buchman said. "We don't believe that turboprops would be a good solution for this particular install with the radome."
Apart from a gap over the North Sea, Eutelsat's coverage "will work network-wide. We're constrained currently to the Eutelsat Ka-sat footprint in the short term, but for Finnair's fleet it covers almost all of the routes for that aircraft," Buchman said.
In terms of the eight-month lead time between announcement and first installation, Finnair's Harri Valkama, manager, inflight eCommerce and IFEC, told RGN, "We wanted to go public with this announcement as soon as we signed the contract. Of course in this kind of projects there's certain lead time from announcements to the actual installment."
"It's mostly the rampup," Buchman concurred. "Each airline does take a little bit of time to get new STCs and various things. It's when Finnair had their aircraft available, and it's when all their engineering lined up. For us this is a fairly typical window."
The Airbus Corporate Jet Centre in Toulouse will carry out the lead aircraft work for Finnair, Valkama said. "The first installation will be made at Airbus (at ACJC) for the A321 which is leased from BOC Aviation. The installation will take roughly 14 months for the whole fleet and we'll take benefit of all planned maintenance slots to do the connectivity installation as fast pace as possible."
"The initial [installations] always take a little longer, because they're first in type, but it's the same as all of our other installations: we're expecting three to four days, five days," Buchman said. "It depends what other work is happening, and how much, as part of the engineering package, there is any other work that needs to be done to accommodate. Those are all details that need to be worked out."
For later aircraft, "The decisions have not been made yet," Valkama confirmed.
In terms of passenger experience, Buchman said, "Finnair is really acting as the interface with their customers, and we'll be supporting them." For the portal, "ViaSat will have the lead for all the software that's loaded on, but we'll work in concert with Finnair, and they've got a strong team already in e-commerce and inflight, and we'll be working with their team to incorporate their designs."
"Finnair will manage the Nordic Sky portal," Valkama added, noting that "passenger experience will be the same as in long haul portal but the content and services will be personalized according to the passenger needs for the short haul. The concept work is still in process."
RGN asked Valkama whether passengers would able to purchase full-trip packages across the longhaul (Panasonic) and shorthaul (ViaSat) connectivity providers. "Ultimately that is the goal," Valkama said, "but we are still in the concept work so we can't confirm will this be available from the first short haul flights."
When RGN asked how this contract fits into ViaSat's wider work, Buchman said, "It's just a continuation of airlines wanting to get into connectivity, and seeing what we're doing as different. They're really buying in. You can do so much more with our system. It's really exciting to see, with each airline, how they use that advantage and unlock the power of what we're bringing. Finnair's a continuation of that."
So what won it for ViaSat? "I think it's the quality of service that we've brought to date with all of our current customers," Buchman replied. "I think Finnair is in line with us on 'capacity matters'. I think they wanted to be with a supplier that had a roadmap for the most capacity in the future — not only today. I'd like to think they saw us and our roadmap as the strongest."
When compared with the existing JetBlue product, Buchman said, "We expect very similar performance. Each airline operates their service differently, even in North America with our multiple airlines. Each one is different from the other. So the experiences are consistent, it's how each airline wants to use this great resource we've brought to them. The experience can be as good, and the same [experience] is possible. It's about how Finnair chooses to highlight the service and run it for their passengers."
Featured image credited to SAS