Gogo's ability to install its 2Ku product more quickly than previously anticipated may have an unexpected beneficiary. The company's business aviation segment counts nearly 3,800 aircraft connected via air-to-ground (ATG) technology today, besting the commercial aviation number by 1,200 tails. And as the larger commercial aircraft migrate to 2Ku that opens much-needed capacity for the smaller jets, both commercial and private, to increase connectivity and consumption while also improving on the bandwidth available to the aircraft.
As the larger planes flying longer routes migrate off the ATG network the bulk of the ATG data consumption should migrate with them. This effort will fit conveniently with the launch of the Gogo Biz 4G solution, set for the second quarter of 2017. The new service will deploy on 70 aircraft thanks to a commitment from Delta Private Jets to fit its entire fleet with the solution.
During Gogo's earnings call last week, CEO Michael Small noted that the Biz 4G platform "will offer enough bandwidth to bring a ground-like experience to the business aviation market including the ability to stream video". Streaming for just a couple of passengers on a private plane can be managed much more effectively than putting the same hardware on a 150-plus seat commercial jet but it still means ensuring sufficient capacity in the overall network, not just for the individual plane. This means reducing consumption elsewhere on the Gogo ATG network, a move the 2Ku shift will facilitate.
Along with better connectivity performance for Delta Private Jets' passengers (and other business aircraft operators who choose to buy the upgrade) Gogo is also pushing forward on its flight deck integration offerings. Small highlighted one of those efforts, the Weather Channel partnership, during the earnings call:
"We are partnering with The Weather Channel to cloud source data off of Gogo-equipped business aviation aircraft. This allows us to offer pilots real-time turbulence information resulting in a safer more comfortable flying experience. It also decreases wear and tear on the aircrafts and will contribute to lower fuel cost over time, which translates into lower operating cost for the aircraft owner," he said.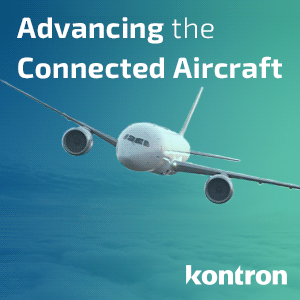 These sorts of improvements in operational efficiency have the potential to affect the smallest planes more than larger ones, particularly when it comes to weather forecasting and ride comfort. Gogo used this year's Experimental Aviation Association (EAA) fly-in in Oshkosh, Wisconsin to publicize the many navigation and planning apps that the ATG hardware is compatible with. It also called attention to its ATG 1000 hardware, Gogo's smallest and lightest solution, which is intended for use on light jets and turboprops. By the end of the year Gogo will have the ATG 1000 integrated with several of these apps, including Garmin Pilot, FltPlan Go and ForeFlight's JetFuelX; it currently integrates with other solutions including myGDC and WSI PilotBrief Optima for flight planning and optimization.
While Gogo remains the only player in the ATG BizAv market and one of the largest BizAv resellers of satellite connectivity (5,200+ Iridium satellite communications systems managed and 180 Inmarsat SwiftBroadband systems), that does not mean it is alone in the market. Upstart ATG provider SmartSky is theoretically poised to launch its service any day now while industry stalwart Panasonic Avionics has been talking about newer, smaller antennae lately, the type designed to fit on smaller commercial RJs and some larger business jets as well. Neither of those offerings are on aircraft yet, but they will certainly be nipping at Gogo's heels as these ATG upgrades are deployed.
Header Image: Delta Private Jets