A first-of-its-kind fleet-wide agreement between Delta Private Jets, Inc. (DPJ) and Gogo Inc. (NASDAQ: GOGO) will soon deliver a 4G inflight experience to DPJ's customers.
Experience the interactive Multimedia News Release here: http://www.multivu.com/players/English/7854551-delta-private-jets-gogo-biz-4-g/
DPJ, a wholly owned subsidiary of Delta Air Lines (NYSE: DAL), plans to equip its fleet of more than 70 aircraft with Gogo Biz 4G to provide a superior service to passengers. The new service will enable a reliable 4G experience – including services such as Gogo Vision, providing the latest movies, TV, flight tracker, weather reports, and additional features; Gogo Text & Talk, allowing passengers to call and text with their personal smart phones and mobile numbers; streaming video and audio; as well as face-to-face conversations with a user's favorite applications; email with attachments; web browsing; and more – on a proven network in the continental U.S. and large portions of Alaska and Canada.
Delta Private Jets is the only private jet company affiliated with a major commercial airline – an unmatched competitive advantage in a fractured marketplace. Providing this unique technology offering is one in a series of enhancements that DPJ will be introducing to ensure a seamless, comfortable and convenient experience for customers from takeoff to landing.
"We are excited to bring this technology to the discerning customers who turn to Delta Private Jets for their specialized travel needs," said David Sneed, Executive Vice president and Chief Operating Officer of DPJ. "We are also proud to further differentiate our company by becoming the first to offer Gogo Biz 4G on a fleet-wide scale. After careful evaluation of the available options for inflight connectivity, it was clear that only Gogo could deliver a robust experience on a proven network."
Gogo is the leading provider of inflight connectivity and wireless in-flight entertainment solutions to the global aero market. The new agreement builds upon its successful relationship serving Delta's commercial fleet and represents the first multi-aircraft adoption of Gogo Biz 4G in the private aviation sector.
Gogo Biz 4G leverages Gogo's existing air-to-ground network and technology which has already flown hundreds of thousands of hours aboard thousands of business and commercial aircraft. The Gogo Biz 4G equipment package incorporates dual-band 802.11ac Wi-Fi service and a host of other features – all from a single, lightweight box.
Following the successful completion of the initial phases of flight testing, Gogo Biz 4G remains on track for launch in the second quarter of 2017.
"Our goal is to deliver a robust 4G experience inflight," said John Wade, Gogo Business Aviation's Executive Vice President and General Manager. "After thorough testing on our existing network at altitude, including air and ground congestion, we are confident Gogo Biz 4G's performance will meet the expectations of Delta Private Jets and delight its customers."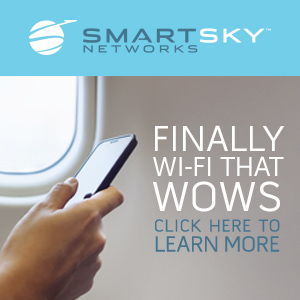 About Delta Private Jets
Delta Private Jets, Inc., a wholly owned subsidiary of Delta Air Lines (NYSE: DAL), provides aircraft charter services, aircraft management and its distinctive Delta Private Jets Card. The company operates its only FBO (Fixed Base Operation), the Delta Jet Center, at the Cincinnati/Northern Kentucky International Airport (CVG), as well as the Tech Service Center, a comprehensive Maintenance, Repair and Overhaul facility (MRO). Delta Private Jets combines more than 30 years of experience serving the needs of luxury travelers for business and pleasure with the resources of one of the world's largest airlines to provide a truly innovative travel solution.  With more than 70 aircraft in the fleet (light, mid-size, super-midsize and large), Delta Private Jets consistently receives awards for outstanding customer service and has continuously held the coveted ARGUS Platinum safety rating longer than any other operator in the world. Additional information is available at deltaprivatejets.com.
About Gogo
With more than two decades of experience, Gogo is the leader in in-flight connectivity and wireless entertainment services for commercial and business fleets around the world. Gogo connects aircraft, providing its aviation partners with the world's most powerful network and platform to help optimize their operations. Gogo's superior technologies, best-in-class service, and global reach help planes fly smarter, our aviation partners perform better, and their passengers travel happier.
Today, Gogo has partnerships with 14 commercial airlines and is installed on more than 2,500 commercial aircraft. Nearly 7,000 business aircraft are also flying with its solutions, including the world's largest fractional ownership fleets. Gogo also is a factory option at every major business aircraft manufacturer. Gogo has more than 1,000 employees and is headquartered in Chicago, IL, with additional facilities in Broomfield, CO, and various locations overseas. Connect with us at www.gogoair.com and business.gogoair.com.
Cautionary Note Regarding Forward-Looking Statements
Certain disclosures in this press release include "forward-looking statements" that are based on management's beliefs and assumptions and on information currently available to management. Most forward-looking statements contain words that identify them as forward-looking, such as "anticipates," "believes," "continues," "could," "seeks," "estimates," "expects," "intends," "may," "plans," "potential," "predicts," "projects," "should," "will," "would" or similar expressions and the negatives of those terms that relate to future events.  Forward-looking statements involve known and unknown risks, uncertainties and other factors that may cause the Gogo's actual results, performance or achievements to be materially different from any projected results, performance or achievements expressed or implied by the forward-looking statements.  Forward-looking statements represent the beliefs and assumptions of Gogo only as of the date of this press release and Gogo undertakes no obligation to update or revise publicly any such forward-looking statements, whether as a result of new information, future events or otherwise.