Since its first approved installation in January 2014, SD has delivered more than 300 Satcom Direct Router (SDR) units. The system's ability to interface with legacy connections including Inmarsat Swift64 through to Inmarsat SwiftBroadband and its forthcoming Jet ConneX service, is only partly responsible for its burgeoning success. Operators also appreciate its versatility in supporting air-to-ground and embedded 3G connectivity.
But new software releases for the SDR add important capabilities to the system, which is now standard fit or a preferred route option for supporting inflight connectivity on super mid- through ultra-long range business jets, according to SD.
At present, SDR data traffic is optimised through SD's exclusive AeroXR service, which uses so-called 'Exinda' technology to accelerate, compress and cache information so that websites load faster and ongoing transmission costs are minimised.
Among the so-called 'Mod E' SDR developments revealed recently at the EBACE business aviation show in Geneva, an alternative technology to Exinda – called XipLink – has been adopted for wider industry compatibility.
"The SDR used Exinda, which was exclusive to SD, but restricted customers only to that technology. Some customers required alternatives, and the new XipLink technology provides wider industry compatibility by working with multiple systems," explained SD at EBACE.
The second Mod E innovation, Advanced Discrete Configuration, is a facilitator that the company says is designed to monitor and manage SDR services and features. It enables direct interaction with the SDR through the cabin management system, displaying live data on connection status. It shows the connection to the Wi-Fi network, connection to the satellite and whether data is flowing.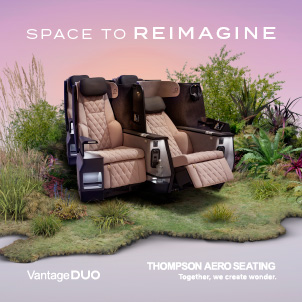 Visibility to connected devices
When customers report Wi-Fi issues, their most common complaint is slow speeds. With business users each carrying an average of three devices, 36 or more machines could easily be simultaneously attempting to synchronise in a jet carrying only 12 passengers.
"They begin syncing apps and pictures to the cloud, as well as downloading Facebook messages and so on. It all goes on in the background, without the user knowing, and clogs up the connection," says Michael Skou Christensen, SD's general director Europe and Asia,
That's why SD has also added a SDR App Update, which gives the pilot full visibility of connected devices and their data usage, provides a data rate graph and facilitates remote disconnection and reconnection as appropriate.
Other new releases, including SD Pro – which does away with the multiple systems currently used to monitor operations – are part of the new suite. Additional modules are planned in cooperation with further integration partners. SD Invoicing, Technical Support Documentation, Custom Reporting, Insurance, Document Storage, Director's Module and SD Pro API are all in the offing, says the firm.