The number of annual passenger journeys is set to hit the 7 billion mark by 2035. Airlines, airports and the air transport supplier community are keenly aware of the role technology will play in improving the flow of people through crowded terminals, and creating a positive travel experience.
At the same time, airlines and airports are learning there is no such thing as an "average" airline passenger, or a "typical" day of travel. Research shows that today's traveller craves choice and control throughout his or her journey, and is increasingly receptive to technology that facilitates these freedoms.
With its head office located directly in the passenger terminal at Aalborg Airport, airport product design firm Marcus Pedersen Airport Interior Solutions stays close to the travelling public, airlines, personnel and service providers to collect intelligence, inspiration and honest feedback for all its products.
The company's latest offering, Air.Go On, is the first height-adjustable, self-service bag drop solution to enter the market, and is a quick retrofit to any existing airport counter. Air.Go On has ease-of-use built right into its DNA.
"Creating an ergonomically correct unit was incredibly important to us," says Niels Marcus Pedersen, CEO of Marcus Pedersen Airport Interior Solutions. "When we started sketching the product, we placed it on the counter where you would normally put a retrofit bag drop. It was too low to be ergonomically correct for average users. So we tried taking it up higher, but then it was too high for small or seated persons, and (on days when the desk was being used for manned assistance) it was blocking the airline employee who sat there."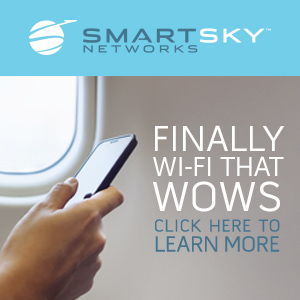 Some airports employ a separate bag drop solution for persons of small stature or those with physical disabilities, but the designers at Marcus Pedersen want to eliminate this practice.
"We think that all passengers should be treated as equals, and the airports and airlines we've spoken to feel the same way," Marcus Pedersen continues. "When we ask someone to use a different area and special equipment, the message we send is not a positive one."
Inclusivity aside, the height-adjustability of Air.Go On serves a second important purpose: creating a visible difference between "on" and "off" mode. When a unit is not in use the display screen goes dark, or can display luggage weight, and reverts to the lowest position (see diagram below, measurements are in millimeters). When it's active, the display rises up – almost becoming a substitute for the person at the counter.
On the advice of airport maintenance staff, Air.Go On features rounded edges and is clear of dirt-collecting screws or bolts. A powder-coated steel front and brushed stainless steel sides mean Air.Go On is highly durable and can be finished in any colour combination. Contoured at optimal screen-viewing angle, the units have only two buttons (for up/down height adjustment) and only one step is presented on the digital touchscreen display at a time. This enables a fluid user experience and leaves no room for error.
Staff monitoring the self-service bag drop area can rely on indicator lights at the top of the unit (universal red, yellow and green indicators) as well as a connected mobile device, to observe and help out with any issues. Behind the scenes, airport management have access to a comprehensive dashboard with detailed statistics and real-time data on the flow and performance of the bag drops.
"Installation of this retrofit solution is very easy," says Marcus Pedersen. "We add a bracket to the front of an existing counter. Then we hang the Air.Go On, connect to the luggage conveyors, and we are up and running."
Air.Go On is just the latest in the Air.Go family of forward-thinking self-service bag drop solutions from Marcus Pederson and leading self-service bag drop and software provider DSG BagDrop (now part of MATERNA Group).
ABOUT MARCUS PEDERSEN AIRPORT INTERIOR SOLUTIONS
Marcus Pedersen is a Danish company specialised in designing, developing and manufacturing products and furniture for airports and public areas. The company's roots date back to 1907, but today all work is conducted by a young and capable multidisciplinary team in the cross-field between design, engineering and craftsmanship. We believe in a user-centric design process that puts the end-user at the forefront of each design. www.marcuspedersen.dk
Contact person: Niels Marcus Pedersen
niels@marcuspedersen.dk
+45 40 90 06 02