Gogo (NASDAQ: GOGO), the global leader in providing broadband connectivity solutions and wireless entertainment to the aviation industry, announced today that it has partnered with aerospace software specialist PACE to connect PACEs' Pacelab Flight Profile Optimizer – the leading flight optimization application.
Pacelab Flight Profile Optimizer is a unique decision support tool developed for a pilot's electronic flight bag (EFB) that's designed to continuously evaluate numerous flight data metrics thus optimizing flight paths for maximum efficiency.  Under this partnership, the Pacelab Flight Profile Optimizer application will be connected in real time so a pilot will be able to adapt to changing conditions while in flight to reduce fuel burn and to improve ontime performance.
This partnership is another example of the value of the connected aircraft and the benefit of having access to real time data and information while in flight.
"By partnering with PACE, we establish a direct relationship to help market and integrate with each other's products while accelerating speed to market and providing a clear path for adoption of this valuable fuel savings tool into airline operations," said Andrew Kemmetmueller, Gogo's vice president of connected aircraft services.  "Gogo continues to move beyond the passenger connectivity arena and is rapidly enabling the era of the connected aircraft."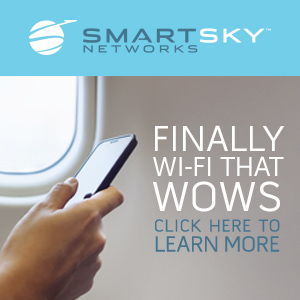 "En-route flight profile optimization enables flight crews to unlock substantial additional fuel savings," said Oliver Kranz, PACE's managing partner. "Many airlines have yet to realize the full potential of the connected EFB, and our partnership with Gogo highlights this attractive business case."
About Gogo
With more than two decades of experience, Gogo is the leader in in-flight connectivity and wireless entertainment services for commercial and business fleets around the world. Gogo connects aircraft, providing its aviation partners with the world's most powerful network and platform to help optimize their operations. Gogo's superior technologies, best-in-class service, and global reach help planes fly smarter, our aviation partners perform better, and their passengers travel happier.
Today, Gogo has partnerships with 17 commercial airlines and is installed on more than 2,500 commercial aircraft. More than 6,800 business aircraft are also flying with its solutions, including the world's largest fractional ownership fleets. Gogo also is a factory option at every major business aircraft manufacturer.  Gogo has more than 1,000 employees and is headquartered in Chicago, IL, with additional facilities in Broomfield, CO, and various locations overseas. Connect with us at www.gogoair.com and business.gogoair.com
About PACE Aerospace Engineering & Information Technology GmbH
PACE develops innovative, highly usable software products for the aviation and aerospace industries, which have helped to design, market and operate a significant portion of the world's aircraft fleet for more than two decades.
Major areas of application are preliminary aircraft and systems architecture design, aircraft and cabin configuration, aircraft economics and route analysis and EFB-based flight profile optimization.
PACE's extensive customer base includes the world's top aircraft and engine manufacturers, civil and military operators, maintenance service providers and research institutions.
PACE is a subsidiary of TXT e-solutions S.p.A. Helmed by the original founders, PACE serves the aerospace and aviation community from its Berlin headquarters, with additional sales offices in Toulouse and Seattle.
TXT e-solutions, listed on the Italian Stock Exchange since 2000, has served the aerospace and aviation industries for more than 30 years. Through its engineering division TXT Next, TXT delivers innovative solutions and highly specialized services in the domains of avionic software, training and flight simulation, product engineering and product configuration, digital manufacturing and on-ground and in-flight operations support.
More information is available online at www.pace.de | www.txtgroup.com