HAMBURG –  At this year's Aircraft Interiors Expo, satellite connectivity heavyweight Inmarsat was a study in contrasts.
RGN had an extensive Q&A during Inmarsat's press conference and later separate discussions with Inmarsat Aviation unit president Leo Mondale, who combined the experience of current-generation L-band and Ku-band systems for cabin use together — a comparison with which RGN and others took issue — and suggested that L-band was superior because of greater reliability. "In fact, in terms of the market today, SwiftBroadband is a more reliable service than Ku-band. It is not fast enough for broadband today, I will agree with that," Mondale admitted. 
There are material differences between L-band and Ku-band in terms of consistency, speed, and bandwidth.
On the consistency front, L-band has shown itself to be so consistent that its Classic Aero iteration has long been ICAO-approved to support safety services, while the newer SwiftBroadband aero service is currently supporting SB Safety trials on both Hawaiian Airlines and FedEx in preparation for broader rollout. This week Inmarsat announced a memorandum of understanding with China's Beijing Maritime Communications Navigation Company for L-band-based SwiftBroadband Safety for the cockpit (as well as Global Xpress Ka-band for passenger connectivity).
But while SwiftBroadband is reliable for critical comms, and global except for the poles, in the cabin it has proved a product for a bygone narrowband era.
Ku-band, for the most part, is a usable product for the modern web, and has been improved since it was introduced. Your author had a positive experience on Emirates and Scoot flying CHC-SYD-SIN-TPE-NRT in March, with very few dropouts and in general an entirely usable experience, even using data-hungry apps like Twitter, Snapchat, Instagram and Facebook. RGN Editor Mary Kirby just flew EWR-HAM and, with seemingly few people using the system, was even able to stream a video without buffering. While acknowledging that there are issues with standardised speedtests, RGN's #ShowMeTheMegabits hashtag shows a pattern of informative qualitative assessments of connectivity speeds, many of which show a decent experience on Ku-band.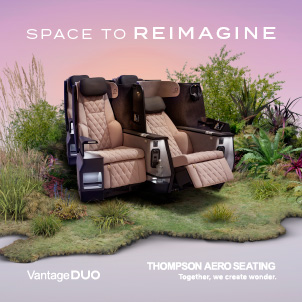 It's a strange juxtaposition when Mondale admits in the public press conference that L-band and Ku-band are unsatisfactory, and then in an interview 20 minutes later insists that the #PaxEx of L-band on an Emirates A380 is not only satisfactory but pumping a significant amount of data through, while also suggesting better performance than Ku-band on the same airline's 777s.
Mondale is right that as an industry, we do need independent statistical analysis of speed, reliability, throughput and overall experience. RGN stands ready to receive and confidentially analyse that kind of dataset from any connectivity provider, and will work to reasonable security and confidentiality conditions.
However, it's clear that Inmarsat's Global Xpress (GX) Ka-band service is being positioned as a better offering than Ku and Inmarsat's own L-band, though journalists have not yet been given the opportunity to test GX for themselves. "What I am willing to say right now, is when we gather at APEX in September, we will be looking back at commercial service having occurred at that point and I think you will hear back from us and or Honeywell and other partners about when you can expect a press demonstration. It is weeks off, not quarters or years or anything like that," said Mondale. And indeed there are mumblings that GX terminal unit provider Honeywell is gearing up for a media event.
Asked whether Inmarsat would start GX service with the first Lufthansa Airbus A320 family aircraft, or with a certain number in the subfleet before the switch was flicked, Mondale said, "Lufthansa has to answer questions about their connectivity, it's not for me. We are the partner supporting that, and they will decide how it is rolled out."
Lufthansa spokesperson Sandra Kraft later told RGN: "We will start equipping our A320 fleet with the technology for internet connection of Inmarsat within 2016 so the service will be available in the first aircraft(s) later this year. The other aircrafts will follow one after the other in 2017 and 2018."
Mondale declined to say how many today GX installations have been secured to the end of 2018, noting only "we are not signing contracts that we cannot deliver on". When pressed again by Kirby in a one-on-one interview, he said, "We only give a very high level allocation of our financial summary of the businesses; that's a matter of corporate policy because we have significant businesses there that share the infrastructure."
Moreover, even though GX business is growing quietly in the background – with GX program partners speaking of robust activity on the A350 program in particular – Mondale reiterated that Inmarsat wants to "respect airlines' right to make these announcements when they see fit".
On GX speeds, Mondale said, "We have said what we are going to about that performance, and again the point I will make is that it is an airline choice. That performance doesn't come for free, contrary to some claims, and some airlines will value predictable, reliability and performance over price. It will be up to them as to how they position the service. Not every airline has to buy everything they possibly can, and it isn't one size fits all any more than the airline market itself is one size. We are in a position to support pretty much any business case we have encountered in the airline industry so far." 
When asked if Inmarsat believes it has the capacity in the system to deliver 20% take rate on streaming, or 10% take rate on streaming plus the other 60% using a more traditional 120kbps per user kind of number, across full fleet deployment, Mondale said, "Yes, we do. In terms of the individual aircraft performance, there is not a problem. In terms of the individual channel and beam, yes, we can support that. The variable here is how long and at what rate an airline wants to ramp up." 
In truth, the chance for journalists to test out Global Xpress in the flesh cannot come quickly enough.
Photo at top: GX being installed on Honeywell 757 testbed aircraft. Image: Honeywell