Inmarsat, the world's leading provider of global mobile satellite communications, has commenced an important two-year study with the European Space Agency (ESA) to enhance Air Traffic Management (ATM) in Europe by introducing more efficient data link communications.
The study follows the Iris Precursor contract awarded to Inmarsat by ESA in November 2014, under which an initial set of services was designed and developed to complement existing, but congested terrestrial datalink services. The services, which meet the aviation industry's short-to-medium term ATM needs, are supported by Inmarsat's next-generation SwiftBroadband Safety (SB-S) satcom system, an evolution of its existing high-capacity L-band SwiftBroadband system.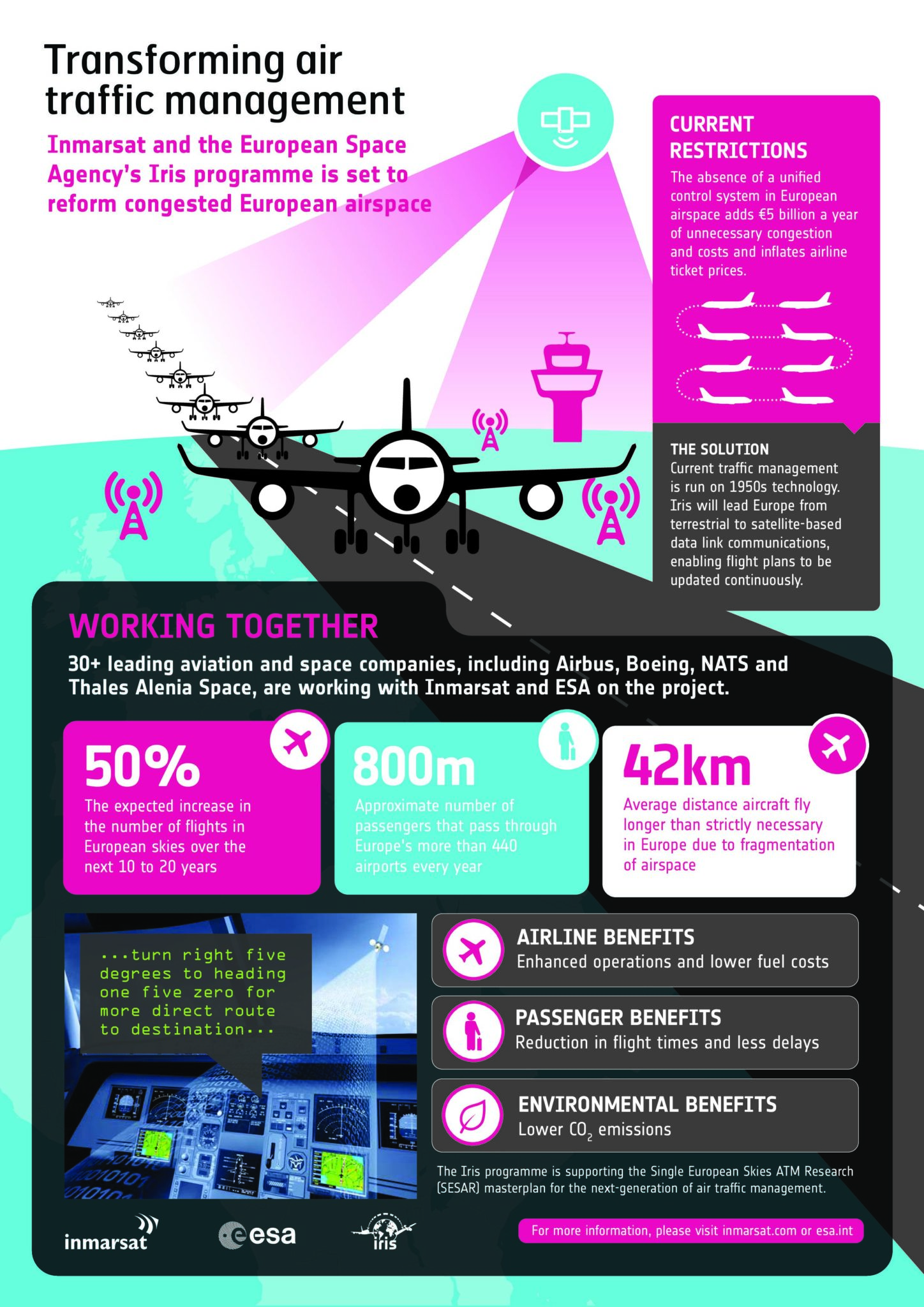 The Iris Service Evolution Study will develop a technical, commercial and operational roadmap that transitions from the initial Iris Precursor services to meet the long-term requirements for satellite datalink services as part of the Single European Skies ATM Research (SESAR) masterplan.
By 2018, Iris Precursor is expected to support Controller Pilot Data Link Communication (CPDLC) in Europe and open the door to initial 4D flight path control, with the exchange of information coming directly from avionic systems. In the longer term, Iris will evolve to support Full 4D and operate in a highly secure multi-link environment with future terrestrial datalinks, enabling the more efficient management of traffic by synchronising trajectories between air and ground.
With efficient datalink services, flight plans can be continuously updated during a flight to maintain an optimal trajectory to destination, allowing air traffic control to offer better routings, sequence aircraft far in advance, and maximise airport and airspace capacity. In addition to reducing flight times and airborne holding, it will also support concepts such as continuous descent operations, resulting in less fuel burn, reduced delays and lower CO2 emissions.
The Iris Service Evolution Study includes a consortium of over 30 companies from across the aviation industry, gathering key players from air transport, air traffic management, aeronautics and the satcom industry experts, including Airbus, Boeing, NATS and Thales Alenia Space, together with the IRIS programme's first airline partner, Alitalia, the national carrier of Italy.
Leo Mondale, President of Inmarsat Aviation, said: "Air traffic management is under great pressure and there is no doubt that the digitalisation of cockpit communication is a vital building block of the future, opening the door for airlines to truly benefit from enhanced data utilisation.
"Iris will help to shape the future of ATM and mark a new era of communication in the aviation industry. Inmarsat already pioneered satellite datalink services in oceanic areas 25 years ago and we look forward to now bringing this expertise and knowledge to continental airspace. Together with ESA and members of the Iris consortium, we will demonstrate the important contribution that Iris will make to air traffic management in Europe."
The Iris partnership was created following a major funding commitment approved at ESA's 2012 Ministerial Council. While the programme will initially focus on Europe, the services will also benefit ATM operations in North America, Asia Pacific and other regions around the world where the growth of air traffic is placing a strain on ground-based networks.
NOTE: Inmarsat and ESA are leading the Iris Service Evolution Study with support from a consortium of aviation companies, listed below, that cover functions ranging from aeronautics and space to aircraft manufacturers, airlines and air navigation service providers.
COUNTRY
COMPANY
Austria
Frequentis
University of Salzburg
Czech Republic
Honeywell-CZ
Igassu Software Systems
Evolvsys
France
Airbus
Germany
DLR
Ireland
Airtel
Italy
Alitalia
ENAV
Next
Thales Alenia Space
Wiser
Netherlands
CGI-NL
SITA-NL
Norway
Avinor
SINTEF
Portugal
GMV
Indra
Romania
GMV-RO
Indra-RO
Romatsa
SITA-RO
Spain
ENAIRE
Indra
United Kingdom (UK)
CGI-UK
Helios
Honeywell-UK
Inmarsat
NATS
United States (US)
Boeing
For further information
Inmarsat
ESA
Jonathan Sinnatt

Director of Corporate Communications

+44 (0)20 7728 1935

jonathan.sinnatt@inmarsat.com

Robeel Haq

PR Manager, Aviation

+44 (0)20 7728 1352

robeel.haq@inmarsat.com

ESA Media Relations Office

+33 1 53 69 72 99

media@esa.int
About Inmarsat
Inmarsat plc is the leading provider of global mobile satellite communications services. Since 1979, Inmarsat has been providing reliable voice and high-speed data communications to governments, enterprises and other organizations, with a range of services that can be used on land, at sea or in the air. Inmarsat employs around 1,600 staff in more than 60 locations around the world, with a presence in the major ports and centres of commerce on every continent. Inmarsat is listed on the London Stock Exchange (LSE:ISAT.L). For more information, please visit www.inmarsat.com.
The Inmarsat press release newsfeed and corporate updates are on @InmarsatGlobal.
About the European Space Agency
The European Space Agency (ESA) provides Europe's gateway to space. ESA is an intergovernmental organisation, created in 1975, with the mission to shape the development of Europe's space capability and ensure that investment in space delivers benefits to the citizens of Europe and the world.
ESA has 22 Member States: Austria, Belgium, the Czech Republic, Denmark, Estonia, Finland, France, Germany, Greece, Hungary, Ireland, Italy, Luxembourg, the Netherlands, Norway, Poland, Portugal, Romania, Spain, Sweden, Switzerland and the United Kingdom, of whom 20 are Member States of the EU. ESA has established formal cooperation with seven other Member States of the EU. Canada takes part in some ESA programmes under a Cooperation Agreement.
By coordinating the financial and intellectual resources of its members, ESA can undertake programmes and activities far beyond the scope of any single European country. It is working in particular with the EU on implementing the Galileo and Copernicus programmes.
ESA develops the launchers, spacecraft and ground facilities needed to keep Europe at the forefront of global space activities. Today, it develops and launches satellites for Earth observation, navigation, telecommunications and astronomy, sends probes to the far reaches of the Solar System and cooperates in the human exploration of space.
Learn more about ESA at www.esa.int
Featured image credited to istock.com/JakeOlimb