It's not every day that an airline and a seatmaker launch a new aircraft with a new seat, but Swire Group's Cathay Pacific and HAECO Cabin Solutions (the Hong Kong Aircraft Engineering Company acquired TIMCO in 2013-14) will debut the so-called Vector Y+ model when the airline receives its first Airbus A350-1000 aircraft.
It should be noted, of course, that the Vector Y+ seat is not a full premium economy seat — the "Y+" moniker signals that it is the full-featured longhaul economy arrow in the wider quiver of Vector seats that HAECO launched at the Aircraft Interiors Expo last year. HAECO expects to introduce a full premium economy seat sometime this year.
Runway Girl Network spoke with HAECO's Jeff Luedeke, senior vice president of sales and marketing, plus David Kelly, vice president of strategy and marketing, to put the launch into context and analyse the innovations coming in the Vector lineup.
Luedeke started by outlining the context in which HAECO designed its new Vector platform. "The way we look at the economy class market, there are really three segments to it today," Luedeke said. "The first is the high end seat pan articulation, recline, fully integrated video systems, cupholders, extensive headrests, even some footrests on the back — your high end, long range economy class platform.
"The second tier would be your standard economy class with back recline, where maybe 20-30 percent of the demand has integrated video systems, but for the most part it's just a basic seat with recline. What we're seeing more is a requirement for in-seat power supply and some pretty straightforward features to integrate."
"The last tier," Luedeke said, "would be your ultra-lightweight, no-frills, no-recline — what we commonly refer to as a sling seat. It's something that you'd find in most applications in the single aisle airframe at a max density pitch. Today we're seeing that even down to 27 inches, but more commonly a 28 inch pitch."
"We look at the economy class market with those three seat requirements," Luedeke concluded. "The Vector Y+ from our platform is our ultra-longhaul, high frills, lot of feature selection seat."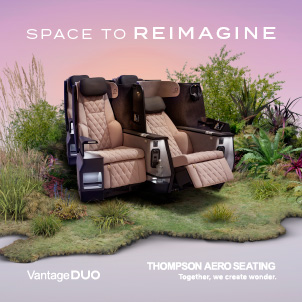 One of the significant attributes of the Vector Y+ seat highlighted by HAECO is the living space. "Cabin density is very important — and how many passenger places you can fit in a particular fuselage. Different airlines have different requirements for what they want as a cabin service. An example of that is if Vector is installed side by side with one of our heritage products, it's almost an inch-and-a-half to two-inch difference. So, if you're sitting at a 30-inch pitch in one of our heritage products, and then you install Vector at 30 inches, it really gives you a feeling like it's at 32 inches or 31 and a half," claimed Luedeke.
He was initially reticent to give a weight saving, noting that the customisation options of the Y+ seat type in particular means that it's hard to compare across seat generations, and that inflight entertainment systems are often selected and supplied by airlines and form a significant part of the seat weight. When pressed by RGN to compare a like-for-like seat against previous generations, "looking at it from that perspective in a relative comparison to some of our heritage products, I would say it's along the lines of twenty percent would be a rough order of magnitude," Luedeke said.
The heritage products Luedeke refers to date back to "around 2009 or so. The way the market has been in the last ten years, the life cycle of economy class is about five to seven years, and then you need to look at refresh. Depending on what the market demands, that refresh can vary. For us, this was a complete changeover to a complete new design, so we moved away from the previous designs we had in our portfolio and went to a whole new ground-up design."
The key advances of the Vector generation of products is "through some innovation with the back design, the shape of the back design, the location of seat frame, where the spar tube is, and things like that," Luedeke explained. "The other thing we had to keep in mind was underseat personal space. Airlines look at charging for carry-on bags in some cases, and even if it doesn't cost to bring bags on board in longhaul, people bring a lot of personal items on board so it's important to improve seat design storage space for personal items."
"One of the other aspects is weight — and then it's availability. We've got a lot of capacity. We've built and designed an organisation and production system around this new platform. The amount of assembly time compared with our heritage seats is dramatically different. The way we're handling pre-certification of selectable features will allow us to address market demand in a short flow."
The key to building that availability and capacity was that HAECO "did a couple of years of market study and determined a weight target. Something that's very sensitive to longhaul is seat comfort, so we did some independent pressure mapping and we've got some industry standard rating system for passenger space like knee clearance, shin clearance — what we call the living space. We're very sensitive about living space. We actually graded the current seats in our portfolio against this criteria, and did a rating across our product portfolio, and that helped us set targets for the Vector platform."
The platform nature of the Vector line enables HAECO to remain agile while retaining the capacity to produce thousands of seat units to meet demand — something that not all seatmakers have been able to do successfully in recent years.
"A platform design would allow us to do certification on a base platform," Luedeke explained, "and then have the flexibility of having selectable features, and be able to incorporate in a short flow program to meet market demand. Of course, something that's very sensitive to everybody is cost. 'Produceability' was very sensitive for us in making a single-piece flow production line to accommodate the Vector platform."
HAECO's continued emphasis on its production ability is part of a desire to be within the catalogues for the latest and next generations of Airbus and Boeing aircraft.
"For the A350," Luedeke hedged, "I'd say that we're in the process, with aspirations to be catalogue-offerable."
Desirability of being on catalogue, neither Kelly nor Luedeke would be drawn to update the 2015 industry zeitgeist among suppliers that catalogues are either disasters or merely okay. HAECO's vice president of product development Sam Ahad was the one who used the word "disaster" at last year's AIX in Hamburg.
"I don't think we'd want to take a stance on opinions of the catalogue. It's something we're pursuing," Kelly added.
Interestingly, the Vector Y+ seats will be installed at the Airbus completion factory: "Right now it's planned for a linefit installation at Airbus, prior to the aircraft delivery to Cathay," Luedeke confirmed. So while the relationship might not be catalogue-official yet, there are certainly promising signs.