The proposed new aircraft CO2 standard agreed yesterday at ICAO is either a significant step towards reducing aviation's carbon footprint or a missed opportunity, depending on who you ask.
One point which can be unanimously agreed upon is that it is a world-first for aviation, and a key milestone on the road to tackling the sector's rapidly-growing emissions.
ICAO announced yesterday that after six years of painstaking work, the design of the first-ever global certification standard for CO2 emissions from new aircraft has been finalized. It will apply to all new aircraft types certificated after January 1 2020.
All aircraft currently under production will be expected to comply after 2023, but only if they undergo modifications that require re-certification. This is the part that sticks in the craw of environmental campaigners.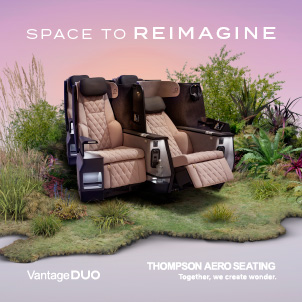 "A CO2 standard with binding requirements for in-production aircraft from 2023 would have been more meaningful," Daniel Rutherford, program director for aviation at the International Council on Clean Transportation (ICCT), tells RGN.
"The details are complicated, but the phase-in from 2023 for modified aircraft isn't expected to require additional improvements from new aircraft because of the way it's designed. The real requirements begin in 2028, at which time the non-compliant models won't be in production anyway."
As Rutherford points out, all remaining in-production aircraft will have to comply by 2028, essentially making this date the real starting point for universally applying the standard.
Annie Petsonk, international counsel for the Environmental Defense Fund (EDF), applauds the standard's ambitions when it comes to new large aircraft types but, like Rutherford, she is less enamoured with its application to in-production aircraft.
"The standard's application to aircraft already being manufactured…is less ambitious. The technical committee has called for a review, to be concluded by 2019, which could be an opportunity to increase the ambition of the standard as it applies to these aircraft," says Petsonk. "In the meantime, industry should aim to improve the efficiency of aircraft coming off production lines – starting now."
The Air Transport Action Group, a cross-industry organization focused on sustainable aviation, describes the CO2 standard as "a significant step towards the industry's long-term goal to halve aviation CO2, and much-needed momentum ahead of the ICAO Assembly in September, at which governments are expected to agree on a global market-based measure for aviation".
ICAO points out that the proposed standard is "especially stringent" for larger aircraft, where its impact will be greatest. "Operations of aircraft weighing over 60 tonnes account for more than 90% of international emissions. They also have access to the broadest range of emissions reduction technologies, which the standard recognizes," says the UN body.
"The goal of this process is ultimately to ensure that when the next generation of aircraft types enter service, there will be guaranteed reductions in international CO2 emissions," notes ICAO Council president Olumuyiwa Benard Aliu. "Our sector presently accounts for under 2% of the world's annual CO2 emissions, but we also recognize that the projected doubling of global passengers and flights by 2030 must be managed responsibly and sustainably."
But the ICCT describes the proposed standard as "a missed opportunity to address the growing climate impacts of global aviation". It estimates that it will only require a 4% reduction in CO2 emissions from new aircraft over 12 years, which environmental campaigners feel falls short of what could have been achieved.
In simple terms, the proposed standard works in a similar way to a miles-per-gallon standard for automobiles. It is calculated using a metric system agreed in 2013 by ICAO's Committee on Environmental Protection (CAEP). The standard is based on an aircraft's performance during the cruise phase of flight, expressed in kilograms of fuel per kilometre of flight. This is then adjusted to account for the size of the fuselage.
For each aircraft type, the proposed standard defines a maximum metric value (fuel burn per flight kilometre) that may not be exceeded.
The next step will be for the proposed standard to be fully adopted by ICAO's 36-state governing council later this year.
Despite concerns that the standard is perhaps not as ambitious as it could have been, it has largely been welcomed as a positive step, albeit with room for further improvement. It certainly heralds progress, and progress can often be slow and labored.