Little-known Italian seat manufacturer Optimares is making a name for itself in the business class seating market with a new fully flat bed product in a 2-2-2 layout of V-shaped pairs across the Airbus A330 cabin diameter for Hawaiian Airlines, but which also features direct aisle access thanks to an innovative gangway. A new premium class seatmaker is a welcome addition to a part of the industry that has experienced a significant amount of consolidation — arguably, overconsolidation — in recent years.
The new seat platform, named Maxima, and developed in cooperation with London design house Acumen is bang on the trend of increasing segmentation in business class across airlines, with an increasing number of carriers currently operating angled lie-flat seats or first-generation fully flat beds facing the reality that not all markets can support one of the many herringbone clones with direct aisle access, which is the current gold standard for business class.
Hawaiian Airlines is one such carrier. As its recliner seat domestic first class #paxex was eclipsed by, among others, the B/E Diamond fully flat product used in a 2-2 configuration in business/first on domestic narrowbodies, Hawaiian has long argued that its premium travellers are different: couples on vacation or MICE market travellers bringing the other half with them. Yet with the new Optimares Maxima product, Hawaiian has itself leapfrogged those fully flat beds without direct aisle access.
Philippine Airlines is another, currently offering the Stelia Equinox 3D seat on its A330 fleet. PAL's position is that passengers would prefer to fly nonstop in a flat bed on PAL without direct aisle access rather than connecting to another carrier to avoid the "midnight clamber" from the window seat over the aisle passenger. While Optimares did not name PAL as a customer, several of the images Optimares sent to RGN had the carrier's name in the file name (including at top, and immediately below).
Optimares' business development exec Marco Tonucci tells Runway Girl Network that the seatmaker has secured an undisclosed customer's "small fleet" of Boeing 787 Dreamliners, nose-to-tail with a full three-class layout. 
The segmentation issue, Tonucci explains, is clearly visible in the Hawaiian market. "Leisure airlines, like Hawaiian Airlines, typically move high-end tourists, honeymooners, families, and business people that might travel with their colleagues or partner. A 1-2-1 LOPA [layout of passenger accommodations, generally known as a seat map] would not only be inefficient for cabin density but would also see some passengers being separated from each other. A 1-2-1 business class cabin might be good on paper but it is a dysfunctional environment for those traveling together as well as for airline economics as far as cabin density is concerned."
Hawaiian's customised version of the seat is attractive, not least thanks to the work of designer Paul Wylde — and it suits the market well. For Hawaiian Airlines, if the direct aisle access part doesn't work out well then even a fully flat bed without direct aisle access is an upgrade. Hawaiian doesn't necessarily need to eclipse its competitors to be in the game on the routes where it flies widebodies against competitors' widebody recliner products or narrowbody flatbeds.
But, more widely, the crux around which the seat's success will revolve is the extent to which the gangway between the ottoman and the aisle is navigable, in the dark, by a window seat passenger. RGN asked Tonucci for measurements: "It all depends from the pitch size. However it is never below 7", typically 9", but we did a 11" option too (way too premium). Consider also that the ottoman is low and it's always below the knee level, so the passage for the standing passenger is actually very wide at waist level."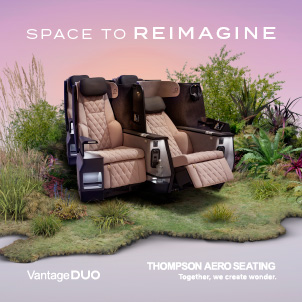 But what stops the feet of a tall passenger sleeping in the aisle seat blocking the way out of the window passenger? "In case of Hawaiian Airlines there is a small lip, their design has to be open and welcoming but, in a more business environment, we have a client that asked a completely enclosed footwell area."
This seems to be a question that can only be answered by an examination of the product in service. Given the market profile for premium travellers to Hawaii, will less mobile older passengers, for example, be able to successfully navigate the gangway?
The tension between bed length and gangway space is key. As Tonucci notes, "The window passenger doesn't have to give way to the aisle so there is more space for a longer bed. The airline can choose to give standard beds to all or in this case to have a longer bed for the window passenger." Several airlines already do this quietly, although there are questions about the truthfulness of advertising copy in some cases where the length quoted is not for all seats.
At the end of the day, Optimares' solution is efficient, its partnership working with airlines is praiseworthy, and the customisability of its product is very promising. The trick will be to get it certified and on the aircraft.