Providers of inflight entertainment solutions work hard to innovate and develop products that will enhance the passenger experience in every class. Even so, passengers often lament that the systems they encounter on board are outdated or that their seatback is missing IFE altogether. Part of the reason for this "tech disconnect" is simply that the path to market for new systems is fraught with hurdles, especially for smaller IFE suppliers and newcomers to the industry.
Even with many airlines pushing for change, the major airframers are famously slow to accept new IFE solutions as linefit (i.e. factory fit) options on newly-built aircraft. Massive backlogs at both Airbus and Boeing can also mean that even when airlines do dish out on approved state-of-the-art passenger-facing tech (usually from big fish Panasonic, Thales and now Zodiac) at order time, those solutions can be seen as out-of-date by delivery time if an aircraft program is in any way delayed (airlines must pick their interiors 18-24 months before aircraft delivery).
Airlines that want to install the latest systems from suppliers not on the OEM short-list must do so via post-delivery retrofit modification. The aircraft refurbishment sector is booming and there is plenty of competition (even as the overall maintenance, repair and overhaul market faces headwinds due to increased reliability of aircraft). But a new player on the refurb scene, Latitude Aero, sees an opportunity to bring fresh thinking to the space, by offering turnkey refurb/installation solutions for IFE vendors with a focus on cost, turnaround time and quality.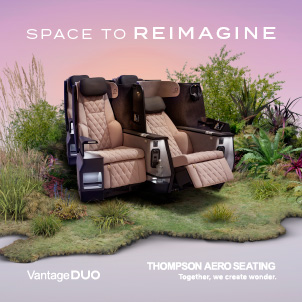 "We saw a niche, a need for IFE venders and in-seat power solution providers to be able to use retrofit as a means to bring new generation systems to market," says Kelvin Boyette, president and co-CEO at Latitude Aero. "We [enable] them to come to market quicker, while giving airlines the opportunity to retrofit their exiting seats – latest technology integrated – rather than having to go the new seat route".
He explains: "An airline taking delivery of new seats can send us the old seats and we'll make the old seats look like the new seats. This helps airlines achieve a parallel passenger experience and save costs. Passengers will be able to step onto a 30-year old 737 and get onto a brand new 787 and the look and feel will be very much the same."
Crucially, Latitude Aero allows IFE companies to "take the lead and be the prime source – one vendor" for their airline customers. "We are the sub-contractor that allows them to install their newest solution. Now they can go out, target the business and really get the retrofit market," says Boyette.
Though Latitude Aero itself is just a few months old, Boyette and his business partner have a global vision and plenty of industry support. They've already established two operational bases, a 34,000 square foot facility in Greensborough, North Carolina, and another is set to open soon in Shannon, Ireland.
The company is is in the process of getting its Part 145 designation as an FAA approved repair station for airline seats. "We will be able to write the service bulletins, provide all the engineering, all the harnesses, the kits and the touch labor throughout the Americas," says Boyette. "In a couple of weeks, when we open in a facility in Shannon Ireland, it will let us cover Europe and the Middle East as well."
So far, says Boyette, support from the IFE community has been strong. Vendors like the level of control his business model gives them. With 15 RFPs reportedly in the pipeline and projects already launched with several vendors, it does appear Latitude Aero is well on its way to carving out its niche. It unveiled its first seat/IFE retrofit project – with Rockwell Collins – at the recent APEX Expo in Portland, Oregon (pictured at top).
Jon Norris, vice president of sales at Lumexis Corporation  – an IFE supplier with linefit offerability on the Boeing 737NG and MAX, but not at Airbus – says that he and Lumexis president and COO Lou Sharkey are working closely with Boyette. "The pacing element in any seat-back IFE installation is always the seat integration, testing and certification; so having a partner that can supply quality retrofitted seats on time and on budget provides a significant competitive advantage. Latitude Aero was set up to do just that – deliver refurbished seats of any model with the IFE system installed quickly and cost-effectively," says Norris.
"We can greatly reduce the lead-time taken to integrate the very latest IFE systems into aircraft seats. There is a huge market for retrofit seats and IFE systems that will see many airlines introduce seat-back AVOD IFE systems. These systems bring with them a huge improvement in #PaxEx."