Airbus is again disputing the notion that embedded inflight entertainment systems are headed for the scrap heap now that the option of wireless entertainment is available to airlines.
Three years ago, Airbus interiors marketing manager Patrick Candelier told this author that wireless IFE "is the type of solution that will come as a complement to the wired IFE system in the longhaul market. This is what we [at Airbus] see. Of course, there are always customers that do some unique things, but the bigger trend on the longhaul market is that 'wireless IFE' is a complement for sure."
In an interview with Runway Girl Network today, Candelier revealed that the European airframer's views on the subject "remain unchanged", noting that for longhaul aircraft, "the relevant solution is wired IFE in terms of in-seat audio/video on demand (AVOD)".
His comments contrast to those of Qatar Airways CEO Akbar Al Baker, who last week told attendees of IATA's World Passenger Symposium in Hamburg that embedded IFE systems would be replaced by streaming to personal devices in five to seven years.
Other airline CEOs have made similar predictions over the past several years, suggesting that they would love nothing better than to forgo offering costly embedded IFE systems on board. But from where Airbus sits – atop a stack of orders that correspond to 10 years of production at current rates, and the knowledge that a vast majority of widebodies are delivered with embedded systems  – wireless-only IFE "is still a miss" for most longhaul operations, says Candelier.
Instead, wireless IFE on longhaul aircraft "will come on top of – in combination with – the in-seat AVOD so that the passenger has a second screen and can see the camera, the moving map and any type of information, and at the same time he can look at the [screen in front of him]. For us, it is clear that on longhaul aircraft, [wireless IFE] is an add-on," he notes.
The single-aisle market, on the other hand, is very diverse, and airlines can operate those aircraft "from zero to six flight hours so your needs will not be the same … so there is clearly a portion of this market for which onboard wireless on its own will make sense".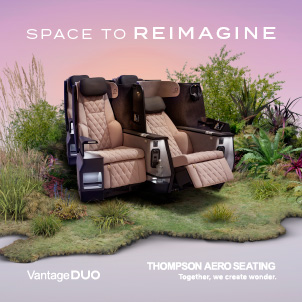 Though some airlines may still select in-seat AVOD for A320 family aircraft flying long stage lengths – it enables airlines to offer early window movie content and serves as a distraction for passengers, who can also control the overhead light and flight attendant call button via the system – a pairing of wireless IFE and overhead might also make sense, says Candelier, and (believe it or not) overhead-only systems still play a role.
Eager to give airlines ample choice, Airbus has developed a Universal Platform for the A320 family, which is a modular approach for mixing and matching an onboard wireless network, in-seat power, in-seat video and overhead video.
"The richest offer that we have in our current catalogue is the A320 for IFE," says Candelier, noting that the firm offers solutions from Panasonic Avionics, Thales, Rockwell Collins, Zodiac Inflight Innovations and soon ALNA for streaming.
Pioneered by Airbus and Kid-Systeme in 2007, ALNA – or Airline Network Architecture – was the first inflight connectivity solution available as linefit on all Airbus aircraft, leveraging Inmarsat's L-band-supported SwiftBroadband aeronautical service. But by the end of the year, it will also come "as an option to be purely – not the whole connectivity system – but the onboard wireless part of it" for content streaming and operational comms, says Candelier.
"Five suppliers are working on wireless solutions, so let us imagine that all of them are certified and correspond to our requirements, which means at the end of the day the airline has a choice of five different [wireless] products from five different suppliers," he adds, noting that Kid-Systeme handles ALNA installs in the retrofit market.