Like it or not, many people expect free wifi everywhere they go, whether it's a hotel, coffee shop, or hurtling through the sky over five miles high at nearly the speed of sound in a pressurised tube.
Most airlines and inflight connectivity providers have pretty much managed to position free wifi with a solid connection as not really an option — with a notable exception of the late-entry JetBlue's ViaSat Exede Ka-band satellite-supported product, which is currently only available in a relatively small North American area, and which still has a free option. 
For airlines that got on the inflight wifi bandwagon early in North America, the dominant provider is Gogo, using its proprietary systems that are, in lay terms, cellphone towers pointing towards the sky. This technology was pretty speedy when it was introduced to commercial aviation in 2008 — a year after the first-gen iPhone and two years before the arrival of the iPad — but it hasn't aged well in terms of passenger experience as devices have gotten hungrier.
That's particularly true for the airlines using Gogo's first-generation air-to-ground (ATG) technology, which maxes out at just over 3 Mbps. Yet even the second-generation ATG-4 technology – now being adopted by Alaska Airlines – maxes out at under 10 Mbps. If you're unlucky enough to live or work somewhere without fibre or cable Internet, these speeds might sound like your home or office connection. But your laptop, tablet or phone is sharing them with many other personal electronic devices (PEDs), depending on the size of aircraft and how tech-focussed your fellow passengers are.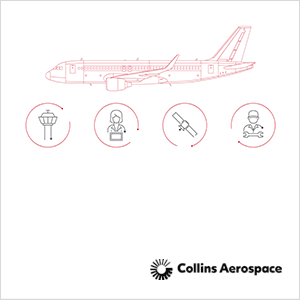 And that's the thing: PEDs are proliferating, even on routes that aren't to a Silicon Valley, Alley or other placename. PED-makers, app creators and operating system designers continue to require more and more bandwidth and transfer data, and there's no "light wifi" mode to tell a device not to try to suck down hundreds of megabytes of updates over a narrow inflight Internet connection. (The automatic update issue is a huge problem for providers and causes significant reductions in availability for passengers.)
Slow wifi is still a big frustration for travellers, and one that mobile, social and vocal passengers are only too willing to share with their networks.
These are not issues unique to aviation. Indeed, airlines and the companies that provide their inflight Internet do a significantly better job than many other transport sectors. Twice this year I have experienced terrible maritime connectivity: first on a media trip aboard the brand new and much-vaunted Viking Star cruise ship, where the free satellite connectivity was unusably slow for most of the voyage, and secondly on a six-hour cross-Channel ferry between the UK and France, where a similar system was so overburdened that I was only barely able to join the network in the first place, let alone actually get connected to the Internet. I would have willingly paid top Gogo prices to be able to get some work done during those times.
The only option for airlines and providers who don't have practically unlimited bandwidth supply in the face of unprecedented demand is to regulate the amount of that demand. The way to do that: cold, hard cash. (Well, cold, hard plastic, anyway.) Pricing, often dynamic, is the best way to ensure that at least someone on the aircraft can have a good connection when it's not possible for everyone to do so.
Yet simply charging more is a problem for brand reputation.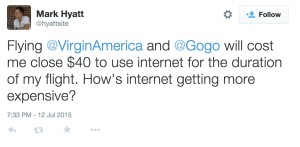 A quick Twitter search for "Gogo expensive" shows the extent of the issue. Though Gogo intends to greatly improve its air-to-ground network in the US once spectrum is made available, and is testing its broadband 2Ku satellite solution in preparation for rollout on Delta and other carriers, the lack of information on why current prices are so high is frustrating to travellers.
Passengers aren't unreasonable — although sometimes their unset expectations might feel that way. The reality is that anyone who uses a PED has experienced a slow connection on the ground, and it seems to me that if the industry provided a better explanation of how it is working to overcome the challenges of inflight connectivity then people might understand (and be more forgiving).