The key word driving the emergence of 4K Ultra High Definition (UHD) technology – with four times the resolution of 1080p – in the home theater market is "immersiveness". Sony, LG, Samsung and Panasonic all talk about viewers being immersed in the display and the content. Now Panasonic Avionics wants to allow passengers to feel something akin to that experience in-flight.
The company is in a unique position to leverage new display technologies. Its parent, Panasonic Corporation, is deeply involved in 4K, having announced an expanded line of 4K UHD TVs earlier this year at International CES. In fact, it is already focused on 8K resolution and new color technologies that greatly improve picture quality well beyond what is considered cutting-edge today.
"4K brings a substantial improvement to screen resolution, but that's only one part of the equation. It's also about high dynamic range, deeper, richer colors, and exceptional contrast ratios," says Neil James, executive director of corporate sales & product management at Panasonic Avionics. That's why the unit is leveraging its parent's in-house knowledge and working with other key manufacturers to bring what it says will be "the best possible experience to passengers" with true 4K UHD.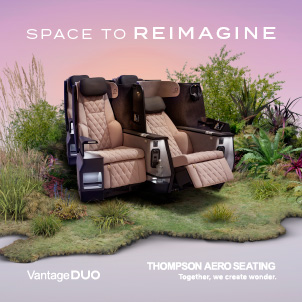 Equally important to 4K UHD inflight entertainment "are the imminent, significant improvements in processor capability. As this technology evolves, GUIs will be even more stunning not just in resolution, but also in their interactions and effects," explains James. "There's also a tremendous opportunity to replace expensive, heavy magazines as the digital media industry evolves to exploit 4K and other emerging higher resolution screen technologies."
Some experts argue that 4K UHD technology isn't a pure fit for in-seat, inflight entertainment (IFE), particularly in economy class, due to the distance between the passengers' faces and the screens.
Larry Iboshi of Imagik International, one of the world's leading providers of flat panel IFE monitors, believes that the real reason for the push towards 4K is the abject failure of 3D to make a real foray in the aircraft cabin. "My view about 4K is that it's being promoted by the TV manufacturers and maybe some in Hollywood, because 3D was not a big success. In other words, they're trying to maintain their sales, so, they're looking at you to replace your television set," he told attendees at the recent APEX Technology Conference in Universal City, California.
With that said, Iboshi was quick to point out that 4K might prove most useful to airlines as a marketing tool. Chatting with RGN on the sidelines of the conference, he said. "If you talk to the suppliers, they're the people that are getting queries from the airlines. In my opinion, I think it's marketing. [Airlines] want to say: 'I've got 4K on the airplane.' When you buy a TV set today you've got 3D, but, how many people use it? Well, I think once people start getting UHD, they'll move their couch closer to the display to take advantage of the quality [and] I think the airlines … need to know what the passengers are seeing at home. It's all about expectations by the passenger. You can't set [expectations] too high, but you want to make them feel like they've got the best that they can get."
Though 4K UHD hasn't yet been introduced to IFE, shipments of the displays to homes are projected to reach four million units this year, marking a 208 percent increase over 2014, according to CEA's U.S. Consumer Electronics Sales and Forecasts. Even so, noted Imagik's Iboshi, "You can say the display is 4K, but maybe the content may not be."
That's why Panasonic Corporation has joined with other consumer electronics brands, leading Hollywood studios, content distributors, post-production and technology companies in launching the UHD Alliance – a coalition of companies united to set the bar for next generation video entertainment by establishing new standards to support innovation in video technologies including 4K and higher resolutions.
Meanwhile, Panasonic Avionics believes 4K UHD technologies will eventually be ubiquitous in the aircraft cabin. "It's an exciting time in our industry. We've seen massive improvements in display technologies in recent years, and right now we're poised to bring 1080p to economy class, which will be a significant improvement to the passenger experience. We have no doubt that 4K and higher resolutions are coming to commercial aircraft. In fact, we believe that there will come a point when the lower resolution displays used in older systems will no longer be available," says James.