LE BOURGET — Indonesia welcomes additional flights by the Gulf network carriers Emirates, Etihad and Qatar Airways, as long as Gulf authorities allow reciprocal access for Indonesian carriers, Indonesian Minster of Transport Ignasius Jonan tells Runway Girl Network in Paris.
In a wide-ranging interview, RGN put the question of Gulf carrier expansion within Indonesia to Jonan, from the point of view of a developing nation with a strong economy looking to expand internationally and a growing middle class demanding longhaul travel.
"It's reciprocal," Jonan says. "As long as it reciprocates between the two countries we can accept it. Otherwise, I think it's going to be very difficult for negotiation."
Jonan notes that he would welcome additional flights from international airlines — including the Gulf carriers — further into Indonesia, as long as the access is reciprocal and as long as those airlines meet the international safety standards required by Indonesia.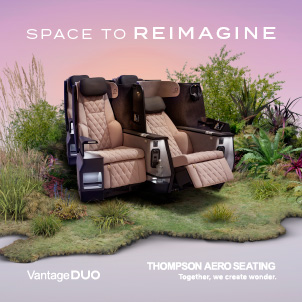 Does this reciprocity requirement limit additional routes to only markets where Indonesian carriers (principally, therefore, Garuda and AirAsia X Indonesia) wish to operate additional services? "No, it's open. Whoever can meet the standards."
In the context of the ongoing Open Skies fight between the three large US international airlines and the three largest Gulf network carriers, RGN put the question to Jonan of whether Emirates, Etihad and Qatar were good for his country. "It's a very difficult question if you ask whether the Gulf carriers are good for Indonesia or not, but we always treat all carriers on a reciprocal basis," Jonan says.
Part of the issue of demand is a practical one, Jonan notes. "For example, if you fly to Europe from Indonesia, some people might choose European carriers because the transit can be in Kuala Lumpur or in Singapore, but the Gulf carriers transit in Doha, in Dubai and so on. It's a choice for travellers. Myself, I would like to transit near Jakarta, because I can sleep longer."
Jonan also notes that Emirates is already in negotiation with his government for additional services into the island archipelago: "So far it's been running as it is, but Emirates has requested more business for Indonesia so we are now negotiating whether we can have reciprocal treatment."
Airlines to be shut down for safety violations by July
Indonesia expects to cancel the operating licences of a number of airlines within the month, and hopes to upgrade the runways of all 237 Indonesian airports within three to five years,
Speaking as Indonesian carrier Sriwijaya Air purchased two Boeing 737-900ER aircraft at the Paris Air Show — the first new aircraft purchased by Indonesia's third largest airline — Jonan flags up an ongoing safety crackdown which will cut into the nation's aviation industry this summer.
"So far, we have cancelled sixteen licences for airlines and air charters," Jonan said, noting that his ministry has reduced the number of Indonesian carriers from 73 to 57. "It is a continuous review, and I believe towards the end of July we will also announce some of the existing airlines and air charters cannot comply with safety, and by safety we are also including financial soundness for airlines and air charters."
RGN queried Jonan in detail about his ministry's intentions towards the 2009 law that requires Indonesian-registered carriers to operate a minimum of ten aircraft, of which five must be owned and five can be leased or otherwise provided.
"It's a very good question," Jonan admits. "We do not aim to expand any air transport business unless they can follow the safety program. We will keep the regulations in place so the airlines should have at least ten aircraft to be operating, five leased or rental or dry-leased and five to be owned. It is mandatory. The laws do not require any [specific] kind of aircraft."
But in terms of startup franchises along the lines of further AirAsia operations or a Tiger-style airline, which have expanded exponentially within the ASEAN region, would existing operations with other franchises internationally provide additional assurances or comfort to the Indonesian safety regulators?
"Logically, it may be possible from a technical point of view, but if a startup operates only two or three aircraft it is very sensitive and very dangerous. They might then have less focus on regular maintenance because the aircraft has to work without any chance to have a schedule for maintenance. That's an issue of safety. Also, ten is very small. With the five that can be leased as well, as long as it can be proved at the end of the day you will own ten aircraft. It should be mandatory, guaranteed ownership.
Jonan also noted that the Indonesian government has a massive runway improvement programme across the archipelago, which will be crucial to the expansion intentions of Indonesian, regional and international carriers within his nation.
"At the moment we have 237 airports throughout Indonesia. We have started now to expand the runways so that all airports can be used by a minimum of an ATR 72 or a Boeing 737, within five years. I hope it will materialise within three years."