ALMATY, KAZAKHSTAN: Talking to Peter Foster, CEO of Air Astana, it's clear that the straight-talking Yorkshireman is proud of the ten years he has spent building a national carrier for Kazakhstan. But Foster, the impressive proportion of women in his senior management, and his airline, need a middle-of-market aircraft to replace the five Boeing 757-200s that form the backbone of its longhaul fleet.
"Without being too modest, we've been very successful," Foster says. "We've succeeded expectations in terms of growth, in terms of quality, in terms of reputation for the country, and in terms of what we were hoping to achieve."
"The structural issue that Air Astana faces on its long-haul network is that our routes are long and thin. We therefore need aircraft that can operate over relatively long distances with a relatively low capacity," Foster says. "That's the reason, of course, why we've just signed for the A321neoLR to replace the 757s. It's unfortunate that the two aircraft that we operate, which operate extremely effectively in our fleet, are the two aircraft that have gone off the line."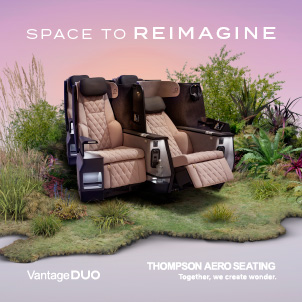 "Looking forward, there is a growth plan, of course," Foster explains. "The growth plan is very much on the region, so the airline sees its positioning as the carrier of absolute first choice to all of Central Asia and the Caucasus, and seeks to develop what we call our 'extended home market' to all these neighbouring countries, as well as routes within Kazakhstan, to feed business between those points but also from and to those points onto our longhaul network to Europe, to India, to the Gulf and to Asia, which is our primary focus." 
To do that, Air Astana will need to expand its fleet of 30 aircraft comprising three new Boeing 767-300ERs, five second-hand Boeing 757-200s (of which one is ETOPS capable, but the average age is nearing 20 years), 13 members of the Airbus A320 family (one A319, eight A320 and four A321 aircraft) and nine Embraer E190-AR twinjets.
Air Astana made a leasing commitment to Air Lease at the Paris Air Show for seven Airbus A320neo family aircraft — two A320neos, one A321neo, and four middle-of-market (MOM) A321neoLRs. The aircraft will be outfitted with fully flat seats in business class, replacing the fifteen-year-old J2000 angled lie-flat seats currently on the 757s.
Air Astana is hoping the new aircraft will be able to accommodate its dual hub strategy, where flights are split between the new capital Astana and the old capital (and significant economic centre) Almaty. 
The extra range of the -LR version won't be necessary for the European destinations currently served by the airline's Boeing 757 fleet. For Foster, the key for the A321neoLR is to be able to reach southeast Asian cities year-round, especially given the notable operational geographical challenges of being the other side of the Himalayas, restricted from Chinese military airspace, and close to the no-go zones of Afghanistan.
"At the moment we can operate Kuala Lumpur from Almaty with the 757 at certain times of the year depending on headwinds," Foster explains. "We're expecting that the long-range version of the A321 will do that without any requirement for technical stops at any time of the year." 
"From Astana, we're also hoping for some relief in terms of the fairly significant detours we're taking at the moment. We've got ETOPS issues and we've also got flight planning issues, which means that our flights down to Southeast Asia take a significant side trip to the west before going down south. Obviously we're working on those air corridors," Foster says. "There are air corridor issues with China that everybody's working on, trying to widen those, increase those, and get the military to share them, if not to give them up. So if we can do that then we ought to be able to do the entire existing Southeast Asian network from Astana." 
"As it is, everything that we do from Almaty the LR will do, and everything that we do from Astana at the moment the LR will do," Foster emphasizes. "What we want to be able to do is Southeast Asia from Astana as well with the LR."
Currently, "we've got twenty-two minute oxygen on the 757s now, so it's slightly better. We're able to operate minimum terrain control procedures, and we're also ETOPS now. So the combined initiatives of twenty-two minute oxygen and ETOPS have knocked a combined about forty-five minutes off the flight time down to Southeast Asia. Notwithstanding that, of course, we've still got significant issues around veering significantly west over Afghanistan and then turning southeast towards Southeast Asia. What we'd prefer to do is fly around the top end through China, which would be a much quicker way of doing it, but the problem is Chinese airspace and the military control thereof." 
Right now, Airbus is the only airframer offering a MOM aircraft that can fulfil these missions. Boeing is on the back foot, having discontinued its 757 line, achieved a backlog of 787-8 deliveries, and scotched the 787-3. 
Runway Girl Network is given to understand that Foster conducted in-depth discussions with Boeing around its own middle-of-market replacement at the Paris Air Show in Le Bourget earlier this month. RGN also understands that the A321neoLR aircraft will initially operate on a lease of just under a decade, at which point the airline is expecting to make a decision on whether to re-up on the neo or change to Boeing's new MOM offering.
Air Astana may be a niche operator, but Foster and his team have taken smart fleeting decisions. Their consistent profitability over the last 12 years make them one to watch for other airlines and for airframers.
Airbus will need to ensure that the A321neoLR meets or exceeds its catalogue expectations, Boeing will need to ensure its MOM replacement is an even better long-and-thin performer, and the eventual Airbus next-gen MOM aircraft will likely depend on the market performance of both the A321neoLR and the Boeing MOM replacement.