WestJet says true Premium Economy seating will be offered on the four Boeing 767-300ERs it is acquiring from Qantas to support longer international flights.
Company manager of public relations Robert Palmer says the twin-aisle aircraft will feature 24 seats in "a Premium Economy offering", plus 238 seats in the main cabin for a total 262 seats. This puts to rest the question of whether WestJet would offer a Business Class seat on the widebodies, but suggests the carrier believes a Premium Economy offering can compete effectively with Air Canada.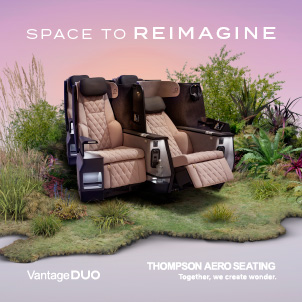 Though seat pitch and supplier have not yet been announced, Premium Economy seats on the 767s – at 20 inches wide – will offer three inches of additional elbow room over the 17-inch wide economy class seats installed on WestJet's Boeing 737 fleet. The Premium Economy offering has been described online by WestJet as "a version" of the company's Plus extra legroom seating as found on its 737s and Bombardier Q400s. But Palmer stresses to RGN that the seat will be bigger. "Remaining amenities [are] to be announced," he says. "But yes, we are looking at [other] enhanced offerings."
Seat-back IFE will not be part of these enhanced offerings, however. Palmer says the airline does not see a future for embedded systems even though it's integrating long-haul aircraft into its fleet to support flights from western Canada to Hawaii, eastern Canada and Europe, and even hints at the possibility of targeting Asia in coming years. Long-haul aircraft traditionally offer embedded IFE.
Palmer notes that WestJet has been "ripping" out the embedded LiveTV system on its 737s for years, "and we stopped taking planes with seat-back TVs in them several years ago". He adds, "It was a great technology in 2004 when we implemented it and we were one of the first ones to do it, but technology has moved beyond."
Moving beyond embedded means installing Panasonic Avionics' eXW wireless IFE streaming solution and eXConnect Ku-band satellite-supported connectivity service, a process now underway across the WestJet fleet.
"Since 85 per cent of our guests already bring their own devices on board today, the move to this system made the most sense," says Palmer. "Half of our [entire] fleet will be [installed] by the end of this year and the other half by the end of next year. We are still awaiting Transport Canada approval for the system, then we will turn it on. We won't wait until the entire fleet is done."
When eXW goes live, WestJet guests will be able to stream far more content than was previously available, says Palmer, as the server has about 30 times the capacity of the existing system. However, there will be a charge for much of the content. "You'll be able to do some things for free, like booking a vacation through our website and making a change to your flight, checking-in, and then some of the classic movies will be free. But the newer releases, you will pay for," he explains.
Palmer also reveals that WestJet will take a page from airberlin's playbook and sell access to its forthcoming Panasonic Ku-band Wi-Fi in two distinct MB packages, a light and a heavier version. Information on MB package sizes and price points for all above-mentioned services have yet to be determined.
Meanwhile, initial 767 flights between Alberta and Hawaii beginning in December are now available for booking. But the aircraft will be redeployed in summer 2016 "to new and exciting international destinations that will be announced later this year", says WestJet.