Vueling, the low-cost carrier sibling to IAG's British Airways and Iberia, is making two huge big passenger experience waves: first with Europe's first commercial Ka-band inflight Internet, and second with a 186-seat A320 configuration using Airbus' Space-Flex lavatory and rear galley module.
The airline has teamed up with Thales' LiveTV subsidiary and Telefónica's Movistar cellphone network to provide connectivity over Eutelsat's KA-SAT, which the partners are branding with the label "high throughput" — mentioned no fewer than three times in the airline's 150-second behind-the-scenes video. It is hoped that this Wi-Fi solution can serve up the same sort of inflight speedtest results as offered on JetBlue Airways, which uses Ka capacity from Eutelsat partner ViaSat.
In the cheerily soundtracked video, the airline outlines the installation of the Ka-band hardware and its component parts on A320 EC-LZN — which seems to have taken place several months ago, although with a lack of from-the-plane tweets evident from a search for "Vueling Wi-Fi", the system itself doesn't seem to be operating in revenue service yet.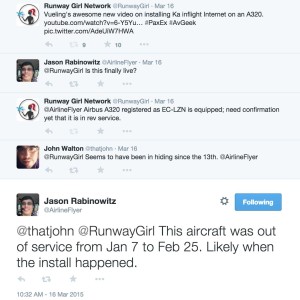 In terms of timing, Telefónica had previously stated an expectation to have four Vueling A320s equipped in 2014.
Elsewhere inside the aircraft, Vueling is the first airline to take advantage of this month's updated type certificate from European safety regulator EASA that outlines the road to a 195-seat A320.
The airline is boosting its A320 from 180 to 186 seats with the shift of the rear two lavatories from inside the seat track to the rear bulkhead area, using Airbus' first-generation Space-Flex lav-galley module, which is fully PRM accessible with a swinging partition between two lavs.
In terms of pitch implications, the magic 8-ball says "reply hazy, try again". Vueling itself doesn't quote seat numbers, and various second-hand sources online suggest its A320s sit at either 29" or 30". All 180-seat all-economy A320s with which RGN is familiar — including Jetstar, easyJet, AirAsia and others — are pitched at 29".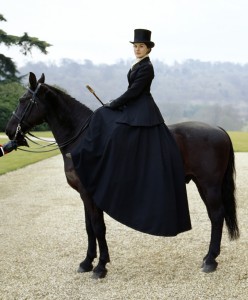 Your 6'3" (191cm) author flew on a 29" pitched 180-seater A320 operated by ANA's Japanese LCC Peach between Seoul Incheon and Osaka Kansai this week, taking advantage of the $20 "spare seat next to you" option, and would have struggled to straighten his knees to remain within the bounds of his own seat if he hadn't.
As it was, he was sitting side-saddle in a pose remarkably reminiscent of the way Lady Mary of Downton Abbey's Crawley family rides a horse.
Regardless, since the space for the extra row of seats comes from the lavatory move, it's unlikely that seat pitch will be reduced, and the addition of an unnamed slimline seat resembling Recaro's SL3510 hopefully means that knees — if not posteriors — shouldn't complain any more than previously.
All bets are off on the red-eye 4h 20min flight from Barcelona to Moscow, however — that is a brutal trip on a slimline seat however much Wi-FI a passengers has.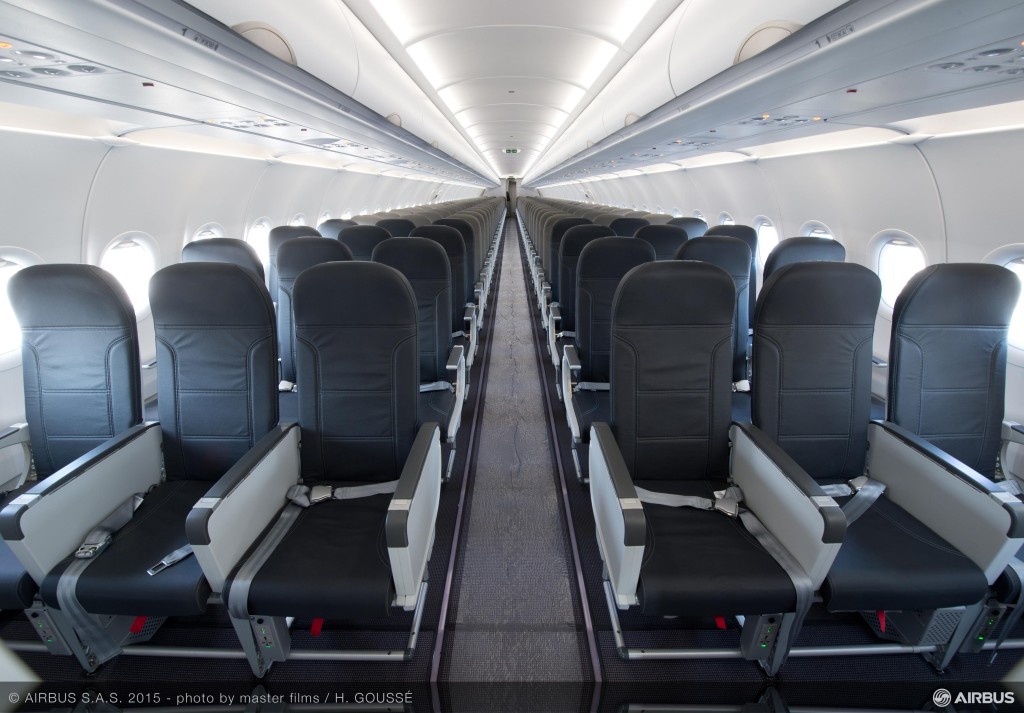 Yet the wheels-within-wheels of IAG's canny management may mean that the implications of both Ka-band and Space-Flex are wider than just a Catalan LCC. Using Vueling as a test-bed for both new #PaxEx propositions to work out the kinks before considering a rollout to BA or Iberia would be smart. That's especially true given the adversarial relationship with the cabin crew unions on both sides of the Bay of Biscay. RGN will be watching this space for developments.