B/E Aerospace claims Boeing and Airbus are actively urging airlines to select aircraft interiors suppliers with stellar on-time delivery records such as B/E, as rival Zodiac Aerospace has encountered difficulty in producing seats on time, including premium seats for the Boeing 787 program, resulting in delayed deliveries of the twinjet to American Airlines.
Asked specifically if B/E expects to benefit from the fact that other manufacturers are struggling to get "high-end seats delivered on time", B/E executive chairman Amin Khoury said today, "I think that the way it happens is you actually have the major OEMs, Boeing and Airbus, guiding customers strongly towards the suppliers that are delivering on time."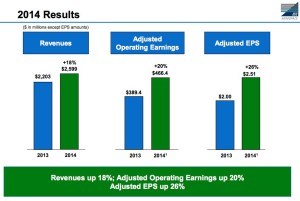 The end result of facing difficulties in delivering to customers, he said during an earnings conference call to report an 18% year-over-year increase in 2014 revenues to $2.6 billion, is basically "Airbus and Boeing stepping up and saying 'we don't want you to place orders with the X, Y or Z company. We're having problems with deliveries right now; we'd rather have you place orders with whomever.' So that is the way it works. And it's very active participation by the major OEMs, and I'm sure that it's going on as we speak and I'm sure it will result in some orders in 2015."
B/E claims to be 100% on time with both Airbus and Boeing and delivering "excellent quality". Obviously, the delivery issues faced by other suppliers "could favor us, no question about that", said management.
Zodiac has grappled with issues unique to the firm, including a strike last fall at its Gainesville, Texas plant formerly known as Weber. In its latest communication with shareholders, Zodiac said its Zodiac Seats US division "still has difficulties in delivering seats on time, even if the recovery plan in place is showing improvement. Zodiac Seats' only target is to be back to normal delivery time as quickly as possible."
The difficulties are not being encountered at Zodiac's other seat businesses in the UK and France, which were on time in their deliveries to Boeing or Airbus last year, according to the firm.
With specific regard to delivery delays impacting American Airlines, the carrier today confirmed on Twitter that the same ultra-customized premium seat it is retrofitting to its Boeing 777-200s will be offered on its 787s. This is the JPA-designed seat for which American owns the patent, and with which it intends to "leapfrog the industry".

Meanwhile, a US federal court has issued a ruling concerning a complaint filed in 2013 by Zodiac unit, MAG Aerospace Industries, which alleged patent infringement of MAG technology in B/E's Aircraft Ecosystems vacuum toilet.
The court ruled that "our Ecosystems vacuum toilet and its unique features do not infringe either directly or indirectly on patents asserted by Zodiac, and eliminates all of MAG's alleged infringement claims against B/E Aerospace", said Khoury. While the toilet is now flying on 12 airlines around the world, Khoury said a number of customers had been reluctant to purchase the product while the litigation was pending. Now that a ruling has been handed down, B/E believes this will "increase awards for our vacuum toilet".
As B/E continues to deliver customized premium seats and economy class seats – including its hugely popular Pinnacle seat (pictured above) – to airlines all over the world, and enjoys sole source status for both Airbus A350 XWB galleys and Boeing 737 modular lavatories (roughly 60 airlines will be flying with the lavatory by end of 2016), B/E remains bullish on its outlook. The company expects 2015 revenues are to be in the range of approximately $2.8 to $2.9 billion reflecting approximately 10 percent growth over the prior year.