Overseeing Cape Air's largest growth in its 25-year history during her first year as president, Linda Markham is firmly guiding the bright future of this large independently owned US regional carrier.
With headquarters on Cape Cod in Hyannis, Massachusetts, Cape Air's route map stretches across five regions to 44 destinations in New England, New York, Montana, Midwest, Caribbean and Micronesia. Its fleet of 75 Cessna 402s will expand by seven in the next few months, joining two ATR-42s and three Britten-Norman Islanders to fly more than 735,000 passengers annually with up to 550 daily flights.
While a codeshare partner with United and American, Cape Air also has interline agreements with JetBlue, US Airways, American, United and Delta. Recently Cape Air became one of the few North American customers to launch the Amadeus reservations systems greatly enhancing its customer service and adding greater functionality to its booking system and website: www.capeair.com
Just last month, readers of Condé Nast Traveler voted Cape Air one of "America's Best Airlines" sharing a place in the top 10 with major carriers such as JetBlue, Southwest, Virgin American and Alaska Airlines.
"We are thrilled to be included on a short list with such established, well-regarded, global brands," says Markham. "The fact that the recognition comes from the general public makes the accolade even more special. It shows that our simple philosophy of MOCHA HAGoTDI, Make Our Customers Happy and Have a Good Time Doing It, translates into loyal and supportive customers."
RAA elects Markham as new Board Chair
Against this background is Markham's latest achievement, becoming the first female board chair of the Regional Airline Association in its 40-year history. During RAA's fall board meeting, association leaders elected Markham to take over the role for the remaining 2014-2015 term, replacing retiring ExpressJet president Brad Holt.
"FAA Re-authorization, NextGen, a Congressional leadership change, as well as the industry's biggest priority – pilot supply – will certainly top the RAA agenda in the coming year," says Markham, noting RAA will celebrate its 40th anniversary in 2015 with a special industry tribute during its Annual Convention in Cleveland, May 11-14.
"I've been in the industry for 13 years, and have seen so many changes over the years – whether it's new security procedures after 9-11 or the pilot shortage after the introduction of new regulations. The regional airline industry is resilient, adaptable, flexible and able to tackle these challenges on a daily basis," she underlines. Markham believes while pilot supply is a huge challenge the industry can overcome it in time if the work with Congress and FAA continues. To this end, RAA has launched a coalition called Take Flight Tomorrow, providing a platform for industry stakeholders affected by the pilot supply to send letters to Congressional representatives.
The Cape Air way
What drives her perspective? "I've been very fortunate to have a boss – Founder and CEO Dan Wolf – that listened and wanted to hear everyone's voice. Cape Air is a unique organization with long-time employees that are proud of their company ownership. In fact, by the end of 2014, we will do another round of ESOP bringing employee ownership to approximately 25%."
During her nearly 13 years at Cape Air, Markham created a full-service Human Resources department, including benefits, payroll, employee relations, labor relations, recruiting and employee travel. As vice president of HR she also oversaw the Ground and Leadership Training department and headed up strategic planning for the company. In addition, she also served on several operational and maintenance committees and task forces, including Crew Manpower Team, Maintenance Task Force, New Station/Region Startup Team, Customer Service Initiative and Family Assistance Team.
Involved in all company initiatives and decision, Markham continues to oversee HR and Ground Training, as well as Marketing and PR, Customer Relations, Corporate Culture, Sustainability, Risk Management and Security.
A 1983 graduate from Holyoke Community College with a degree in Business and Retail Management, Markham is married and has three children. She enjoys running, spending time with her family, cooking, reading and Cape Cod beaches.
Markham underlines, "Our goal is to get you where you want to be as quickly and easily as possible. Since our first flight between Boston and Provincetown in 1989, Cape Air has provided year-round service to some of the most beautiful destinations in the world."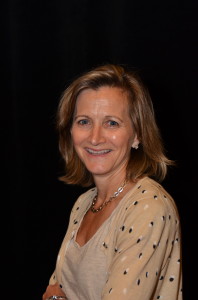 About the author, Kelly Murphy:
Kelly Murphy is a member of WAI and the founder and principal of Emerald Media, a specialist PR company for the airline, aerospace and business aviation industries.
Kelly and her UK partner Alison Chambers are celebrating 20 years of business in 2013 and support a growing number of clients from Washington, DC-based aviation associations to business aviation customers in Europe and Africa, as well as support solutions organizations in the Middle East and Asia.
Kelly started her aviation career as a 16-year-old private pilot and then combined her passion for flying and writing at various editorial positions over the years at Professional Pilot magazine, Commuter/Regional Airlines News and Water Flying magazine.
Currently, she heads Emerald Media's publishing ventures including newsletters, magazines, brochures and presentations. As editor of the Regional Airline Association's official publications, Regional Horizons and RAA Annual Report, Kelly has profiled many women leaders of the regional airline industry in two special Women in Aviation supplements.