Passengers can be forgiven for thinking that the latest wireless IFE solutions rolling out on Delta Air Lines and other carriers are Netflix or something akin to the on-demand streaming media service. After all, some familiar Netflix titles are now being streamed to their devices in-flight.
Those passengers who use Delta's new 'Delta Studio' offering, for instance, will recognize the Netflix series House of Cards.
During the SITA IT Summit in Brussels this spring, RGN made the case for how airlines will be increasingly judged on their ability to either steam Netflix and other popular media services over inflight broadband connectivity or offer a Netflix-like experience via wireless IFE. Offering the latter ensures that passengers who would otherwise use inflight connectivity to try to stream video, can still stream but from an onboard server stocked with cached content.
This preserves the live connectivity pipe for passengers who need to use the Internet for business and/or to stay in touch with their social networks.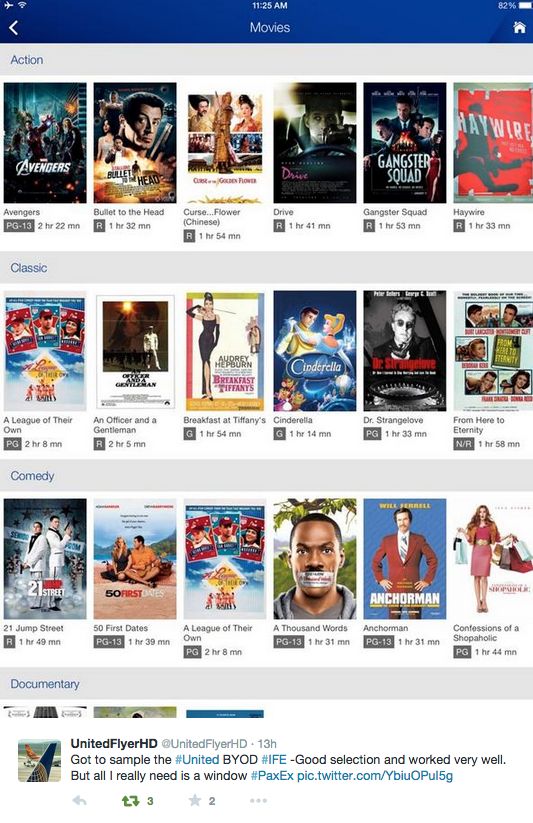 Here is a key quote from our presentation in Brussels, which has been since refashioned into a blog for SITA:
"Passengers want the same bandwidth in the air that they enjoy at home. This is a problem because, even though most inflight connectivity systems can't support the streaming of NetFlix or HBO, the ability or inability to do so could well become the measure by which these systems are judged.
"Because it's nearly impossible to offer passengers the speeds necessary to enjoy movies and streaming music, airlines are augmenting connectivity with wireless IFE, which allows them to stream content to their own devices, and pulls eyeballs away from the precious connectivity pipe.
"What to do?
"Wireless IFE allows airlines to simulate a Netflix-type experience onboard without using bandwidth. Hollywood has traditionally disallowed new releases to be streamed to consumer devices, but we're already seeing that window shrink."
At present, we're aware of only one inflight connectivity solution – ViaSat's 'Exede' high-capacity Ka-band satellite-supported service in the United States – that is capable of supporting live streaming of Netflix over the connectivity pipe. Interestingly, Pandora is the number one streaming service selected by passengers using Exede, followed by Netflix and other streaming media services.
That's why server-based wireless IFE, and audio programming – as seen in the new Beats Music offering on Southwest – make such great augments to inflight Internet systems that don't yet have the capacity to support live streaming over the connectivity pipe.
To be clear, the entertainment being wirelessly streamed to passengers' own devices by Delta and other carriers is not Netflix. This is an important distinction because, without a formal agreement in place with Netflix, carriers would face copyright violation under the Digital Millennium Copyright Act (DMCA). And indeed, when we reached out to Delta for this story, a Delta spokesman stressed to RGN that even describing the carrier's new Delta Studio offering as "Netflix-like" would not be appropriate.
Individual Netflix programs are, however, available through different international distributors for the inflight market. So airlines' content service providers can – and clearly do – broker agreements to bring popular Netflix shows to passengers in-flight to augment their library of older movie titles available via wireless IFE.
Some of the main Netflix series are distributed by:
Lillyhammer – Red Arrow International
House of Cards – Sony
Hemlock Grove – Gaumont Television
Orange is the new Black  – Entertainment in Motion – (part of Global Eagle Entertainment)
Meanwhile, as you see from the tweet above about United's wireless IFE, early window movie content is still not available for streaming to passengers' own devices due to Hollywood's concerns over piracy. But during a third quarter earnings conference call this week, Global Eagle Entertainment chief commercial officer Wale Adepoju said the company expects that will happen "over a period of time".
[Photo above courtesy of Honeywell, which manufactures Ka-band connectivity hardware for Inmarsat's Global Xpress service, and which is also a service provider to the business aviation community.]