Global Eagle Entertainment this week confirmed that its WISE wireless IFE software platform has rolled out on a second airline in the Philippines, low-cost carrier Cebu Pacific. The deployment on Cebu Pacific's Airbus A330s – which follows the introduction of WISE on board Philippine Airlines' A330s – is part of Cebu Pacific's so-called 'SKYfi' wireless connectivity and entertainment platform, developed by Airbus division KID Systeme.
Much like Global Eagle's summer introduction of WISE on Philippine Airlines – in partnership with inflight connectivity provider OnAir – the contract with Cebu Pacific covers both the software backbone for the carrier's wireless IFE as well as a complete content line-up including movies and TV shows approved for streaming with digital rights management (DRM) by major Hollywood studios.
Together, these deals serve as a good indicator for how Global Eagle intends to position itself in the market – i.e. the company can provide agnostic software to support wireless IFE systems on offer from myriad industry heavy-hitters, but it can also leverage its position as the world's largest airline Content Service Provider to supply the actual content as well (as it is doing for both Philippine Airlines and Cebu Pacific).
"We've told the WISE story to some extent but now that we've officially launched, you'll hear a lot more from us about what we're calling the digital media aspects of IFE and connectivity, which we think we're a leader in. Almost every major competition we've been in to provide system software to major manufacturers, we've won…or we are very close to winning. We are incredibly well positioned for the software and content delivery backbone to support wireless IFE," Global Eagle CEO Dave Davis tells RGN.
As previously mentioned, major manufacturers that have opted to essentially whitelist WISE include Rockwell Collins, BAE Systems, Honeywell, and OnAir in addition to Airbus. And Global Eagle says it continues to broker these types of agreements and remains open to others. Though Panasonic doesn't use WISE for its eXW wireless IFE offering, for example, Global Eagle would welcome working with them, a signifier of just *how* agnostic Global Eagle is willing to be (considering the fact it competes with Panasonic on Ku-band connectivity hardware).
"Then there are the [content] relationships we have not only in Hollywood, but also native language content around the world, and can bring it all together in a digital media offering to handheld devices. I don't think anyone else in this business are close to that, or even claiming to be close to that," says the Global Eagle chief executive.
So where does Global Eagle's Row 44 Ku-band inflight connectivity unit fit into this picture? Will Global Eagle combine what it's doing for inflight connectivity portals with its WISE wireless IFE software product? "There are no specific examples right now where we have WISE and the [Ku] connectivity system working together, but we have a version of it essentially already running on Southwest and Norwegian. You can get VOD; it just comes through the connectivity portal. So think about it in this way, Row 44 was operating on its own until January of last year [when it was acquired by Global Eagle]. It developed a portal to bring connectivity and VOD to passengers. AIA [also now fully owned by Global Eagle] was operating on a parallel path with a separate company (DTI) building this WISE system … Over time there will be certain elements of these two platforms to merge. Whether it will be 100%, we don't know, but there will be an aspect to WISE and the connectivity portal that will eventually come together with one product and one backbone," says Davis.
That makes sense, especially since more and more airline RFPs for inflight connectivity include a streaming VOD component as well. "As you get into different regions of the world, they don't have seat-back systems, they want an integrated package, VOD, connectivity. We can respond to these RFPs not only with the specifics of the connectivity, the streaming system itself, but also the price of the content. So we can provide all aspects of it, and respond fully to customer requests," says Davis, adding that Global Eagle can also win portions of the RFPs. For instance, while Philippine Airlines and Cebu Pacific offer inflight connectivity to passengers, they're not using Global Eagle Ku, but rather Inmarsat's L-band-based SwiftBroadband aeronautical service. Yet they've tapped Global Eagle for wireless IFE software and content.
On the connectivity front, Global Eagle continues to bolster its partnerships. Though Global Eagle spokeswoman Melissa Pauleat assures that the company remains "closely aligned" with Hughes, it has also partnered with SES to use the existing SES satellite network, as well as upcoming high throughput satellite (HTS) spot beam-based systems, which it assures will equate to "significant increases in bandwidth speeds".
This agreement represents another key element in the content, connectivity and digital media strategy that Global Eagle is rolling out to airlines across the globe. But there is one more element to this equation that Global Eagle has started to wrap its arms around – content sponsorships, which can take some of the financial burden of providing free content to passengers off of the carrier. "That is a real nice complete package, so we are very focused on this sponsorship advertising model, really to bring it in very early in the process, to provide not only the technology, but some sort of funding mechanism as well."
DISH's sponsorship of free live television content for Southwest passengers is perhaps the highest profile sponsorship arrangement involving Global Eagle technology. And some critics have suggested that Global Eagle will be sorely disadvantaged when the contract ends.
But Davis disagrees. "The product that we offer to Southwest in terms of connectivity, content, etc, isn't linked to the sponsorship model. We provide that to Southwest so that doesn't change if we don't have a sponsor. With that said, we want to drive sponsorships, but by their very nature, sponsorships aren't going to go on for infinite periods of time. We love DISH, we want it to continue, and hope it continues, but we're not standing still, so saying the future of Global Eagle is dependent on one sponsorship or not is just not fully informed. I think the story hasn't been told crisply enough, and we need to improve that. The technical aspects of the relationships, and what airlines want to do, are hugely important." Indeed, Global Eagle was recently selected by Delta Air Lines to drive sponsorships for the US major's inflight entertainment and connectivity offering, even though Delta is using rival connectivity provider Gogo's hardware and rival CSP Spafax for the content provisioning. And today, the company announced that Southwest customers can access a wide range of music for free on Wi-Fi-equipped aircraft as part of a new relationship with music subscription service Beats Music.
During a webinar with the L.E.K. consultancy this week, a case was made for monitizing content on board aircraft. Simply offering pay-to-play inflight Wi-Fi sessions will only ever attract a small percentage of buyers, management suggested. "So 15% of the market can pay over $5 per session while 85% don't care." The other options – "free/cheap compelling" entertaiment activities – can be "far more lucrative" for airlines, especially if sponsored.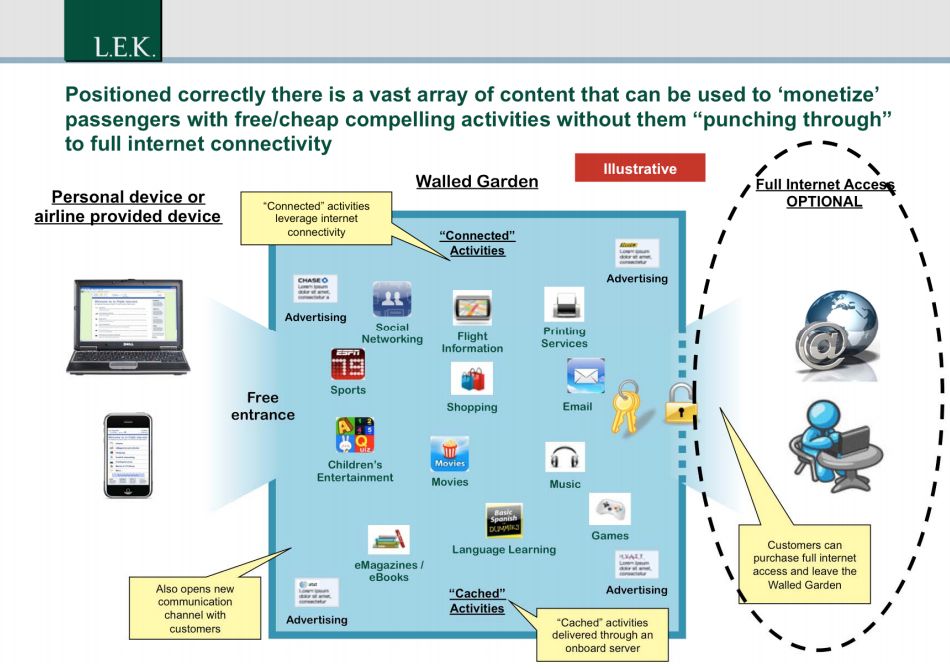 Asked if he thinks rivals in the CSP space are able to offer competing solutions involving wireless IFE plus content, Davis says, "I think we're in a pretty unique position. I don't know anyone doing anything close at this point." However, we've heard rumblings that other CSPs are now looking to more fully insert themselves into airlines' wireless IFE programs in a similar vein. We urge any CSP that has made progress in this regard to alert RGN.
As for the future of embedded IFE, Davis says he believes that "the trend that we see at Philippine Airlines" to opt for wireless over embedded IFE on their long-haul aircraft "will continue to grow". But he notes that a lot of airlines continue to "view themselves as needing seat-back systems, so I think it varies from airline to airline. What wireless IFE definitely has the opportunity to do is expand the number of aircraft with IFE on them. You can get these systems on board for a lot less cost and fuel burn so I think both of these [models] are going to continue."
[Photo at top courtesy of Airbus/H.Gousse]