This is an Op-Ed contribution from Thomas Windmuller, senior vice president, airport, passenger, cargo and security at the International Air Transport Association (IATA)
One hundred years ago, on 1 January, 1914, the airline industry was born when Tony Jannus piloted a Benoist flying boat carrying a single fare-paying passenger between St. Petersburg and Tampa, Florida. Abram Pheil bid $400 for the honor of being the first passenger, the equivalent of about $9,500 in today's money. That would buy a memorable first class experience in 2014, but Pheil squeezed onto a small wooden bench next to the pilot, in an open cockpit, exposed to the elements, including a fair amount of sea spray, since the aircraft flew just a few feet above the waters of Tampa Bay.
Let's contrast that experience to today. The vast majority of passengers spend only a fraction of what he paid. The average one-way fare in 2014 excluding ancillaries is around $230. And for that amount, the journey is faster and more comfortable. In fact, the requirements of the modern world would have been unimaginable a few decades ago—let alone in 1914!
Aviation has made global mobility ubiquitous. Jules Verne imagined a time when it was possible to go around the world in 80 days. Today, you are rarely more than 24 hours from any other part of the globe. Commercial aviation has evolved into a global air transport system that safely connects some 3.3 billion travelers with nearly 100,000 flights per day across 50,000 routes this year.
So the century mark provides an excellent vantage-point from which to take stock of where we are as an industry and what we need to do to meet the expectations of tomorrow's passengers.
Nowadays, passengers want to be able to tailor their trip and compare prices in the same way that they customize other consumer purchases, such as laptops and cars. They expect to be connected throughout their journey; and they want to be in control of their journey—with self-service options from checking-in to re-booking (if necessary).
IATA is playing a key role in helping facilitate solutions to meet these passenger expectations. Since 2012, we have been working with industry partners to modernize the 30-year old airline distribution platform through the development of an internet data transmission standard. This "New Distribution Capability" will enable easier distribution through travel agent systems of not just the fare and schedule, but potentially any ancillary service an airline wishes to offer. This opens the door to full comparison-shopping for air travel in the same way people shop for all other kinds of goods on the internet. We are working with airlines, GDS's and other technology partners on this initiative and are already seeing the NDC-based solutions being introduced in the marketplace. As Lonely Planet recently observed, "with online flight comparison services in the pipeline, in the next couple of years, economy travelers are on the cusp of personalizing their travel experiences like never before." NDC is making this vision of air retailing possible.
We also want to meet passenger demands for more control over the journey itself. Our Fast Travel initiative responds to these demands through six self-service options including self-check-in and/or automatic check-in, self-bag tagging and self-boarding and automatic rebooking. By 2020 we want 80% of air travelers to be offered a complete self-service suite.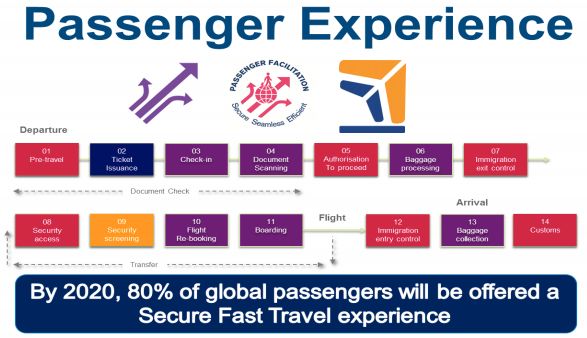 Security, of course, is a constant issue. The only thing we can be certain of is that aviation will always be a target for evil acts. But we are working hard to make the security experience better. Last year IATA and Airports Council International joined forces to develop and promote the Smart Security program (see video below). This project, comprising a coordinated roll-out of enhanced processes and technology, coupled with a risk-based approach, will improve the efficiency, effectiveness, and experience of passenger security. The first pilot projects are already underway and early signs are that we can get back to pre-9/11 levels of throughput, while enhancing security and future-proofing the system to cope with new threats and the extra numbers of passengers.
Thirdly, there is the need to stay connected. That means all partners in the travel chain working closely to ensure travelers are always connected and that everyone is able to share knowledge of any changes or disruptions. By 2020, we expect that real time interaction between customers and travel suppliers will be a reality. We call this fully-realized vision Travel Communication. It aims to enable multiple industry stakeholders to communicate to the passenger consistently across all touch points with information that the passenger knows is up-to-date and accurate.
Last month, IATA released its 20-year forecast for air passenger growth. Passenger numbers are expected to more than double, to 7.3 billion air travelers a year by 2034. Here's another way to look at it: since the dawn of commercial aviation 100 years ago, approximately 65 billion passenger journeys have taken place. The next 65 billion will be completed in just the next 20 years.
Servicing that incredible demand while adapting to the changing expectations of tomorrow's consumer is spurring a revolution in the passenger experience. The industry is rising to the challenge. And if we get it right, then the second 100 years of air transport is set to be even more successful than the first.
About the author, Thomas Windmuller: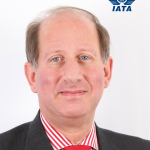 Thomas is senior vice president, airport, passenger, cargo and security at the International Air Transport Association (IATA).  He has served the global airline industry in a broad cross section of positions over the past seventeen years. Thomas came to the world of civil aviation following a career of diplomatic service for the United States Government. Among his diplomatic assignments, he was responsible for US aviation relations with the European Union and for U.S. aviation security policy. He also served as the U.S. Civil Air Attaché at the U.S. Embassy to the Federal Republic of Germany. He is a graduate of Cornell University and holds a Masters degree in economics and diplomacy from the Fletcher School of Law and Diplomacy. He resides in Geneva, Switzerland.