As news breaks that Airbus has been granted a French patent for onboard acoustic bird scaring technology, we're reminded again about the big safety and financial impact of bird strike damage to commercial aircraft, and why the FAA tightened up its policy concerning bird strike testing of antenna radomes atop fuselages.
Airbus' invention, aptly called, 'A Method and Device for Scaring Birds Acoustically, Particularly for an Aircraft', would emit an acoustic sequence comprising the repetition of a combination of at least three categories of different synthetic signals – alert noises from birds of prey, interspecies distress signals, and flight signals from various species.
If deployed, this device would serve as another line of defense in protecting aircraft, and their precious cargo – passengers and crew – against bird strikes.
As mentioned, however, regulators are also doing their part because of the significant safety implications of certain types of bird strikes. Click on the graphic to see examples of recent, notable bird strikes. Last month, birds hit three separate aircraft in a four-hour period at New York LaGuardia.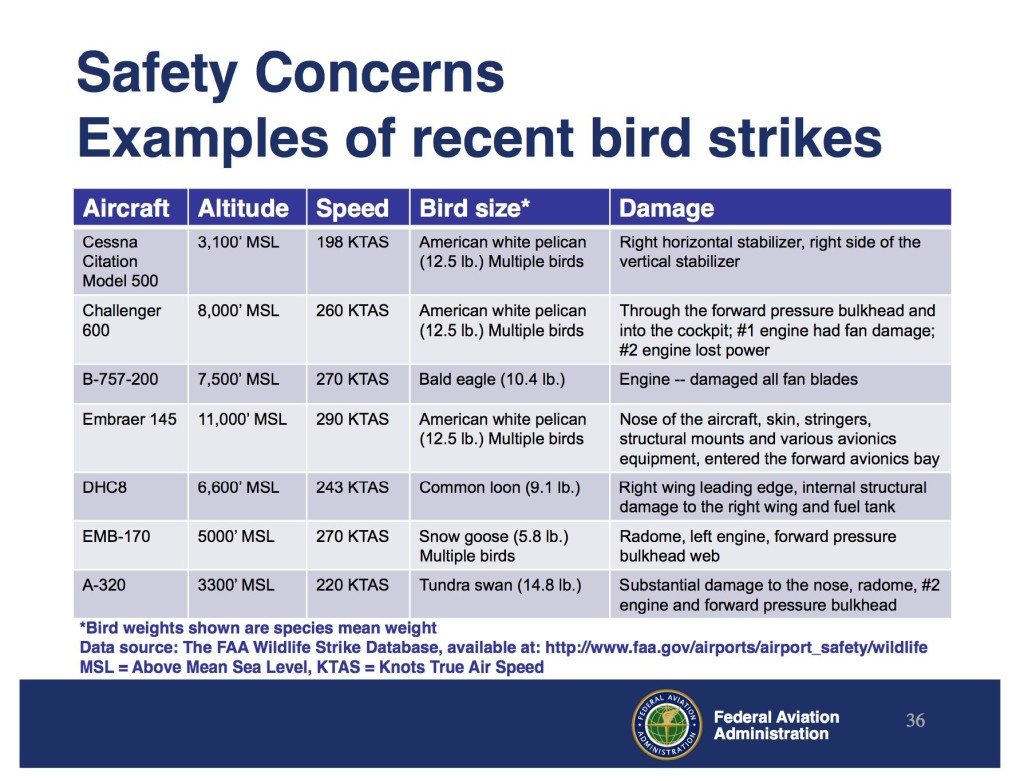 Because of the dangers posed by bird strikes, the FAA in 2012 heightened its scrutiny of bird strike testing of large antenna radomes, which house Ku- and Ka-band antennas that bring us inflight connectivity and live television. The decision effectively delayed numerous connectivity/live TV equipage programs, requiring companies to demonstrate that their antenna radomes could take the impact of a bird against certain parameters.
During a private webinar held earlier this year to explain the decision, FAA staffers presented the agency's consolidated position on bird strike to airline executives and stakeholders in the inflight entertainment and connectivity (IFEC) industry. They reiterated that the agency is maintaining the Sec.25.571 (e) (1) protocol (which we outlined in a previous post). Crucially, during the call, the FAA mentioned it aims to ensure "bird strike avoidance" by seeing that the angle of attack of an airplane in these conditions reaches to the point where the radome is shielded in the spot drilled into the fuselage.
See the Q&A below to understand the FAA's requirements and reasoning (thereafter you'll find the accompanying FAA slides, obtained exclusively by RGN).
Q: Has anyone substantiated recently that birds can't hit a radome at the required speeds?
A: For B747, yes, for radomes behind the "hump." This might be possible on other airplanes for very low profile (on the order of 2" tall) antennas.
Q: What about placement of the antenna behind other structure – besides the hump – like other antennas?
A: We haven't received a formal proposal for this situation, but we've heard some discussion about installed shields, bird splitters, etc.
Q: What kind of limitations would you put on an airplane to show the radome is shielded to VC?
A: Weight and c.g. limits or changes to design speed. While we have had some discussions on this subject, so far we haven't seen any formal proposals for this option.
Q: Are there any operational limits for after a bird strike?
A: Advisory Circular (AC) 25.571-1 contains regulatory guidance for loads (at the time of the incident and following the incident) for the discrete source damage requirements in § 25.571(e) to ensure continued safe flight and landing.
Q: Can you explain the requirement for 0.85 VC at 8000 ft?
A: This was incorporated into § 25.571(e) at Amendment 25-96, effective 4/30/1998. The 0.85 V C speed criterion is provided at 8000 feet to prevent applicants from defining an artificially low speed at sea level that rises significantly above that. VC is defined in terms of equivalent airspeed (EAS), but true airspeed (TAS) is the meaningful parameter. For constant equivalent airspeed, VC (TAS) at sea level is roughly equal to 0.85 VC (TAS) at 8000 feet.
Q: How about dynamic impact analysis? I hoped you would cover how one validates a dynamic analysis to ensure consistency among the ACOs.
A: The FAA looks at each installation as a unique project for which compliance must be demonstrated. The FAA evaluates each compliance package on its own merits. .
Order 8110.4C, para. 2-6g: Analysis. Engineering analysis is an integral part of showing compliance. It encompasses the full range of analytical techniques such as textbook formulas, computer algorithms, computer modeling/simulation, or structured assessments. The FAA approves the data, not the analytical technique, so the FAA holds no list of acceptable analyses, approved computer codes, or standard formulas. Use of a well established analysis technique is not enough to guarantee the validity of the result. The applicant must show the data are valid. Consequently, the ACO and its representatives are responsible for finding the data accurate, and applicable, and that the analysis does not violate the assumptions of the problem.
Q: Under what circumstances would repair or modification of a previously approved antenna installation require changes to make the antenna compliant for birdstrike?
A: Any repair or modification that requires a finding of compliance to § 25.571.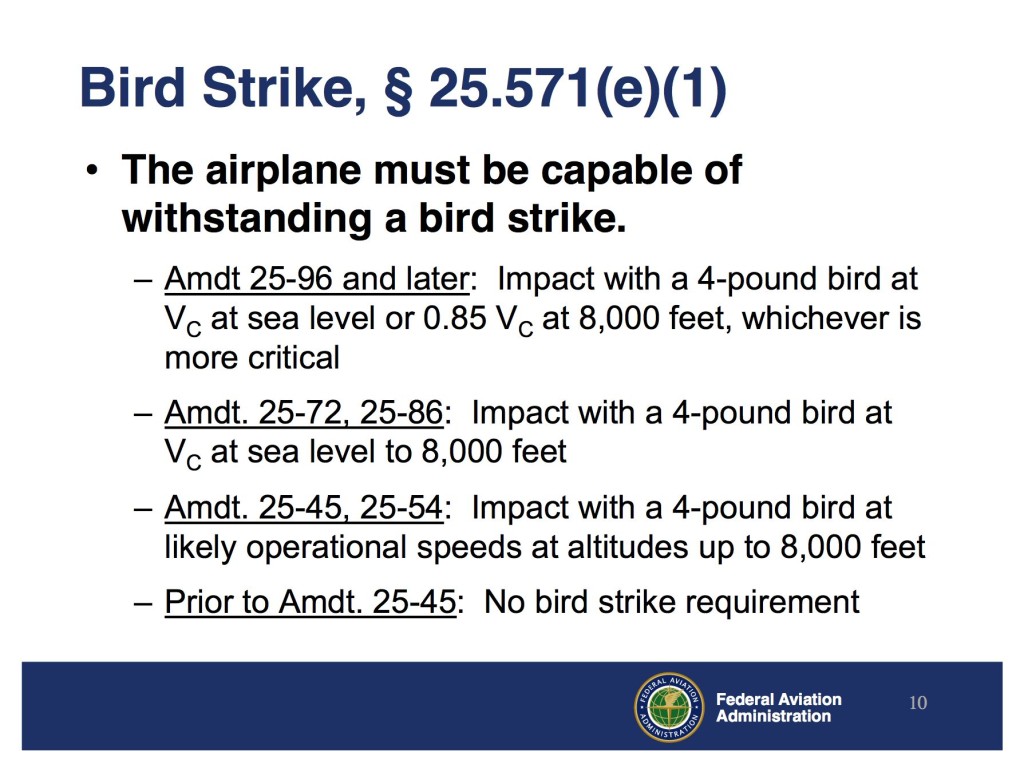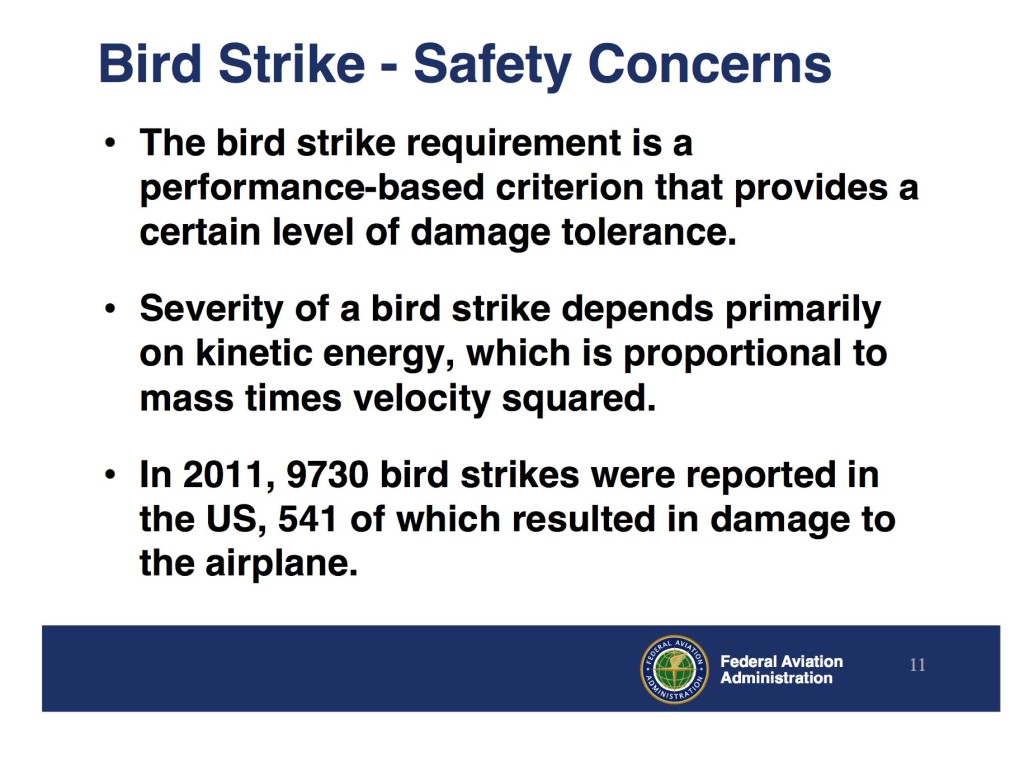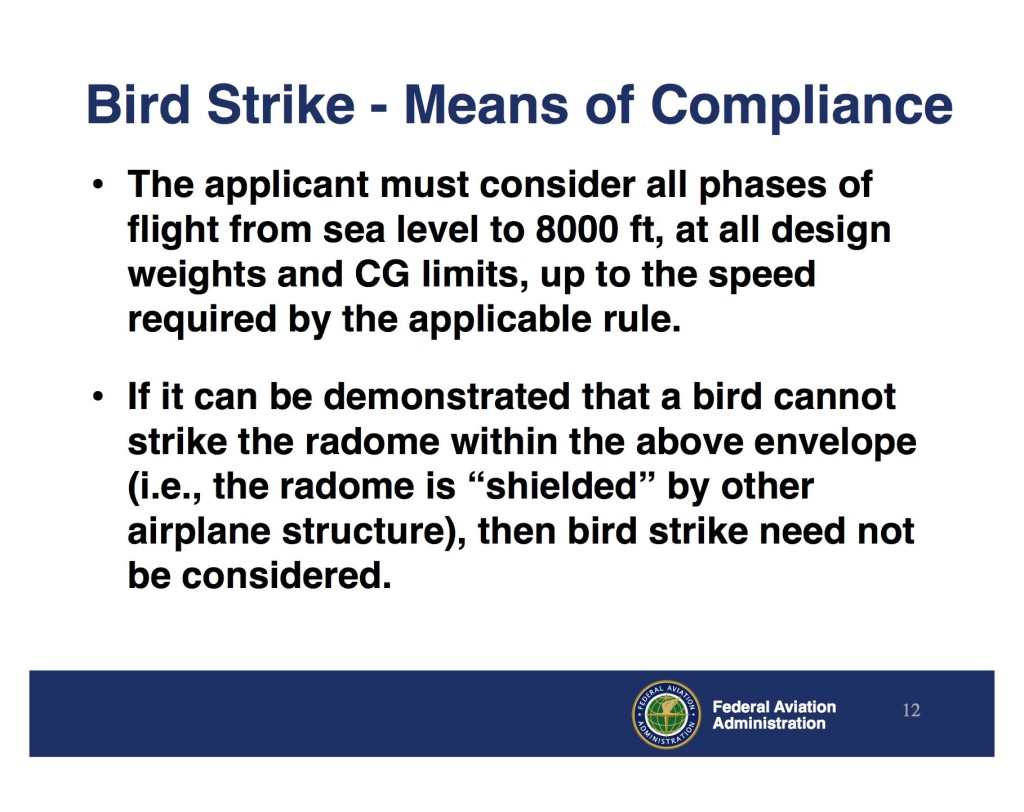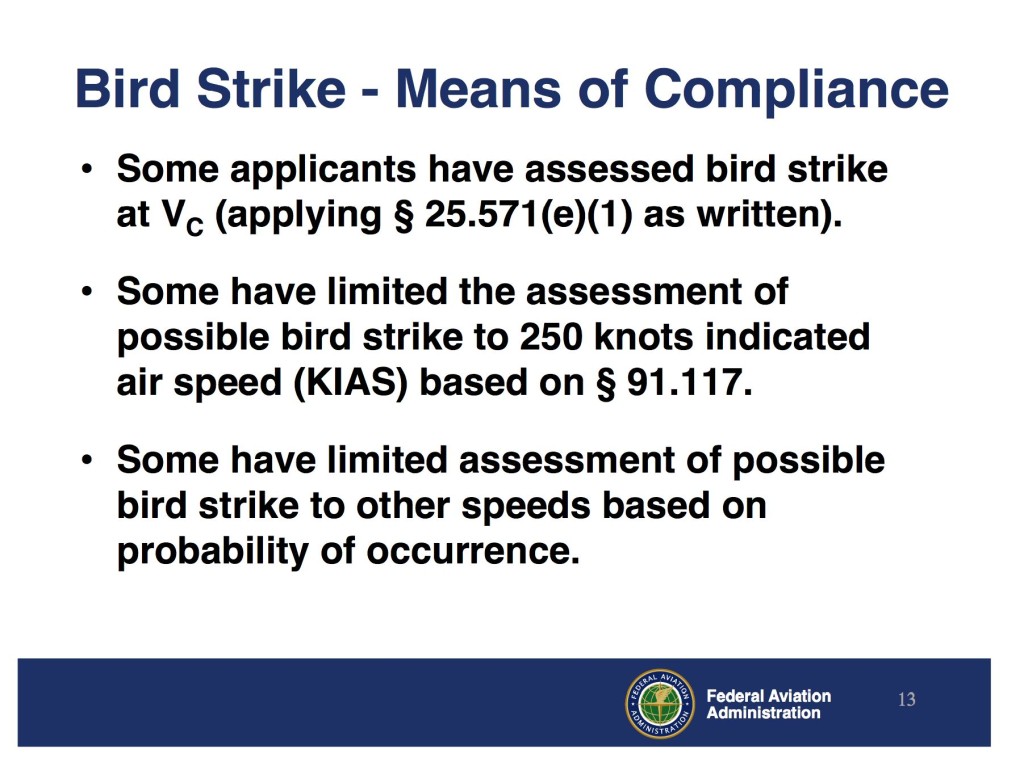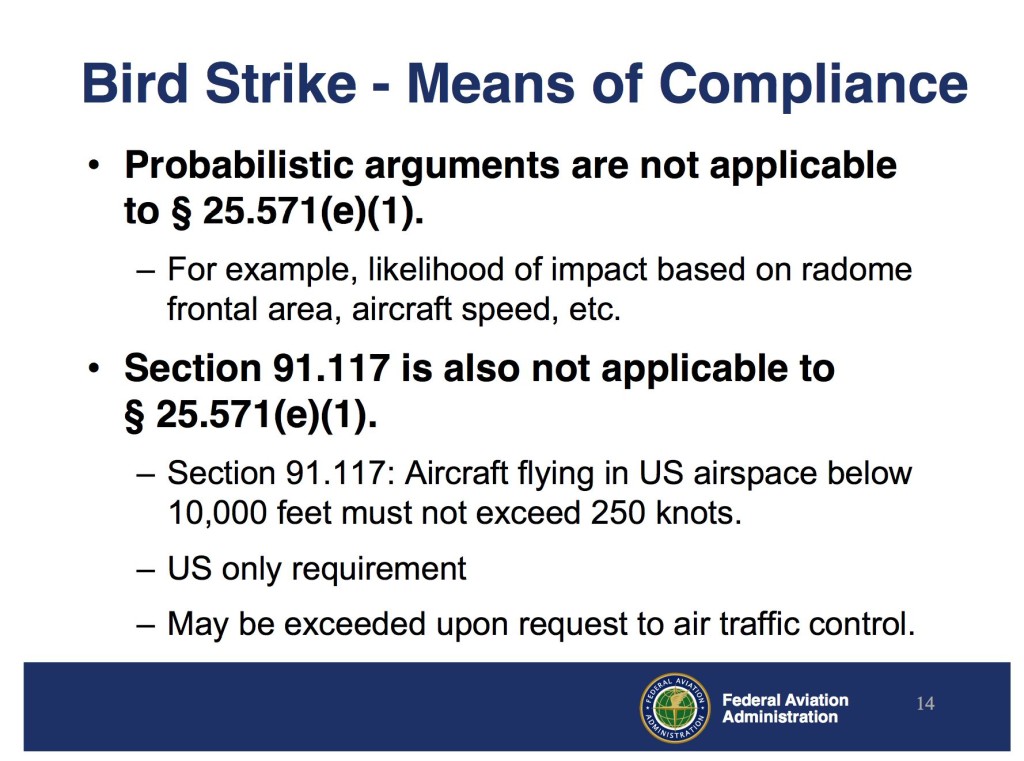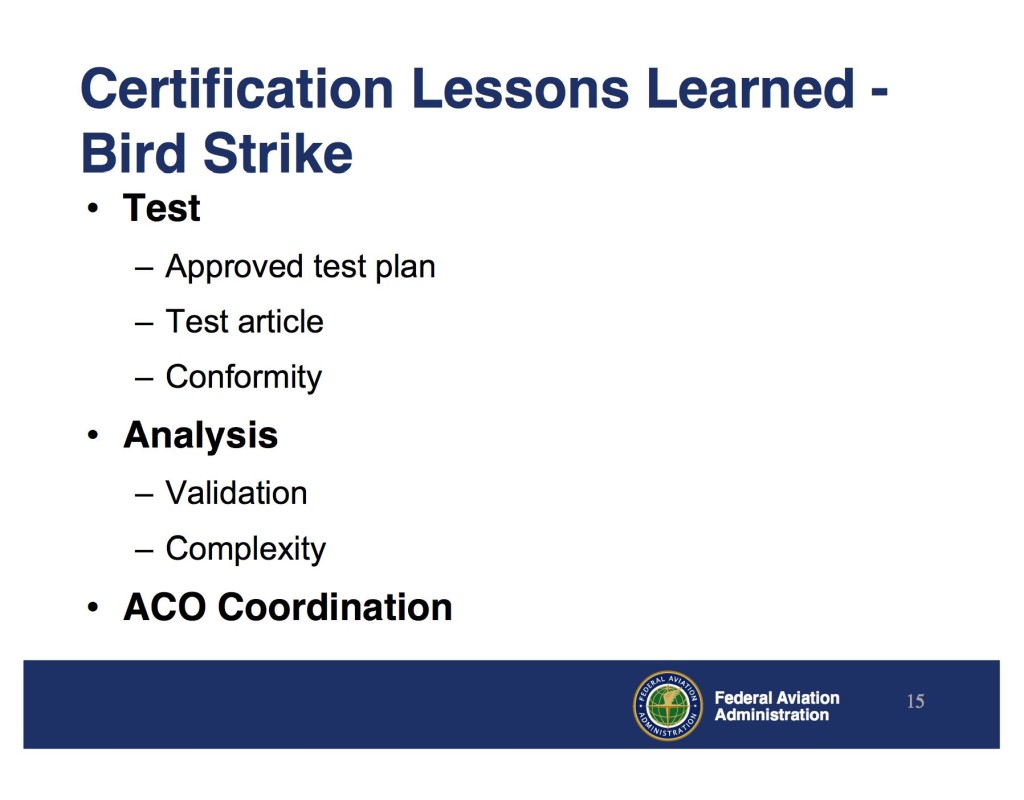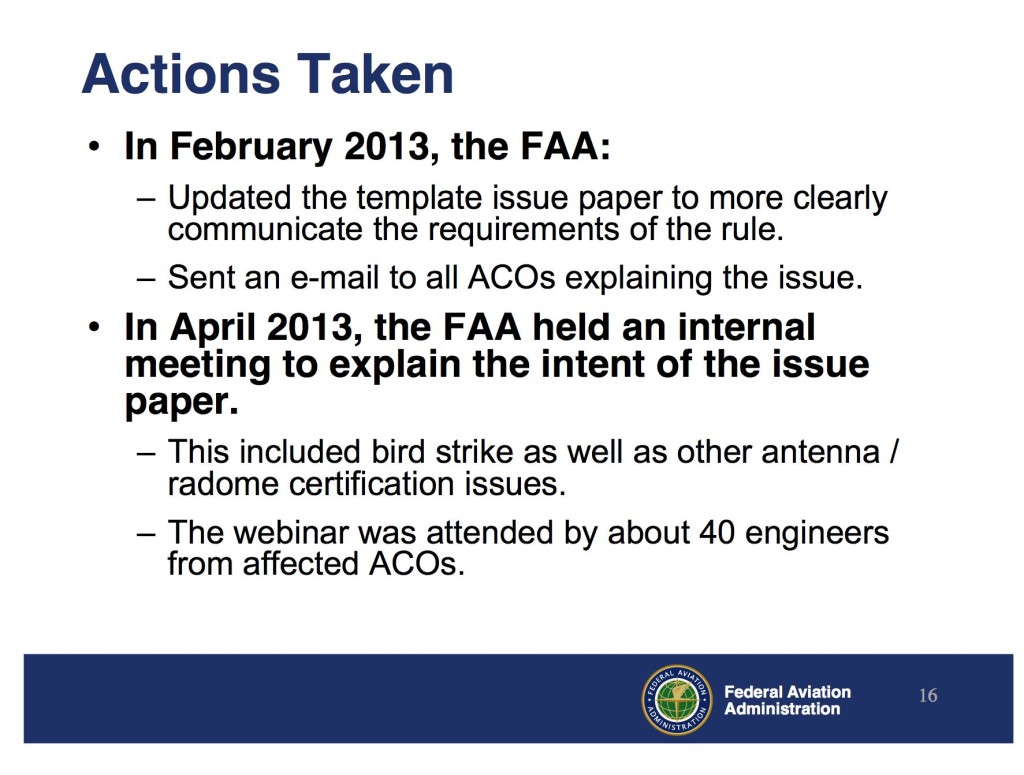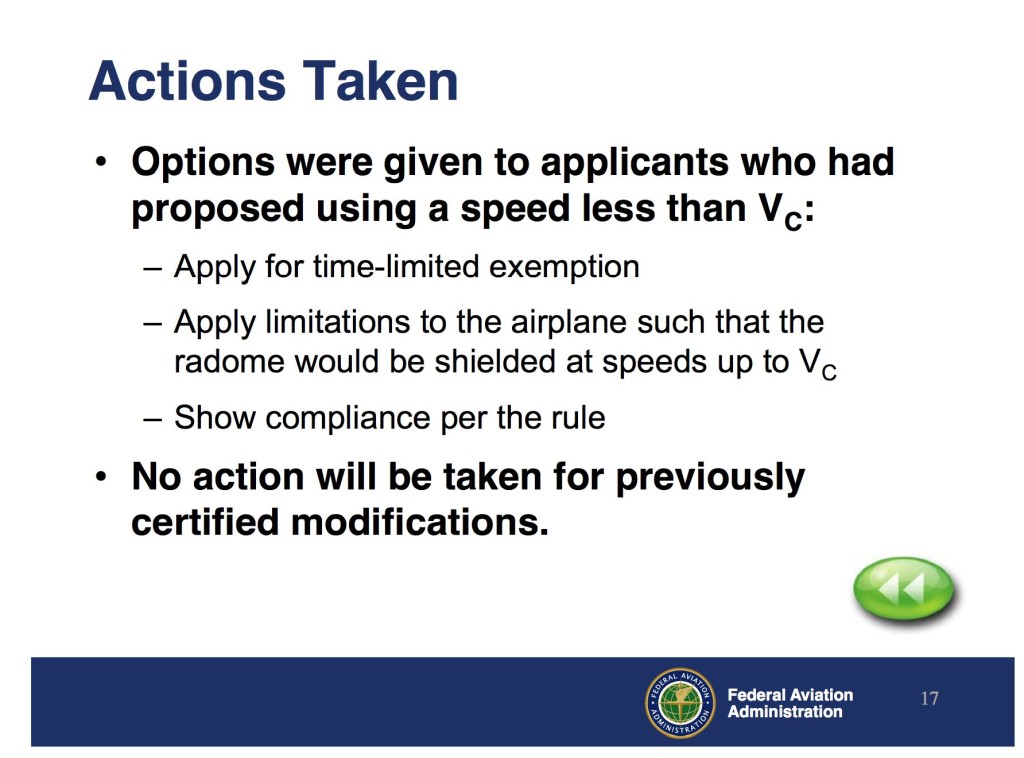 Featured image credited to istock.com/Luka8au