As Apple has moved to support contactless EMV (Europay, Mastercard and Visa) payments on the new iPhone 6 via near-field communications (NFC), there is renewed discussion amongst 'passenger experience' industry stakeholders about supporting this functionality on in-seat inflight entertainment systems.
But while the growing popularity of using mobile payments on the ground is sufficient enough reason for the IFE industry to expand its work in bringing NFC to IFE, a more pressing driver exists.
New EMV chip technology standards will start to be enforced on 1 October 2015 in the United States. At that time, the liability for fraudulent charges on non-EMV point-of-sale terminals will shift from the card issuer to the merchant. Supporting contactless EMV payments on IFE platforms could ultimately eradicate any potential liability faced by airlines.
It's not immediately clear if US carriers will be held liable for fraudulent purchases transacted via non-EMV platforms next year. But the issue poses enough of a concern that the Airline Passenger Experience Association (APEX) has begun exploring whether or not it needs to seek an extension for the current magnetic swipe readers offered on IFE systems.
An ad hoc group within APEX's Technology Committee is in data gathering mode now. Comprised of IFEC industry consultant Michael Planey, Lumexis chief technology officer Rich Salter and Gogo director, IT architecture Barry Atkinson, the ad hoc group is seeking airline input on the following questions:
What should the delay apply to (plane-mounted readers only, or also those in airline lounges, etc.?)
Can there be a delay for already-installed readers, and not for newly installed ones?
How do APEX vendors and international airlines feel about a delay – any APEX members opposed to a delay?
"From a vendor standpoint, it looks as though they will not be held liable in the same way that the firms producing the credit card terminals on every shop counter can be. You are either a card issuer or the merchant, and in this case the merchant is the airline. The liability shift as currently publicized for October 2015 means the airlines are potentially open to be held liable for fraudulent transactions." says Planey. "There are lots of caveats, including the retail environment and whether or not you accept Chip-and-PIN in other places. Our goal is to educate the membership – particularly the airlines – as to what the October 2015 deadline means for them. The other members of APEX must understand their role in the process and how they need to address these new standards going forward.
"We are looking for a little more airline participation; they are the ones who are potentially at financial risk here beyond 2015 and it would be in their best interest to participate in our group."
Salter adds that the Technology Committee will seek to formalize the ad hoc group "into a formal working group" at its next meeting in November in California.
Supporting contactless EMV payments on IFE via NFC technology would also be easier than implementing Chip-and-PIN or Chip-and-Signature solutions on in-seat systems. "I know enough about this to know that the latter is not just a software upgrade, or minor hardware upgrade; it's pretty involved to do Chip-and-PIN stuff. There are a lot of issues. For instance, current Chip-and-PIN terminals have covers over them so people can't see what you're inputting, so installing a cover at every seat doesn't seem practical," says Salter.
GuestLogix, which holds a 50% market share for handheld point-of-sale (POS) devices used by the world's airlines, has offered EMV technology for its POS devices for the last several years. "Most of the customers that use it today are in Asia and Europe, of course, because EMV was adopted there first. From a POS standpoint, whether purpose-built or a COTS tablet, the options have been there for several years. It's a proven technology. It works in an offline environment as well," says GuestLogix EVP global sales & product strategy Ilia Kostov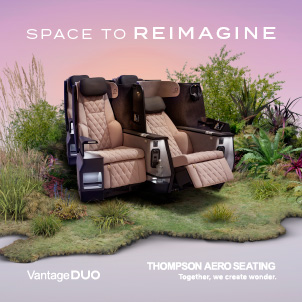 GuestLogix has been warning US airlines for years that EMV standards are coming, though Kostov says his firm's use of 'black list' and 'declined credit card recovery services' has reduced onboard fraud at GuestLogix's airline partners to "a fraction of 1%".
He adds, "There is an airline today that uses our contactless terminal and they ask that we don't use their name. Yes, again we'll make sure it works well. The integration with the bank is there; the certifications are there, and it's fine, it's great."
With respect to in-seat IFE, says Kostov, "I don't know how public everybody is, but when you go to some of the trade shows, some of them were exhibiting those sorts of things – IFE with NFC capabilities."
Indeed, during the Aircraft Interiors Expo in Hamburg, IFPL unveiled a new contactless retail system for airlines. And we understand we'll learn of further advances in NFC for IFE next week at the forthcoming APEX Expo in Anaheim.
[Editor's note: If you're interested in assisting the APEX Technology Committee's ad hoc group in its work, Planey and Salter can be contacted at the following email addresses: michael.planey@hmplaney.com and rsalter@lumexis.com]
Featured image credited to istock.com/ozgurdonmaz