The inflight argument that flared on a United Airlines flight to Denver on Sunday after a man used the controversial Knee Defender device to prevent the woman seated in from of him from reclining – prompting a diversion to Chicago O'Hare – is bringing renewed attention to the issue of whether passengers should be able to recline in the first place.
A number of low-cost airlines, including Allegiant, Spirit, and Ryanair, have already adopted what's called "fixed recline" or "pre-reclined" economy-class seats for short-haul flights, as has Air France. More recently UK budget carrier Monarch Airlines announced plans to use fixed-back seats manufactured by Pitch Aircraft Seating Systems for its Airbus A320 family aircraft.
Explaining the carrier's decision to RGN, Monarch director of customer experience and marketing Tim Williamson said, "Most customers don't believe that recline is worth it – the view is either do it properly or don't do it at all." He admitted that the airline received "a small number of complaints from customers who wanted to recline", but noted that it is impossible to please everybody.
Last year, a poll of 1,000 fliers conducted by flight search website Skyscanner found that nine out of ten travelers wanted reclining seats banned or at least restricted to set times on short-haul flights. We received a similar response when we posed the following question on Twitter:

Here's just a small sampling of answers we received (suffice it to say, this is a highly charged topic):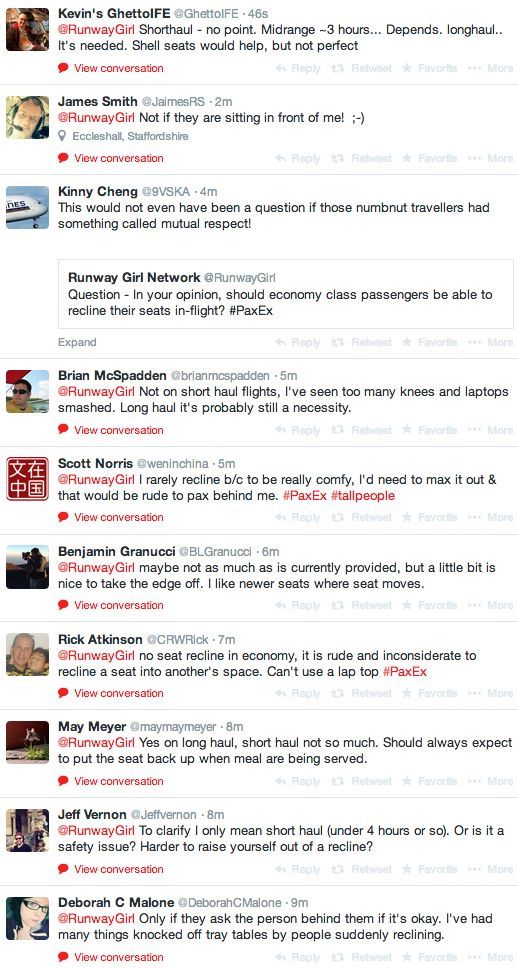 Incidentally, these opinions are reflective of Airbus' own stance on the matter. When it comes to short flights (a couple of hours or less in duration), the airframer believes there is a strong argument to optimize the angle and fix it, instead of allowing the recliner to be adjustable. It suggests that fixed recline is good for both airlines and passengers.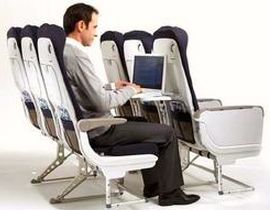 "By fixing the recline, the seat manufacturers can drive more weight out of the seat, so they are helping the aircraft to burn less fuel, keep costs down, get a better environmental footprint and they are also able to keep costs down in terms of price of the seat and its maintenance costs because typically in economy class seats without inflight entertainment, the recline mechanism is the least reliable part of the seat. By eliminating it, they can improve reliability, keep weight down, and simplify the seat," Airbus head of market and product strategy Bob Lange said in 2010 after Air France stunned the world by introducing fixed recline seats on short-haul flights.
He added, "So far the airlines are not going for fixed recline for longer-range flights because passenger value the ability to adjust. In a longer range flight, you would typically not close up the seat pitch to that extent."
John Walton, director of data at flight ratings, search and data company Routehappy points out that most passengers initially recoil at the idea of non-reclining seats, equating them to the very tightest seats and their most uncomfortable flying experience. "But within the last few years advances in materials and design have led to some very comfortable non-reclining seats that are perfectly fine for shorter flights — in some ways, even better because you retain usable space for a laptop when the person in front of you can't recline," he says. "A couple of our six-foot-plus Routehappy data team members tried these seats out at the Aircraft Interiors Expo in Hamburg this year, and we were really surprised at how spacious even a 29″ pitch felt."
When it comes to rating and scoring aircraft seats, Routehappy believes its methodology is the industry's most advanced; it takes a wide number of factors into account when considering whether a seat is Tight, Standard or Roomier. "Recline obviously comes into account as we fine-tune each seat's rating, though we've found that the non-reclining seats out there already fit squarely into existing categories", says Walton. In short, the adoption of fixed recline seats might very well be the answer to the current knee crushing conundrum. They would almost certainly spell the end of the Knee Defender device.