Since starting operations nearly 10 years ago Virgin America has relied on its brand image and self-proclaimed "premium" levels of customer experience to drive higher yields on fares. This approach has come into the spotlight again this week as the company filed paperwork with the US Securities & Exchange Commission to pursue an IPO. Included in the 100-plus pages of mostly financial data are some revelations on how Virgin America sees its position in the market vis a vis the passenger experience, as well as what is – and, more importantly, is not – expected in the future.
On the inflight seating front Virgin America recognizes that its once significant lead on the competition has eroded. While the company mentions several times in the S-1 filing that it offers "compelling passenger comfort features" and three classes of service within the domestic market it is also clear that the competition is not idle. The filing notes that "American Airlines, Delta Air Lines, United Airlines and JetBlue Airways are increasing the quality of their seating and on-board amenities in some of the routes where they compete with us, making it more challenging to attract passengers who are loyal to those airlines."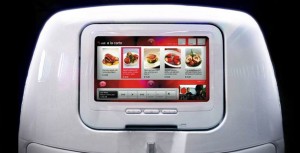 Much of this improvement comes in the transcon market where the battle for premium passengers has increased significantly in the past year. This market is also key to higher yields, something which Virgin America has been growing but where an eroding competitive stance will likely cause some reductions on the revenue and yield front. With no mention of improvements to the inflight hard product it appears that Virgin America is going to face that risk straight up at this time rather than move to introduce a new seat.
Red, the carrier's inflight entertainment system is the backbone of its passenger experience offering. The system combines TV, movie and audio offerings with a food and beverage ordering platform, a feature the company describes as a "key component", and indeed something it has attempted to patent. As part of the planned upgrades in the next 18 months Virgin America intends to upgrade the software platform which runs the Red system as well as to introduce new monitors which will provide "swipe" touch capabilities. Improving the system performance and interface should make customers happy while also easing the process by which customers can spend money through the system for premium content or dining options. Increasing the ancillary income will remain a significant aspect of the carrier's growth.
Not mentioned in the filing was the carrier's previously discussed full revamp of the IFE platform to support wireless streaming to both in-seat screens and passenger PEDs. While that may still show up eventually it is not mentioned in the filing so expectations should remain low that any visible progress will be made on that front in the coming year or two.