Just over four months after the tragic disappearance of Malaysia Airlines MH370, another Malaysia Boeing 777-200 – carrying 295 people – has crashed in the Ukraine.
Malaysia Airlines received notification from Ukrainian ATC that it had lost contact with flight MH17 at 1415 (GMT) at 30km from Tamak waypoint, approximately 50km from the Russia-Ukraine border.
"Flight MH17 operated on a Boeing 777 departed Amsterdam at 12.15pm (Amsterdam local time) and was estimated to arrive at Kuala Lumpur International Airport at 6.10 am (Malaysia local time) the next day. The flight was carrying 280 passengers and 15 crew onboard," says the airline, which is now in the process of notifying next-of-kin.
Eurocontrol says the aircraft was flying at Flight Level 330 (approximately 10,000 metres/33,000 feet) when it disappeared from the radar. "This route had been closed by the Ukrainian authorities from ground to flight level 320 but was open at the level at which the aircraft was flying," it says. "Since the crash, the Ukrainian authorities have informed Eurocontrol of the closure of routes from the ground to unlimited in Eastern Ukraine (Dnipropetrovsk Flight Information Region). All flight plans that are filed using these routes are now being rejected by Eurocontrol. The routes will remain closed until further notice."
Carriers have voluntarily agreed not to operate in the airspace near the Russian-Ukraine border, according to the FAA.
MH17 was apparently shot down by a surface-to-air missile near the Russian border where Ukrainians and ethnic Russian separatists have been embroiled in severe fighting. In April, the FAA issued a special notice regarding Ukranian airspace, though it did not cover the area where the aircraft was downed today. However, a NOTAM was issued three days ago, and then again today after MH17 was lost.
The aircraft (9M-MRD) – photographed today on takeoff from Amsterdam by Tom Warners, and pictured above – was tracked by multiple flight tracking software solutions including Flightradar24.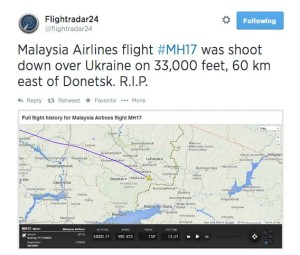 Images of the debris quickly surfaced on social media, including these photos from Reuters and Russia Today, respectively.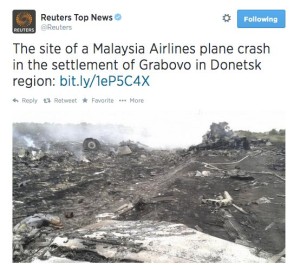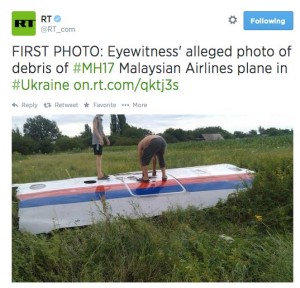 Boeing in a statement says, "Our thoughts and prayers are with those on board the Malaysia Airlines airplane lost over Ukrainian airspace, as well as their families and loved ones. Boeing stands ready to provide whatever assistance is requested by authorities."