FARNBOROUGH: These days, the Farnborough Air Show is perhaps best known as a venue where airframers announce major aircraft program updates, and multi-billion dollar aircraft orders. But beyond the chalets where champagne runs freely after an aircraft order is inked, and past the static display of aircraft preparing to wow attendees with their aerial feats, you'll find massive exhibition halls filled with the booths of aerospace suppliers both big and small, including those trying to make their mark in the 'passenger experience' space. It is here that we reconnected with The STAG Group, which used the show to launch a new plastic cabin partition from its aircraft interiors division, Race Completions.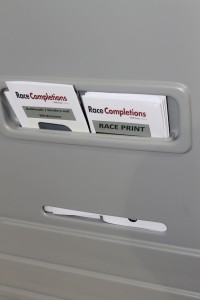 Initially designed for the Airbus A320, the partition costs one third less than a traditional composite and aluminum partition, and is lighter by the same proportion, according to STAG interiors sales manager Steve Allum. The manufacturing process is easily adaptable to other aircraft, and Race Completions plans to expand the range, producing individual tools for each aircraft type.
Cabin partitions are generally made of glued composite construction with protective aluminum edging. Allum reckons that around 3kg of glue holds a regular partition together, adding to the mix of materials that increases weight and complicates flammability testing. By contrast, Race Completions' partition is composed of welded plastic. It can be repaired if required, but shrugs off the regular knocks and scrapes that might be expected in service, says Allum.
The STAG executive won't be pushed on the welding process, but reveals that the only additional material used is a silicone sealer around the edging strip. Literature pockets and unique customer features can be added.
Logic suggests that as the partition is scaled up for larger cabins than the A320, the plastic must be thicker to retain its integrity. Not so, says Allum: "As the component gets larger the plastic core changes in specification. It's welded and there's still no glue." He says the Race Completions' partition retains its one-third cost and weight saving compared to the traditional alternative.
Cost and weight savings are obvious advantages for the customer, but the light grey colored partition on STAG's stand hides a clever product feature that can be both passenger pleasing and save airlines more money. Using a unique printing process, which we previously highlighted here, Race Completions can print designs directly onto the component or, more accurately, into the plastic itself.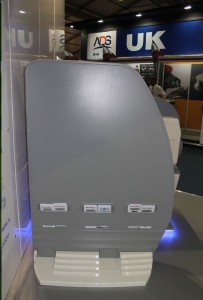 Ink is impregnated to a depth of 0.25mm, leaving a finish that's entirely durable – it won't rub off over time like a lacquer-protected surface design, because a depth of plastic has to be removed before the image is affected.
This durability allows Race Completions' designers to integrate warning and information placards, for example, into an overall partition design. The printed part then bears placards with no edges to lift over time and therefore no need for replacement.
Remarkably, outside that design process, there is no cost differential across the printing process. "It doesn't cost anymore to print if an airline orders one design or one hundred. A customer can choose different designs for either side of the same partition, distinctive logos for different aircraft, even different finishes for every partition in the same aircraft, all at the same price."