UK operator Monarch Airlines will "imminently" announce plans to introduce wireless inflight entertainment on board its short-haul aircraft, RGN can reveal.
Company director of customer experience and marketing Tim Williamson confirms that Monarch will introduce the solution, which together with the BYOD (bring your own device) trend explains Monarch's decision to incorporate a personal electronic device holder above the tray table on its Pitch Aircraft Seating Systems-made PF2000 economy class seats, for which Monarch is the launch customer.
"The vast majority of our customers bring their own devices on board. Even if we didn't have [wireless IFE] plans in mind, it makes sense to make it easy for them to use their devices without taking up tray table space," says Williamson. He describes the tablet holder on the PF2000 seat as "a great innovation" which works equally well for smart phones as for tablets.
Williamson declines to provide details about Monarch's choice of wireless IFE vendor, or what the specific offering will entail, but says: "We hope to announce it fairly imminently." He suggests that wireless IFE is "the way entertainment is going", and "no one is going to want expensive seat-back systems unless it's for much longer flights".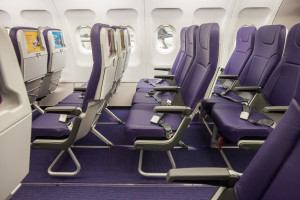 One of the most notable characteristics of the PF2000 is that it is a fixed-back seat, which means passengers do not need to worry about the person in front of them reclining into their laps. Williamson says Monarch's decision to install the seat was "primarily driven by the customer experience", and feedback from passengers about the lack of recline has been overwhelmingly positive.
"Most customers don't believe that recline is worth it – the view is either do it properly or don't do it at all," he says. Williamson admits that the airline received "a small number of complaints from customers who wanted to recline", but notes that it is impossible to please everybody.
Monarch has been trialling the seats since last autumn and has been conducting surveys to gain customer feedback. It has made modifications to the seats based on that feedback. "We went through mark one and mark two, where we improved the padding on the bottom," says Williamson.
The PF2000 seats are installed on 11 of Monarch's Airbus A320 and A321 aircraft and the remainder of its narrowbody fleet will have the seats installed "after the peak summer season".
Monarch has opted for a 28-inch seat pitch throughout the majority of the cabin but offers "extra legroom" seats towards the front which are pitched at 32 inches. "We thought about pitching at 34 inches but we decided that it looked odd," says Williamson, noting that trials were conducted with half of the extra legroom seats pitched at 32 inches and the other half at 34 inches.
"There was no difference from the customer point of view, but at 34 inches the tray table can only extend so far, so you have to sit on the edge of the seat to use it." Williamson claims that Monarch offers "more extra legroom seats [per aircraft] than any other European airline", with 60 such seats on each A321.
Pitch Aircraft Seating Systems says the PF2000 "significantly improves the legroom and living space over traditional economy seats". Williamson puts the extra space offered by the seat at 2.5 inches.
Although Monarch has been impressed by the lightweight and low maintenance aspects of the seat, Williamson says that passenger comfort was the primary driver behind choosing the model. Monarch is seeking to differentiate itself in what he describes as a "massively oversupplied market" by focusing on offering an improved passenger experience (#PaxEx on Twitter) and good customer service.
"Everyone needs a point of differentiation and ours has always been around service," he says.
Monarch operates an all-Airbus short-haul fleet, but its longer sectors are operated by Boeing 757s, which are nearing the end of their leases. The airline will use next week's Farnborough Air Show to unveil a new aircraft order to replace the 757s. The Wall Street Journal reports that Monarch will announce the purchase of 30 Boeing 737 Max twinjets at Farnborough. For now, Williamson says he is "sworn to secrecy".