Welcome to Episode 14 of the #PaxEx Podcast. Our guest for this episode is Thales Avionics senior director, content business Dominic Green, who also serves as secretary of the Airline Passenger Experience Association (APEX), which sponsors the Passenger Choice Awards.
In this episode we discuss Airbus' decision to re-certify its A320 to accommodate nine more seats for a total 189-seats, a feat accomplished by adding wider evacuation slides, according to Flightglobal. We look at how this development is driving fresh conversation about seat pitch and passenger comfort. French manufacturer Expliseat, for instance, believes its super-light titanium/composite seat would suit operators of higher-capacity A320s, and has suggested that some carriers might consider a mixture of seats pitched at 27 inches and 28 inches. Don't shoot the messenger, fair passenger! Co-host Max Flight and I wonder if it's time to start measuring comfort in a different way (bum-to-knee anyone?)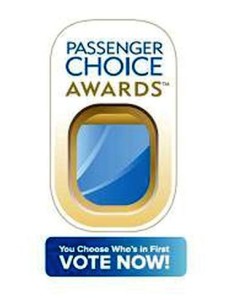 Hard on the heels of JetBlue Airways' roll-out of a new Mint premium product and 100-channel live television system, we chat with Green about what the future holds for inflight entertainment. Green says it's all about choice. "In terms of how the content is provided, we have to meet the desire for individual choice and an expectation to manage your own experience. So that includes delivery to personal devices, not just through the seat-back screen." Thales is laying the groundwork to allow passengers to manage their own experience in "how and when" they consume the content.
Passenger choice is certainly a theme of this particular episode, which is sponsored by the Passenger Choice Awards – a unique awards system that lets travelers rate every aspect of the passenger experience of their most recent flight, and gives them a way to recognize when airlines get it right and when there is room for improvement. The deadline to participate for 2014 is 30 June, so if you haven't done so already, be sure to cast your vote here! The awards are beneficial to airlines as well, because – in addition to garnering props for doing right by passengers – APEX shares the data with its airline members so they get direct feedback, reveals Green. Follow the Passenger Choice Awards on Twitter at @PassengerChoice.