Time flies (pun intended). Over the years countless airlines have launched operations and flown under thousands of monikers, carrying billions of passengers. Some have naturally been more successful than others.
With the help of our friends at CH-Aviation, RGN has travelled back in time to 2004 to share with our readers just a few of the comings and goings that transpired in commercial aviation one decade ago.
SUCCESSFUL AIRLINE LAUNCHES IN 2004
Virgin America: Perhaps the most stand-out airline to launch in 2004 was US operator Virgin America. Though the carrier is a separate entity from Virgin Atlantic, hip billionaire Sir Richard Branson's name and marketing pizzazz were very much a part of the Virgin America allure. Cabin mood lighting and personal IFE monitors in coach and power outlets at each seat were still relatively unique offerings on narrowbodies in 2004 and clever ad campaigns told passengers that this was the 'cool' way to travel in the US. Passengers bought it, once the carrier got off the ground in 2007. Virgin America continues to base its operations at San Francisco International (SFO) and currently serves 23 destination in two countries with 42 routes and a fleet of Airbus A320 family aircraft.

Sunwing Airlines: Part of Sunwing Travel Group, Canadian operator Sunwing Airlines has been helping Canadians escape long and frigid winters since beginning operations in 2004. Based out of Toronto's Lester B. Pearson Airport, the operator currently serves 93 different routes – mostly "holiday" destinations. Sunwing flies to eight countries, including Mexico, Jamaica, Cuba and the US, with a fleet of 10 Boeing 737-800 aircraft.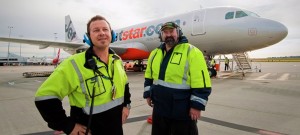 Jetstar Asia Airways: Owned by two private investors, the Singapore government holding company and Australian flagship carrier Qantas (49%), Singapore-based Jetstar Asia Airways launched in 2004, serving mainly as a feeder to Qantas' low-cost subsidiary Jetstar Airways.  The airline prevailed through a rocky start and early management shuffles to report profitability ahead of schedule in 2008. Based at Singapore Changi (SIN) Terminal 1, Jetstar Asia now serves 19 destinations in 12 countries, primarily in Southeast Asia.
THESE CARRIERS ALSO LAUNCHED IN 2004 AND ARE STAYING ALIVE
Vueling Airlines, Barcelona El Prat
Company is bringing high-capacity inflight Wi-Fi to passengers
Wizz Air, Budapest
Carrier pulled a planned IPO on London Stock Exchange
Jazeera Airways
Kuwait
Airline is restructuring and has just received more financing
Nok Air
Bangkok Don Meuang
Company CEO caused a stir at the Singapore Air Show
AIRLINES THAT SAID 'GOODBYE' IN 2004
Laker Airways (1992-2004): In 2004 the second airline project involving British airline entrepreneur Sir Freddie Laker circled in for a final landing. Laker had begun Laker Airways in the UK in 1966. It was a successful charter and cargo operation until 1977 when it was reformed to become one of the true pioneers of the long-haul, low cost model. The airline eventually closed in the early eighties, but in 1992 Sir Laker resurfaced in the Bahamas, working with a Texas oil tycoon to launch Laker Airways (Bahamas). The airline operated a total of 12 Boeing 727 aircraft to 9 destinations over twelve years.

JetMagic (2003-2004): On January 28, 2004, Irish airline JetMagic called it quits after just a single year in operation. Based out of Cork International Airport (ORK) in the Emerald Isles, JetMagic infuriated a lot of travellers when it failed to pay some landing fees and got a plane impounded – resulting in an indefinite suspension of operations. This sudden halt left many people out of pocket with useless tickets, some booked as little as 30 minutes before the airline folded. Ouch.
Gandalf Airlines (1998-2004): Even Frodo and the power of The Ring couldn't save Gandalf Airlines (which started up in 1998) from shutting down in 2004. The regional operation based at Orio al Serio Airport (BGY) near Milan had a fleet of 10 turboprop and jet-engine Dornier 328 aircraft serving about a dozen destinations such as Madrid, Florence, Paris and Barcelona. By 2003 that list of destinations had been drastically reduced and bankruptcy was filed shortly thereafter.
THESE CARRIERS ALSO CLOSED THEIR DOORS IN 2004
Swiss Skies, Geneva
(2003 – 2004)
Indonesian Airlines, Jakarta Soekarno-Hatta
(1999 – 2004)
Great Planes Airlines, Tulsa International
(2001 – 2004)
Aero Continente, Lima
(1992 – 2004)
(Photo of Laker Airways picture courtesy Eduard Marmet: CC-BY-SA-3.0 (http://creativecommons.org/licenses/by-sa/3.0), CC-BY-SA-3.0 (http://creativecommons.org/licenses/by-sa/3.0) or GFDL 1.2 (http://www.gnu.org/licenses/old-licenses/fdl-1.2.html)], via Wikimedia Commons)