JetBlue Airways is pressing forward with plans to retrofit its Airbus A320s with B/E Aerospace's Pinnacle seat, in-seat power and its new LTV4 inflight live television system, and expects to have a prototype ready for certification before the end of the year.
Depending on certification timelines, JetBlue will start to install the new A320 cabin sometime in 2015, JetBlue director of product development Jamie Perry told Runway Girl Network last week in New York, where the carrier unveiled its new Mint premium product for certain Airbus A321 flights, and also debuted its Pinnacle-focused 'Core' economy class product on the A321.
JetBlue management is under pressure from shareholders to squeeze more seats into its aircraft, particularly as it crafts a plan to retrofit its A320s with Pinnacle. The carrier has already reduced the pitch in economy class on the A321 by one inch, offering a 33-inch pitch in regular economy, and a 37-inch pitch in its 'Even More' extra legroom product. This configuration is still considered quite roomy by industry standards; for instance, myriad legacy operators have adopted a 31-inch pitch for long-haul flights across the Atlantic.
Though it's logical to assume JetBlue will tighten pitch when it reconfigures its A320s, Perry says the carrier is trying hard to maintain a comfortable product for economy. "We've always taken great pride in our 'more legroom in coach' claim. We have a number of product attributes we believe people choose us over [other carriers for]; one is IFE, and another is seat pitch. Legroom and IFE are things where people remember us and book us as a result," he says.
He adds, "Is air travel something that we as customers should expect a basic level of human rights around or is it a means to the end? We [at JetBlue] still believe travel can be enjoyed and cherished, and we should inspire humanity in the way we deliver it. Some people are more focused on numbers. Neither approach is right or wrong."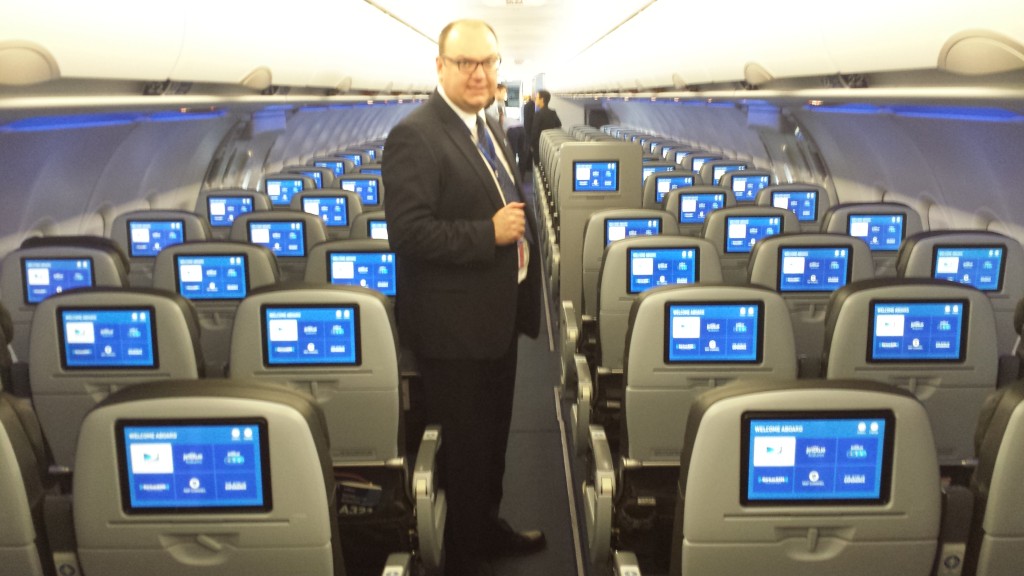 The seat-backs on the A321's Pinnacle seats feature three pockets – a super-slim pocket to accommodate the airline safety card, plus a pocket for passengers' drinks, and another to accommodate carry-on items such as magazines and personal electronic devices. These features will be offered on the A320s once they undergo retrofit.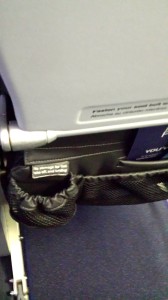 Perry admits management also "has to look at options around density, given that the entire industry is moving that way, so we'll continue to explore space savers", including Airbus' Space-Flex solution, which makes more efficient use of the jetliner's volume by replacing the full-width rear galley with a smaller unit along with two lavatories that previously were located left and right of the central aisle.
JetBlue is also keeping an eye on new overhead bin offerings for A320 family aircraft, including the ISIS cabin from Zodiac Aerospace – which is being retrofitted to Delta narrowbodies, but which JetBlue says is pricey – and Airbus' own new pivot bin concept, which is not yet available for linefit or retrofit.
"The pivot bins are great. All the ones I've seen look great, work great; they're better for customers and we're absolutely sold on them. The challenge we have is we're trying to create some form of consistency across our fleet. We don't see a clear path to retrofitting those across the 130 A320s we already have and that poses a challenges for us in terms of to putting it on a subset of aircraft [the A321s]. It's definitely something we will continue to look at and evaluate going forward, but it's not in our current thinking."
JetBlue believes that in taking delivery of the A321, the carrier has become one of "the early customers" of Airbus' new LED lighting for the A320 family. It has chosen blue and white lights only. "It's definitely about calm and creating a sense of mellowness, plus to put some JetBlue branding in the space without putting our brand everywhere," says Perry.