As Runway Girl Network first reported, Gogo took the occasion of the Aircraft Interiors Expo in Hamburg to announce a tweaked global version of the 'GTO' inflight connectivity solution it unveiled last year for launch customer Virgin America. But the Chicago area firm surprised the aviation world when it unveiled the so-called 2Ku offering featuring not one, but two low-profile Thinkom-manufactured phased array, mechanically steered antennas with twice the spectral efficiency of current Ku antennas and speeds of 70mbps over current satellites.
Crucially, Gogo also announced that its agreement with Thinkom is "exclusive" in the commercial market – i.e. the company's competitors, including Panasonic Avionics and Global Eagle Entertainment – won't be able to copy the solution, and it expects Japan Airlines to be among the first carriers in the world to test the system next year.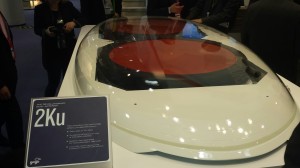 What 2Ku will do is "usher in a new era of global inflight connectivity" and set a new bar for the industry, says Gogo CEO Michael Small. While 70mbps today is fast, 2Ku will be able to support speeds of over 100mbps when the next generation of high throughput (HTS) satellites are launched.
Additionally, he says, 2Ku is cheaper than traditional Ku connectivity, cutting the cost in half, and providing superior coverage, most especially over the equator where current Ku providers encounter skew angle challenges and service degradation.
The antennas – 4.5 inches in height without the radome, and only 6.5 inches with the radome – are admittedly heavier than traditional Ku, but because of their low profile and more streamlined radome will burn less fuel, which will more than offset the increase in weight, says Small.
Importantly, 2Ku is "TV friendly", and able to support streaming TV, broadcast TV, and IPTV. The return link speed is customizable and configurable, and because of the spectral efficiency, Gogo has the opportunity to do it at a lower price.
"There are about 100 plus Ku satellites in every region of the world. If there is an outage with any satellite, there is plenty of redundancy and the antenna can repoint with a different satellite," adds Small.