Imagine you're a female journalist covering an important airline press event at an air show.
The CEO steps up to the podium to announce a new Boeing narrowbody order. Flanked by the carrier's attractive female flight attendants, he faces a room of mostly men, quips about the fact that there is a lot of media in the room, and says it's good he brought women along who are as "good looking as our planes".
Then he proceeds to reveal the carrier's intention to offer inflight connectivity on its new aircraft so that passengers can share on social media that the female flight attendants are "not old".
When asked to take a picture with Boeing's sales chief, John Wojick, he says: "Bring on the women!"
This is what Flightglobal journalist Ghim-Lay Yeo and other scribes witnessed this week during Thai budget carrier Nok Air's media briefing to announce a new order for 15 Boeing 737s.
Ghim-Lay bravely relayed Nok Air CEO Patee Sarasin's messaging to her social media network via a series of tweets.
"Nok Air CEO Sarasin says a lot of press in room, good that airline brought along women (the flight attendants). Uhmm right. #sgairshow"
"Nok Air CEO Sarasin says airline will offer wi-fi, so pax can use Facebook to show that airline's female FAs are 'not old'. #sgairshow"
"Knew all along that aviation is a male-dominated industry, but have never seen women quite as objectified as during this Nok Air presser."
"Nok Air CEO Sarasin says: 'Bring on the women!' when asked to pose for pix with @BoeingAirplanes' Wojick #sgairshow"
Apparently Sarasin didn't get enough love from Wojick because he took his show over to Bombardier, where in addition to firming options on Q400 turboprops, he tweeted via his @Patee122 handle: "I am hugging a lot of women lately hehe @Bombadier_Aero." He included this instagram photo. 
It's not uncommon for Asian operators to be accompanied by young, female flight attendants at press briefings. I'll always remember when Air Asia X CEO Asran Osman-Rani announced plans for new IFE with a bevy of female attendants in tow. Of course parts of Asia require that their flight attendants meet qualifications that westerns would balk at today (Singapore Airlines is renowned for its skin checks of prospective applicants!) So there are cultural differences to consider. And, Sarasin certainly doesn't have a lock on irreverent comments in the budget carrier world (hello Ryanair's Michael O'Leary).
But it seems that in making both sexist and ageist comments at a press briefing, he may have gone too far for even the most open-minded of journalists.
Ghim-Lay, a Singaporean working in DC, notes in a FaceBook update:  "When I began covering the aviation industry more than four years ago, I knew I was stepping into a world dominated by men, from the CEOs at the top to the journalists themselves writing about the sector.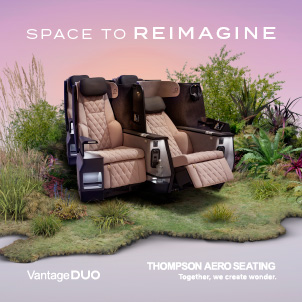 "But I've never seen women quite as objectified as during today's press conference. I would like to think that my gender is so much more than the token faceless flight attendants and public relations managers in the aviation industry."
Ghim-Lay wasn't the only person appalled by Sarasin's comments.
She later tweeted:  "Thanks to those who expressed solidarity w/ us ladies in aviation after the sexist remarks of an airline CEO at #sgairshow."
I suspect that many will see Sarasin's act as merely a tired marketing ploy in a long litany of tired marketing ploys. From O'Leary's racy charity calendars to Air New Zealand's latest safety video with Sports Illustrated swimsuit models to Skymark's decision to fit its A330 flight attendants with super short mini skirts, this type of marketing could be condemned for its lack of originality. And, if more women held executive-level positions in aerospace – and if more women journalists were present at airline media briefings – Sarasin would be forced to consider another way of insulting people for attention.
Personally, I think we should adopt his quote as a rallying cry for aerospace. "Bring on the women! Bring on the women!" It's time.