Ryanair is becoming a more approachable and customer service-oriented airline right before our eyes. As we discussed on last week's #PaxEx Podcast, the budget airline has taken to Twitter and introduced a new weekly #AskRyanair session. The initiative was kicked-off by Caroline Green, director customer service at Ryanair. We approached Green to ask her about her experience during the first #AskRyanair session and to give us hints about how Ryanair intends to improve its abrasive corporate image.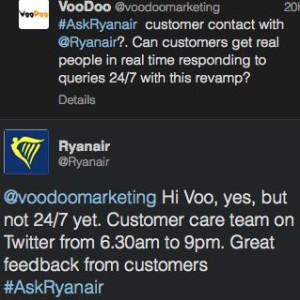 "Twitter is great for customer service," Green tells us, "and we will be doing this more often."  Rather than limiting itself to answering routine passenger questions, however, (which they also do via @Ryanair) the #AskRyanair thread is the airline's place to provide practical answers to questions on policies, procedures and product innovations. It's also a good way for the airline to engage its customers in dialogue. Green sees this initiative as key to the carrier's brand management, "telling people what they're going to get operationally." So what will Ryanair passengers get?
Flexibility. "Some policies have been too tough in the past," Green says, "but we're going to be nicer about these policies." As an example, she tells us about the change to the revised bag policy which now allows passengers to bring two bags on board Ryanair flights. Green admits that, as a woman, she did not like having to stow her purse in her onboard bag because of the tight restrictions Ryanair had before. Accommodating customer requests, like this new bag allowance, are easy and inexpensive for the cost-conscious airline to implement, but they yield great returns in customer satisfaction, says Green. We should expect more of this, she assures us.
New Products. Ryanair is currently reevaluating its product offering by unbundling and repackaging. The airline will introduce discounted family products for families traveling together, a new groups product for major European tourist destinations responding to recreational travel demand, and an innovative new business product targeted directly at attracting business travelers with features like free flight changes, in order to broaden the carrier's appeal in multiple segments of the travel market.
New Interiors. Ryanair is expecting delivery of 175 new aircraft and a cabin refresh is on the drawing board. A review of new seats and additional cabin features which will provide a "more pleasant experience", are currently underway, according to the airline.
Improved Technology. Ryanair will be debuting a revolutionary new website this April, Green tells us. The recent changes we've seen to the airline's website were only phase one of a wider initiative to improve the interface. Ryanair has performed in-depth usability studies on its web-site and will introduce a completely new simplified interface. Additionally, Green confirms that the airline will provide mobile boarding passes by the end of February. These will be limited to single passenger tickets initially, but passengers will be able to scan-in at any airport where Ryanair flies.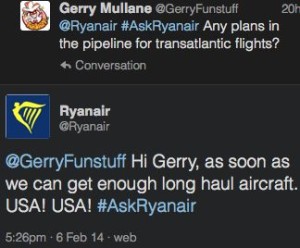 These tech claims were confirmed by Reuben May, head of digital marketing, when he hosted this week's #AskRyanair chat.
Asked about claims that the airline has given up on transcontinental flights and offering inflight Wi-Fi, Green seemed surprised to hear that anyone thought anything was off the table. Connectivity is under active review by the airline, which is considering cost-factors and reliability of the equipment in its final decision. Reuben May confirmed the same thing this week. She indicated that the move to transcontinental flights depended in part on the availability of equipment to support them. For his part, Reuben May replied to a customer on #AskRyanair that transatlantic flights would be offered "as soon as we can get enough long-haul aircraft," closing with the interesting cheer, "USA! USA!"
We asked Green whether the new customer-service approach for the airline would damage the edgy-side of the Ryanair brand, for years fueled by controversial statements from the now "huggable" Michael O'Leary. Green replied that there is no conflict between being service-oriented and the airline's famously edgy-brand, stating, "We have always been good about [customer service] but haven't got the press for it."
The content and tone of the #AskRyanair tweets would indicate that it's not just a matter of softening the edges, but distributing the impact. Moving away from a canon-ball approach from O'Leary to a befuddled world, to a much more sophisticated multi-strike attack, demonstrates that Ryanair's "difference" is not just at the head but permeates the body of the organization. The airline make no apologies for being different, and it loves you. 🙂