In this world, where company messaging is managed to a hilt, it's rare to hear executives speak completely off the cuff about one of their biggest airline customers, let alone on a live audio web cast. But that's exactly what the folks at Global Eagle Entertainment did this week at the Citi Internet, Media & Telecommunications Conference in Las Vegas.
Global Eagle's Row 44 unit provides Ku-band inflight connectivity systems to several airlines. Its largest customer, by far, is Southwest Airlines, which currently carries the system on 435 Boeing 737s. Low-cost carrier Norwegian has equipped 60 737s with the system, and a number of other carriers are in various stages of equipage – UTair Aviation and Transaero in Russia, Icelandair and South African carrier Mango. Global Eagle yesterday announced that UTair had added 60 aircraft to its contract, bringing to 69 the total number of aircraft earmarked for installation.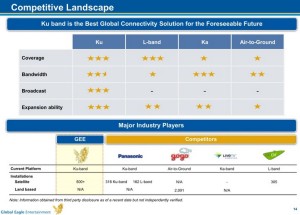 In total, Global Eagle is delivering connectivity via Row 44 on over 500 aircraft, and has over 300 aircraft in backlog that will be installed in the next couple of years.
Asked by a member of the audience to discuss Row 44's arrangements with carriers, Global Eagle CFO and managing director of Content Group, Dave Davis, played it safe, saying that while pricing on equipment is different depending on who the airline is, the contracts "are structured relatively similarly with maybe some small differentials".
Clearly feeling the need to expound upon Davis' comments, Global Eagle founder – and now a board director – Harry Sloan said: "What I find interesting about the Russian deal [UTair] is that we were able to confirm our business model in which…the airline pays for the equipment. Gogo's business model is different; they funded 2,000 airplanes. They paid for all the equipment. They have hundreds of millions of dollars invested.
"We got Southwest to pay for all 500 planes, $100 million dollars."
For the record, Gogo disputes Global Eagle's claims, saying they are "flat wrong".
"My guess is they know they are wrong, too. We did not fund equipment on 2,000 aircraft. We effectively financed the equipment but in later contracts the airlines paid up front," says a spokesman for Gogo.
Meanwhile, we've known for some time that Row 44 charges about $200,000 per aircraft for connectivity hardware, and expects airlines to pay. But terms are so rarely discussed in public.
Needless to say, I reached out to Southwest for comment. Angela Vargo, manager inflight product development at Southwest, said, "I wasn't there but we don't comment publicly on the agreement terms with Row 44."
One wonders if, in being so bold, Global Eagle is starting to get a little drunk on its own success. Airlines rarely appreciate it when a #PaxEx partner divulges figures. But Sloan's revelation, coupled with the fact that Global Eagle recently raised $185 million in a follow-on offering, puts the company in what appears to be remarkably solid financial health, with relatively low capex. Davis says the firm has "north of $275 million in cash, and $10 million in debt".
Of course, Global Eagle is not just a connectivity provider; after a number of acquisitions (Post Modern Group and IFE Services last year) – and more in the offing – the company is the largest content service provider (CSP) in the world. The content component provides "a much more stable environment than the connectivity side", says Davis, as the former is a "predictable model", while the latter is "the wild, wild west out there".
Global Eagle now counts about "170-ish" airlines as content customers. "We'll work with an airline for a slate of content and the airline will typically pay us a per-plane/per-month fee. Some contracts are as short as a year, or as long as five, but generally 3-year types of things," says Davis.
PAR Capital owns a majority shareholding in Global Eagle, and partner Ed Shapiro – who chairs the Global Eagle board – "is very involved", notes Davis, adding, "I won't speak to what PAR's intention is, but knowing Ed, he is a long-term investor in this space. I think he sees a lot of upside in this thing for the long haul."