In the day-to-day rush of doing our jobs as aviation professionals, we sometimes forget to stand back and take a look at what an extraordinary business air transport is. As we hit the busiest time of the aviation calendar, the Air Transport Action Group has put together an infographic to illustrate this.
Whilst the numbers are certainly impressive, it is equally vital to remember what they represent. An average of 5,707 passengers board flights every 60 seconds around the world – that is 5,707 different stories of people traveling to do business, to seek new adventures or simply (particularly at this time of year) to see their family and friends.
As we prepare to celebrate a century of commercial aviation in 2014, it is probably a good time to reflect on this side of the business and wonder how the world may be different if fast, reliable, safe and cost-effective air transport had not helped shape the world in which we live over the past 100 years. How would modern economies look? What would family connections be like? Would we have as much cultural empathy with people on the other side of the world?
The next time you are in the air, flying at 15 kilometres every 60 seconds, have a look at the passengers around you and ask yourself why they are on that flight. We have an impressive industry that daily performs feats of logistical and technological wonder. But we are also an industry with a very human purpose. We should celebrate this side more!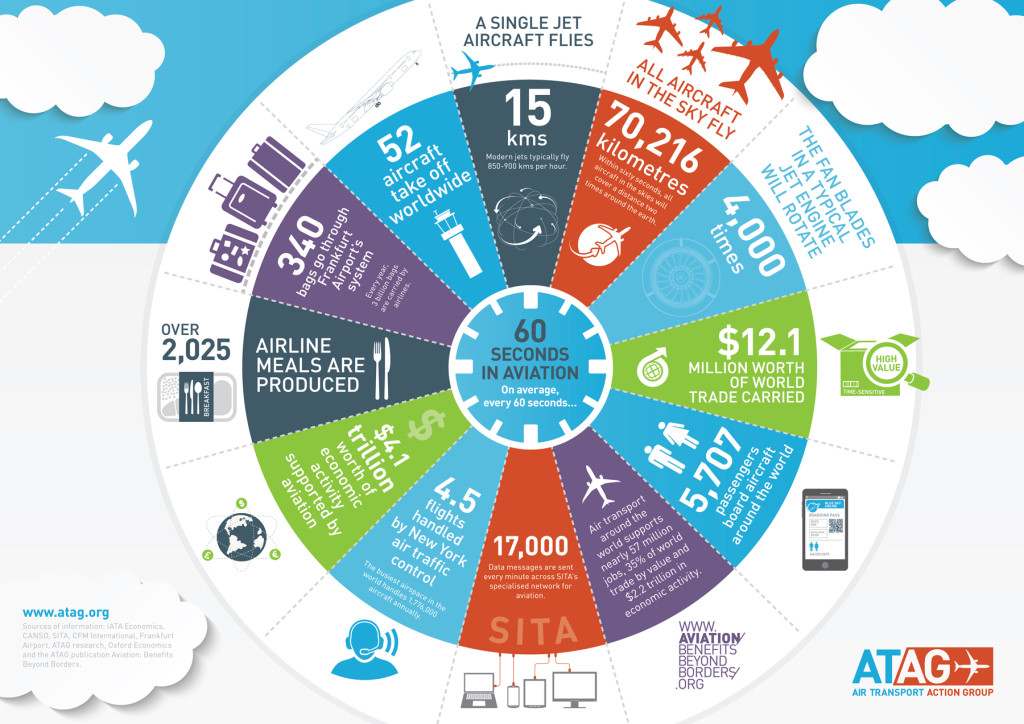 About the author, ATAG
ATAG is a global industry-wide body that brings together all aviation industry players so that they can speak with one voice – and it works to promote aviation's sustainable growth for the benefit of our global society. ATAG's existence is entirely dependent upon funding from its members. These include airports, airlines, airframe and engine manufacturers, air navigation service providers, airline pilot and air traffic controller unions, chambers of commerce, tourism and trade partners, ground transportation and communications providers. ATAG has some 50 members worldwide. Its funding members play a driving role within ATAG and devote substantive time and resources to the association. They include: Airports Council International, Airbus, ATR, Boeing, Bombardier, Civil Air Navigation Services Organisation (CANSO), CFM International, Embraer, GE, Honeywell Aerospace, International Air Transport Association (IATA), Pratt & Whitney, Rolls-Royce and Safran.