"Speak softly and carry a big stick." Theodore Roosevelt's words could very well serve as a new mantra for Lufthansa, whose Lufthansa Technik unit has won the right to retrofit all in-service Airbus A380s with Panasonic Avionics' Ku-band satellite-supported Global Communications Services (GCS).
The revelation that Lufthansa Technik and Panasonic have received Airbus' blessing to install GCS Internet (together with inflight GSM and live television) post-delivery on the super jumbo understandably will not elicit the type of news coverage that other #PaxEx announcements will receive today (such as, oh I don't know, the DOJ's decision not to fight the American Airlines/US Airways mega-merger if they agree to airport slot concessions).
But make no mistake about it – this news will have a meaningful impact on the passenger experience, as it means that A380 operators now have a path forward for equipping their aircraft with broadband connectivity. That not only bodes well for Lufthansa – which currently operates 10 A380s, and is partnered with Panasonic to offer GCS on its long-haul fleet – but it opens up opportunities for other GCS customers that fly A380s, like Emirates and Singapore Airlines. The former carrier has already signaled its intent to offer GCS across its 777 fleet.
From a market standpoint, the news is significant in that it represents the first time Airbus has allowed this type of communications hardware to be retrofitted to the A380. The European airframer has long steered carriers towards connectivity systems supported by L-band aeronautical services, offering Inmarsat Swift64 and later SwiftBroadband (SBB) linefit on the A380. It also previously owned a stake in OnAir, whose mobile and Wi-Fi solutions are supported by SBB.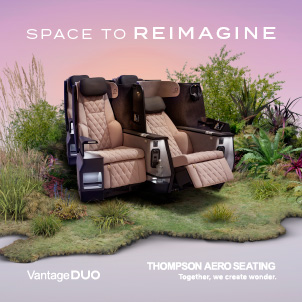 To say that SBB-supported Wi-Fi – sold in cost-per-megabyte data packages – has not received rave reviews on social media would be kind. The service has served as a gateway to Wi-Fi connectivity for some carriers. But even Emirates' own VP product, publishing and digital events, Patrick Brannelly, admitted in an interview with Future Travel Experience that cost per MB is going to go away "because nobody understands it". He also said Emirates, which offers OnAir's Wi-Fi on its A380s, hopes to see high-quality, free connectivity rolled out within five years (he didn't divulge whether Emirates intends to foot the bill).
Panasonic, meanwhile, says the developed GCS platform "complies with current manufacturer and industry standards", which allows "full commonality with a concurrent line-fit installation" around the same time that the retrofits begin. That's good news for GCS customers that will take delivery of A380s next year, and want to see their aircraft roll off the line with GCS (rather than roll off the line, and roll into post-delivery retrofit modification at Lufthansa Technik).
Perhaps more than anything, however, today's announcement underscores the power of persuasion wielded by Lufthansa over airframers.
Just one week ago, Nico Buchholz, executive VP Lufthansa Group fleet management, admitted that Lufthansa Technik helps to serve as a "pressure point" in negotiations with airframers, as the carrier is able to tell them, for example, "We could take aircraft bare and not use their [catalogue] seats." Interestingly, some Airbus insiders would like nothing better than to deliver green aircraft to airlines, and let them do as they wish in the retrofit market.
But for now, Lufthansa is poised to be the first A380 operator in the world to have broadband Internet installed on its flagship A380s, beginning in 2014, and those installs will be handled by none other than its Lufthansa Technik unit.
So it seems that Lufthansa is carrying a big stick, and its name is Lufthansa Technik.
Featured image: Lufthansa Technik, photographer Gregor Schläger