Boeing plans to offer inflight connectivity on its 787-8 in under a year, after making two connectivity solutions offerable on the new 787-9, the Runway Girl Network can reveal.
Cutting into production to offer airborne Internet and cell phone services on the 787-8 has not topped Boeing's agenda. The US airframer has been understandably reluctant to do anything that might impact 787-8 production due to the protracted delays suffered by the program.
However, Boeing is also fully aware that airlines increasingly expect the new-design 787 to offer the option of having connectivity installed at the factory, which requires 'linefit offerability' from the manufacturer.
A Boeing spokesman confirms that linefit offerability of Thales' TopConnect inflight connectivity solution "will be firmed up soon for customers in mid-2014 and beyond".
TopConnect – which enables access to OnAir's Wi-Fi Internet and cell phone connectivity over Inmarsat's L-band SwiftBroadband aeronautical service – is currently offerable on the 777, and Boeing has delivered multiple aircraft with the solution installed. Because TopConnect is not yet offerable on the 787, customer Qatar Airways sends its new 787s to Boeing CAS in Victorville, Northern California, where the twinjets are retrofitted with TopConnect as part of a post-delivery modification program.
TopConnect is, however, catalog offerable to customers of the larger 787-9.  So too is Panasonic Avionics' eXConnect inflight connectivity solution, which operates over Ku-band satellites. Deliveries of the 787-9 are slated to begin next year.
Like TopConnect, the eXConnect solution "will be available on the 787-8 later in 2014", says the Boeing spokesman.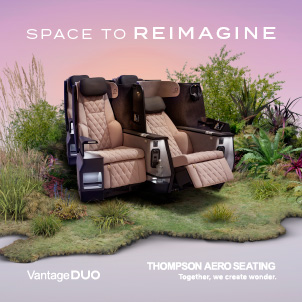 To date, Boeing has delivered over 25 aircraft with eXConnect and/or eXPhone (Panasonic's cell phone connectivity offering). Customers include 777-300ER operator American Airlines and Boeing 747-8 operator Lufthansa.
Installation of eXConnect on the 737NG and 737MAX "is being evaluated", says Boeing, adding, "Regardless both airplane models are being provisioned to accept either a Ku- or Ka-based connectivity solution." Indeed, Boeing is working "with all parties" to bring Inmarsat's Ka-band service – Global Xpress – to all of its production airplanes "as soon as the technology is proven and the network is available". The first of four Global Xpress satellites is scheduled to blast off from the Baikonur Cosmodrome in Kazakhstan on 8 December.
Boeing says it is also in discussions with all "viable" connectivity suppliers. "We are actively positioning and provisioning our airplanes to accept all known connectivity solutions," it reveals.
This is good news for the likes of connectivity providers Gogo and Global Eagle, which have not yet received 'linefit offerability' for their systems on any Boeing type. Asked why Global Eagle hasn't yet retrofitted its Ku-band connectivity system to customer Norwegian's 787s, the firm in a recent earnings conference call said, "Boeing hasn't released the design package to let anyone do that right now."
Hang in there for a little longer…it appears that the design package is on its way.
Related Articles:
Featured image credited to Boeing