AERQ, a provider for digital cabin solutions, is joining the Up & Beyond event hosted by the FlyingLab on 17 September, en route to the APEX Expo in Long Beach, which will take place from 19 to 21 September.
Together with other experts of the aviation industry, AERQ will explore new experiences for passengers in the future during an onboard conference on a flight from Munich to Los Angeles.
At APEX Expo, AERQ will present what the future of a digitised and connected cabin looks like.
AERENA Experience Studio
AERENA will offer passengers an upscale onboard experience supported by its state-of-the-art cloud-based ground infrastructure: AERENA Experience Studio.
With its newly launched AERENA Experience Studio, which will be showcased at APEX Expo, AERQ brings innovation in the form of web application and e-commerce standards to the aircraft cabin. It gives airlines the freedom and flexibility to create their own unique digital onboard experience and gain complete, intuitive, and agile control over this experience.
A one-login-only procedure ensures smooth workflows and a seamless user experience for airlines. They will be enabled to operate their digital inflight product on a day-to-day basis to constantly optimise and adapt the digital onboard offerings to their passengers' needs. The key functionalities of AERENA Experience Studio include media updates within days, flexibly customisable UI and app management.
The Smart View
It is an end-to-end solution that enhances the digital cabin experience by bringing real-time contextual content and cutting-edge technologies together, while optimising cabin operations for the crew onboard.
Featuring an ultra-thin and lightweight 30" transparent OLED display, The Smart View introduces a completely new and smaller size of state-of-the-art OLED display technology to aviation. Designed with eased crew operations in mind, the transparent OLED display increases the crew's visibility as it is placed to unlock a direct view over the cabin. This allows the crew to observe the safety situation in the cabin even when they are in a seated position. Additionally, the displayed content can give visual support to enhance routine safety announcements, moving maps and information about meals as well as the destination.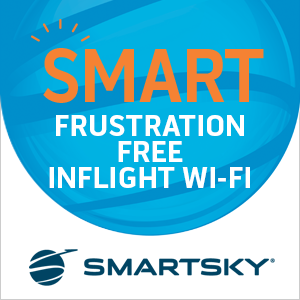 "We are pleased to join other aviation industry experts to drive innovation together and shape the future of our industry. With AERENA, we pave the way for airlines to be more in control and become playmakers of their own cabin experience. By enabling airlines to provide their passengers with the right content at the right time, we bring the passenger experience to a new level, while creating revenue, savings and growth for airlines," said Son Yob (Louis) Pak, Co-Managing Director at AERQ.
Visitors of the APEX Expo 2023, that takes place in Long Beach, CA from 19 to 21 September, will be able to learn all about AERENA Experience Studio and The Smart View at AERQ's booth 1037.
About AERQ
AERQ is a joint venture between LG Electronics and Lufthansa Technik. It was founded in 2019 and is headquartered in Hamburg, Germany. With its roots in consumer electronics and aviation it uses the extensive knowledge from both parent companies to develop digital solutions for aircraft cabins. AERQ takes the digital transformation of aircraft cabins to a new level by turning them into spaces for new ideas and business development. Introducing AERENA – the platform for digital engagement, empowerment, and intelligence. Creating revenue, savings and growth through an open IT platform enabled by an inseat system and Cabin Digital Signage. AERENA connects airlines, passengers and selected third party partners to kickstart a new global economy in the sky.
Featured image credited to AERQ