Panasonic Avionics Corporation (Panasonic Avionics) today announces a major expansion of its global connectivity network with the addition of new and expanded GEO (geostationary) Ku-band satellite capacity that delivers higher-speed in-flight internet connections for airlines and their passengers.
The world's leading supplier of in-flight entertainment and communication systems is adding new HTS (High Throughput Satellites) and XTS™ (Extreme Throughput Satellites) to its connectivity network that will enhance coverage over North, Central and South America, the North and South Atlantic Ocean, Europe, the Middle East, Arabian Sea, Africa, and the Indian Ocean.
Panasonic Avionics is also expanding its current capabilities by introducing additional HTS capacity over China and Japan, building on existing connectivity investments in this region.
This expansion represents:
Increased Capacity: a 50% global capacity increase, ensuring reliable and robust high-speed internet services.
Accelerated Speeds: speeds of up to 75 Mbps per aircraft through HTS and up to 200 Mbps through XTS satellites.
Broadened Reach: network coverage that spans continents and oceans, offering enhanced connectivity to both domestic and international travelers.
Strategic Deployment: a phased deployment plan is in place, with completion by the end of 2023.
Benefits All Customers: enhancements that will instantly and automatically benefit current and future customers without any changes to hardware or software.
John Wade, Vice President of Panasonic Avionics' In-flight Connectivity Business Unit, said: "For the past few years, we have seen exponential growth in the adoption of in-flight connectivity. Passengers want faster internet speeds for traditional services like email, web browsing, social media and messaging, and they are increasingly looking to stream content, play games inflight, and use collaborative cloud-based applications. This major expansion of our global connectivity network will ensure that Panasonic Avionics consistently exceeds the growing demand for these kinds of enhanced in-flight experiences.
"Given our unique approach to satellite capacity, and with our multi-layered, multi-orbit connectivity network, Panasonic Avionics has the unique ability to leverage a wide range of different, industry leading satellites, rather than the high-risk approach of relying solely on proprietary satellite technology. This enables Panasonic Avionics to add new capacity quickly and easily when and where it's needed, ensuring we can deliver an advanced and virtually uninterrupted service. The result is a better experience for passengers and higher Net Promoter Scores (NPS) for airlines."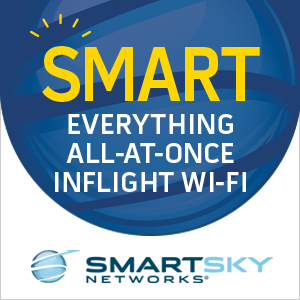 This network expansion highlights Panasonic Avionics' long-term commitment to customer-driven innovation, and its focus on continuous improvement and pivoting quickly in response to evolving market needs.
This commitment is exemplified by Panasonic Avionics' forthcoming launch of multi-orbit connectivity services. This innovative approach incorporates an electrically steered antenna (ESA) capable of accessing a combination of GEO and LEO (low earth orbit) satellites.
Panasonic Avionics' in-flight connectivity services have been selected by more than 70 of the world's leading airlines.
About Panasonic Avionics Corporation
Panasonic Avionics Corporation is the world's leading supplier of in-flight entertainment and communication systems. The company pioneered the industry beginning in 1979 and has consistently introduced innovations that enable unique customer experiences and enhance airline loyalty, ancillary revenue, and operational efficiency.
Over 200 leading airlines across the world have chosen to install Panasonic Avionics IFE, satellite Wi-Fi connectivity, and digital services on their aircraft. Panasonic Avionics' proven systems are supported by the largest, global support and services team utilizing OEM insights to ensure peak system performance.
Panasonic Avionics Corporation is headquartered in California with over 3,500 employees and operates in 50 locations around the globe.
Featured image credited to Panasonic Avionics