FlightPath3D, the leader in moving map technology, is celebrating its 10-year anniversary. Launched in 2013, FlightPath3D is now installed on 4,351 aircraft on 85 airlines and airports worldwide.
On this special occasion, FlightPath3D would like to extend its heartfelt gratitude to its loyal customers, partners, and employees who have helped make the company what it is today.
"We're proud to have revolutionized the inflight experience for airlines over the past decade and execute our mission to guide every flying passenger," says Boris Veksler, Chief Executive Officer of FlightPath3D.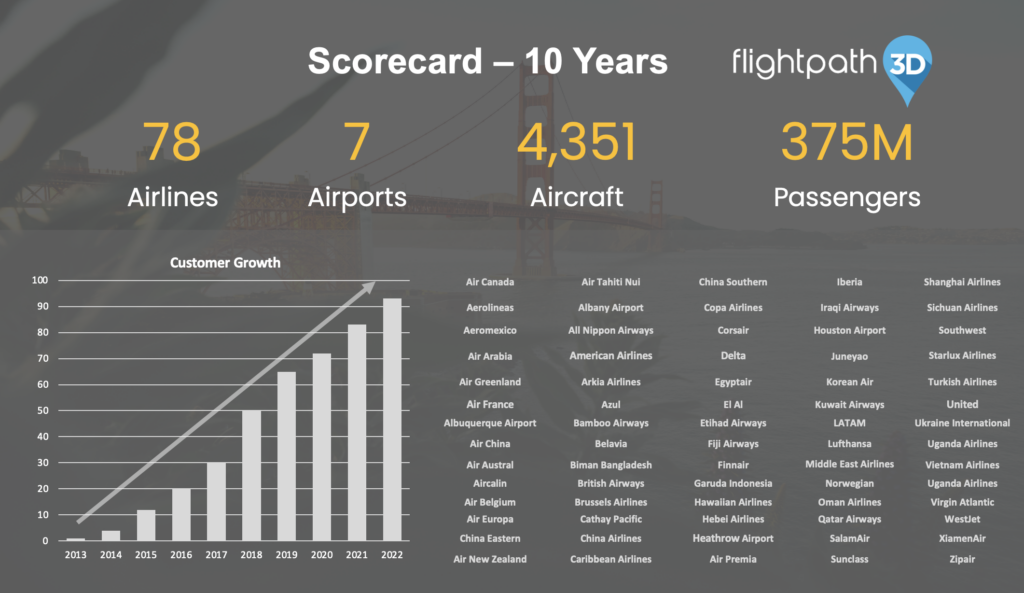 Soaring to new heights with 78 major airlines
Adopted early on by Air France, KLM, and Virgin Atlantic, those airlines helped establish the company as a disrupter in the industry, setting a new standard for in-flight journey tracking and entertainment.
Other major airlines such as Cathay Pacific, Delta Air Lines, United Airlines, Southwest Airlines, Air New Zealand, China Eastern, and LATAM quickly followed suit.
The company continued to innovate by integrating its technology on major in-flight entertainment platforms and making it accessible on any device and system.
All Nippon Airways, Qatar Airways, Air China, and Lufthansa also have adopted FlightPath3D's technology. The map is now viewed by 375 million passengers annually across 78 airlines.Chief Executive Officer of FlightPath3D.
Charting the future of flight tracking, destination discovery, and bookings
As the market leader in inflight tracking, FlightPath3D has expanded its offerings to capture the attention of passengers with short-form video experiences, similar to TikTok or Instagram Reels.
These experiences open up opportunities for airlines and airports to connect with their passengers in new ways. The company's interactive route map, WhereWeFly, inspires passengers to explore routes and book travel from the app. FlightPath3D is not stopping at inflight – it's expanding to other airline channels such as websites, apps, and now airports, giving more exposure to destinations passengers may have never thought about.
The company also now provides its technology to airports like Heathrow, Houston, and Edmonton.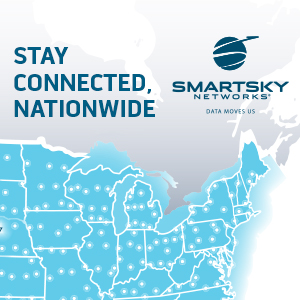 Forging ahead to guide every flying passenger
As FlightPath3D celebrates its 10th anniversary, the company looks forward to the next decade with eagerness and ambition. The company has revolutionized the way passengers track their travel, and is now disrupting flight planning and booking.
"We're pushing the boundaries of travel planning and creating a new standard for how passengers discover and book their travel, making the journey-planning process more seamless and enjoyable than ever before," says Duncan Jackson, President, FlightPath3D.
As we look ahead to the next decade, FlightPath3D plans to transform flight travel by leveraging the latest advancements in Data Analytics and Artificial Intelligence to create a truly personalized and seamless travel experience for passengers.
Our goal is to empower travelers with the tools and information they need to plan and book their perfect trips, while also providing real-time updates and assistance throughout their journey. With our innovative solutions and commitment to excellence, we are confident that FlightPath3D will become the go-to platform for flight tracking, destination discovery and travel booking in the airline, airport, and business aviation industry.
About FlightPath3D
The Aviation Industry's #1 Map Provider. Run your map with the map software experts, building software that's integrated with ALL the leading IFE vendors. Any Device. Any Platform. Fast Set-Up. Integrated. Personalized. Selected by more than 85 airlines and airports in 10 years.
FlightPath3D has designed the most compelling and innovative interactive travel solution for both passengers and airlines. With augmented views and relevant flight information, the inflight journey is captivating. A smart, immersive travel guide and route map enables passengers to explore in-destination experiences and inspires them to discover places to visit and research flights. Through their actions, searches, and map interactions, passengers provide airlines and airports with the knowledge of what interests them most about a location and what future destinations excite them for loyalty and strategic planning.
Betria Interactive LLC (dba FlightPath3D) has the industry's largest specialized map team providing customized map software, application development, and maintenance.
Featured image credited to FlightPath3D