The title of Donald Horne's 1964 pop-sociology bestseller The Lucky Country became a synonym for Australia, and that's true in terms of airlines and the passenger experience as well. With a strong incumbent in Qantas and a series of challengers in the form of Ansett, Virgin Australia and others, as well as a series of low-cost airlines (including Qantas' Jetstar), in many ways Australia has always been fortunate in the airline service and #PaxEx on offer between major cities and destinations.
In many of Australia's smaller, rural and remote towns and cities, though, connectivity is expensive and uncomfortable. Cramped turboprops offering narrow seats with limited cabin space have been the norm, whether flown by the QantasLink regional subsidiary, Regional Express (known as Rex), or other smaller operators, often requiring connections in Sydney, Melbourne or Brisbane.
Enter Bonza, a new low-cost airline that says it's "Here for Allstralia", focussing on connecting sixteen of these lucky smaller locations, with Melbourne the only state or territory capital city on the network. 
Of its 25 routes within this network, Bonza tells Runway Girl Network through its spokeswoman that "96% of routes are new to low-cost-carriers and 80% of routes are currently unserviced. Bonza's announcement increases the number of low-cost-carrier routes in Australia by 40%."
Bonza — the word is Australian for "great", as in "bonza tucker", or "great food", which the airline would be a drongo not to use widely in its branding — will use an initial five Boeing 737 MAX aircraft. This will allow it to serve most routes between two and five times a week.
"We will have a minimum of 186 seats onboard the new 737 MAX 8 aircraft with an approximately 29-30" seat pitch throughout the aircraft," says the spokeswoman. 
It's interesting that, even as a low-cost carrier, its seat announcement and two-overwing-exit PR rendering show that Bonza isn't initially plumping for the 197-seater 737 MAX 8-200 — often referred to as the Ryanair version — which takes pitch down to 28".
That puts it in a strong place when it comes to the passenger experience hard product proposition.
To start with, direct nonstop service is inherently a better experience than having to connect, even if the competing connecting aircraft have the same or better #PaxEx. For low-cost carriers and their point-to-point market strategy, that's a long-established success story.
And for many of these smaller towns and cities, an LCC-style 737 MAX 8 will be a passenger experience upgrade in any case.
Many are served with Rex's Saab 340s and QantasLink's De Havilland Canada (formerly Bombardier) Dash 8 turboprops, which have seats roughly as narrow as those found on a 737 MAX, but with substantially less overhead bin space, restricted foot space owing to the curvature of the smaller fuselage, in many cases elderly seats, and an overall cramped and outmoded cabin.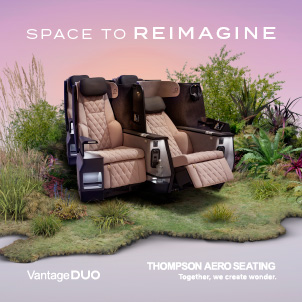 Even if they're competing with a Boeing 737 — Qantas, Virgin Australia and Rex all primarily use 737s as their domestic mainline jet — or a 28–29"-pitched Jetstar A320, Bonza is likely to come up as roughly equal in terms of comfort. 
And if it can translate its cheerful, bright purple brand into a cheerful, bright passenger experience, with cheap and cheerful service, that's a potential winner. 
Bonza's app, currently in a bare-bones pre-launch mode, is already talking about its "team of legends", suggesting that cheerfulness is on the cards. The app reveals that 8kg of cabin baggage is included in the basic fare, certainly enough for cozzie and thongs (that's Aussie for swimsuit and flipflops) with anything else, including seat selection up for sale.
Related Articles:
Featured image credited to Bonza