Inmarsat, the world leader in global mobile satellite communications, today announced that its award-winning GX Aviation inflight broadband solution is now available to passengers travelling with new Spanish airline World2Fly, in partnership with SITA as the service provider.
The long-haul carrier, founded by Spanish hotel group Iberostar, provides advanced, high-speed GX Aviation connectivity onboard its first Airbus A350-900 aircraft. Passengers can access the service thanks to SITA's Internet ONAIR solution, allowing them to browse the internet, stream video and audio, shop online, or keep in touch with friends and loved ones. The seamless experience offers passengers the same broadband reliability and consistency in the air as they are used to on the ground.
World2fly's A350-900s feature a modern and comfortable single-class cabin layout with 432 seats. The Mallorca-based airline will expand its fleet and operate flights from Madrid to leisure destinations such as Punta Cana (Dominican Republic) and Cancún (Mexico).
Bruno Claeys, Managing Director of World2Fly, said: "Our passengers expect fast, reliable, and uninterrupted connectivity as part of our onboard offering wherever we fly. We are delighted that SITA's Internet ONAIR solution using Inmarsat GX Aviation delivers this on our first Airbus A350. We have developed a modern, world-class flight experience, and we look forward to extending the solution to other aircraft as they are added to our fleet."
Demand for inflight connectivity has soared as passengers start returning to the skies after the COVID-19 pandemic. According to Inmarsat's recently released 2021 Passenger Confidence Tracker, the largest and most comprehensive global survey of its kind since the pandemic began, 41% of respondents believe that having Wi-Fi on their flights is even more important now than pre-COVID. Wi-Fi allows them to stay connected with friends and family and supports a touch-free environment.
Niels Steenstrup, Inmarsat Aviation's Senior Vice President of Inflight Connectivity Business, said: "Despite being one of the world's newest airlines, World2Fly has already established an impressive reputation amongst passengers. We are proud that GX Aviation is playing such an important role in the airline's onboard experience. The response from passengers has been extremely positive and, together with our partner SITA, we look forward to supporting the airline's ambitious growth plans."
Sebastien Fabre, CEO of SITA FOR AIRCRAFT, added: "SITA and Inmarsat have a hugely successful track record in providing airlines across the world with market-leading inflight connectivity. We are overjoyed to welcome World2Fly as our latest customer as demand for inflight connectivity reaches new heights. Our ready-made solution perfectly meets the current and future needs of the airline and its passengers for a digitalised onboard experience."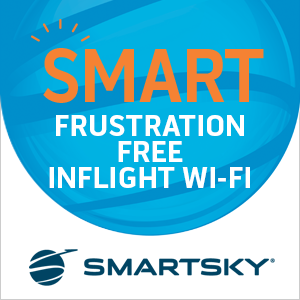 ABOUT INMARSAT
Inmarsat is the world leader in global, mobile satellite communications. It owns and operates the world's most diverse global portfolio of mobile telecommunications satellite networks, and holds a multi-layered, global spectrum portfolio, covering L-band, Ka-band and S-band, enabling unparalleled breadth and diversity in the solutions it provides. Inmarsat's long-established global distribution network includes not only the world's leading channel partners but also its own strong direct retail capabilities, enabling end to end customer service assurance.
The company has an unrivalled track record of operating the world's most reliable global mobile satellite telecommunications networks, sustaining business and mission critical safety & operational applications for more than 40 years. It is also a major driving force behind technological innovation in mobile satellite communications, sustaining its leadership through a substantial investment and a powerful network of technology and manufacturing partners.
Inmarsat operates across a diversified portfolio of sectors with the financial resources to fund its business strategy and holds leading positions in the Maritime, Government, Aviation and Enterprise satcoms markets, operating consistently as a trusted, responsive and high-quality partner to its customers across the globe.
ABOUT SITA
SITA is the air transport industry's IT provider, delivering solutions for airlines, airports, aircraft and governments. Our technology powers more seamless, safe and sustainable air travel.
With around 2,500 customers, SITA's solutions drive operational efficiencies at more than 1,000 airports while delivering the promise of the connected aircraft to customers of 19,000 aircraft globally. SITA also provides technology solutions that help more than 70 governments strike the balance of secure borders and seamless travel. Our communications network connects every corner of the globe and bridges 60% of the air transport community's data exchange.
SITA is a certified CarbonNeutral® company in accordance with The CarbonNeutral Protocol – the leading global standard for carbon neutral programs. We are reducing our greenhouse gas emissions for all our operations through our UN recognized Planet+ program, while also developing solutions to help the aviation industry meet its carbon reduction objectives, including reduced fuel burn and greater operational efficiencies at the airport.
SITA is 100% owned by the industry and driven by its needs. It is one of the most internationally diverse companies, providing services in over 200 countries and territories.
Featured image credited to Inmarsat