Budget operator Wizz Air UK has commenced inflight trials of a novel Bluetooth connectivity solution that supports free messaging for every passenger, the airline's IFC supplier AS-IP Tech (ASIP) divulged today.
This is a world-first debut for ASIP's fflya-branded offering in the commercial aviation sector, though the firm has provided similar technology on private jets since 2016.
The fflya solution is unique on a number of fronts. Rather than using a traditional onboard Wi-Fi network, fflya employs a frequency-hopping Bluetooth access point/router as a lower-cost, lower-bandwidth alternative to Wi-Fi. Its dual window antennas transmit data via the Iridium NEXT global network of LEO satellites.
Installed and now flying on an Airbus A321 operated by Wizz Air UK, fflya allows over 200 passengers to get an identical and simultaneous service regardless of where they sit in the aircraft and at no cost, according to ASIP.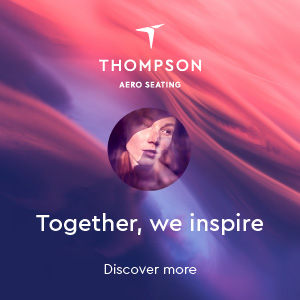 "More than 10 years of development has gone into the creation of fflya and answers the question, why do I have to pay for connectivity on airlines? To see it flying and being enjoyed by passengers is a great reward for the incredible work of the ASIP Team," said ASIP Tech president Ron Chapman in a statement.
"The benefits fflya will create especially for the low-cost airline sector and their passengers, will only enhance this unique service. We will announce more details shortly."
Chapman confirmed to Runway Girl Network that the Wizz Air UK deployment is a pilot program, and that the carrier can make a decision about full-fleet equipage in time. "On other airlines, we have an agreement for a similar program with [Indonesia's] Citilink. We are in serious discussions with a third unnamed, but it won't be a trial," he said.
While fflya operates over the Iridium NEXT constellation, it is presently using the satellite operator's legacy service over those satellites. Even so, Chapman said the NEXT constellation "delivers a far better signal consistency" than the prior-generation satellites.
However, now that Iridium's next generation Certus 100 "midband" service is commercially available via NEXT, "it also guarantees our technology roadmap on enhanced services, which we will announce soon", he assured. In addition to free messaging, fflya can support payments and telemetry.
Related Articles:
Featured image credited to istock/Boarding1Now