Single-use plastic is having a serious COVID-19-inspired moment, but not so long ago it was derided as a largely unnecessary evil. And, in the years leading up to the pandemic, serious efforts were afoot to drastically reduce its use in commercial aviation and elsewhere. Water fountains started cropping up at airports to ensure passengers could fill their own canteens. Some airlines sought to slash their reliance on single-use plastics in airport lounges and in aircraft cabins, replacing plastic straws and stirring sticks — even, in certain instances, inflight toys — with more eco-friendly options.
But, lo, as everyone is all too aware, the COVID-19 crisis — and our efforts to contain the virus — has all but derailed this particular sustainability movement. Disposable surgical face masks are made with polypropylene (plastic). And in the aircraft cabin alone, everything from food trays and tableware to cutlery and single-use cups are still plastic. The sanitizing wipes which are distributed by airline crew members and even bread rolls at dinner are often delivered in plastic.
To wit, while boarding an Air Canada flight recently, your author's father was handed a mask and two sanitizing wipes. All were packaged in a clear plastic wrapper and then placed in yet another plastic bag, alongside a miniature bottle of hand sanitizer in a plastic bottle.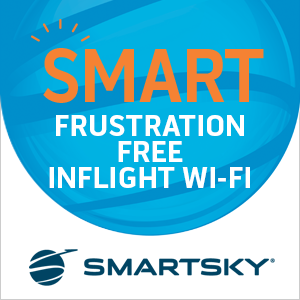 This is a new paradigm where single-use plastic now connotes "safety" rather than plastic pollution in some circles. And its mere presence is perceived as ensuring a cleaner, more sanitary experience. It is against this backdrop that London-based design house PriestmanGoode in partnership with the Royal College of Art (RCA) recently held a "Precious Waste" digital exhibition as part of the school's Masters of Art in Textiles program.
In advance, PriestmanGoode's Colour, Material + Finish (CMF) team challenged RCA students to use single-use plastic waste to create new materials. They received 11 entries, all from women! The students who delivered the top three ideas were then invited to present them at the virtual event, which was attended by industry stakeholders, including Collins Aerospace and Lantal.
An all-female panel of executives from PriestmanGoode and RCA introduced the winners. Student Bethany Voak was awarded first place with an idea to harden expanded polystyrene (EPS) to make it less likely to blow out of people's trash and landfills, and ergo less likely to end up in the ocean where corals and seaweeds attach to them.
EPS is a foam plastic material produced from solid beads of polystyrene, and often used in packaging and insulation. During her experiments, Voak found an organic compound that causes the polystyrene to change into a moldable consistency. The resulting material is hard compared to the soft, slightly spongy original polystyrene.
When hardened, EPS has the ability to take on many textures, patterns and colours, the latter by using natural dyes. As such, it could be used in applications requiring artistic aesthetics such as interiors in the leisure and hospitality industries.
First runner up Henrietta Dent was intrigued by plastic netting made of polypropylene as well as polyethylene, the most common type of consumer plastic used in many everyday materials.
Dent worked with brightly coloured materials, manipulating them through plying, weaving and heat setting to create mottled effects in subtle colour palettes, while adding strength and longevity to the materials. She envisaged their use in items such as seat covers on a subway.
Second runner up Yuke Liu created a set of painting tools made of recycled expanded polyethylene (EPE) fruit net foam. The solution can be applied in museums, creative workshops, retail stores, domestic settings and more.
All 11 projects had unique takes on how to deconstruct single-use plastics, and effectively repurpose them into other applications. It is conceivable that some of the ideas could end up in airport art installations or used in airport shops.
While it appears that these innovations would be less applicable to aircraft cabins specifically — given the stringent flammability requirement for cabin interiors — the work is nonetheless notable.
Referring to the pandemic era, PriestmanGoode head of CMF Maria Kalef noted: "We were ordering more online, receiving more packaging, ordering more takeaways. Ultimately all of this increased the use of single-use plastic. So as a society we wanted to make sure that the good work done for sustainability continues. We wanted to keep sight of the long term plan to reduce our waste and increase our positive impact."
Related Articles: